Explaining how video helps your SEO efforts means explaining a bit of a paradox. Search engines can't 'see' what is in video content, although Google and Bing are among the companies developing image and video recognition software. Yet video can really boost the search engine optimisation of your website. The question is how your business marketing can take advantage of video?
Research and optimise your videos:
The starting point for video to help your SEO comes with keyword research and optimisation, as you would do for any content. Check out How to Do Keyword Research for a refresher on the steps and free tools to use for a great list of phrases for your business.
You can then use that data to optimise your videos. Whether you're hosting your own video content or uploading to YouTube, it means using the right terms for titles and descriptions. Tags should be used for relevance and encouraging users to view related content.
If you're on a tight budget, consider shooting in bulk and splitting out relevant clips to target different terms. For instance, a long video on general car maintenance could also be split into sections on how to check your oil, how to check your water and how to keep your tyre pressures set correctly.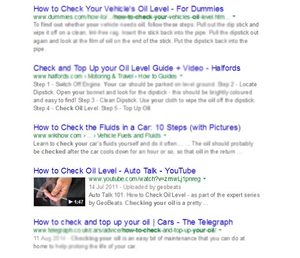 The optimisation helps your video to be found in both general search results, and when potential customers are searching on YouTube, Facebook and other video sharing sites.
If your video becomes popular on a large sharing site such as YouTube, you'll find that video is likely to appear high in relevant searches. That means you command more real estate in search results, and anything you put on YouTube should have a clear link back to your website in the description and video annotations where possible. This means you're taking advantage of the huge popularity of YouTube (more than 1 billion unique users each month), and Facebook.
Video SEO for your website:
Ultimately you want to get results for your website in addition to any success on YouTube or Facebook. To do that, you need to make sure your video is either hosted on your website, or embedded from your upload site.
With any content, the ideal solution is to create a unique page which includes your embedded video, and is optimised for the appropriate phrase. That includes your page title, and any text and images which appear. As search engines don't really see what is filmed, one easy solution is a transcription of the key points of your video.
A transcription is a great way to ensure you have text that search engines can pick up on. If it's too expensive to transcribe the whole video, then focus on the most important and most relevant points. It also provides a benefit to users who might be watching with the volume turned down, or who might need to refer to key statistics or information without wanting to rewind your video again and again.
If you're adding video on a regular basis, then consider using a specific Video Sitemap. By submitting sitemaps to search engines, you highlight the content that you hope they will pay attention to. So by differentiating your video content, it makes sure that it's handled correctly by search engines and potentially gets more prominence.
There is also additional code which can highlight not only video content, but details including actors, directors and much more. This is called Schema, and is supported by Google, Microsoft, Yahoo and Russian search engine Yandex, and adds some additional code to describe each element of your video. You can look through the full list of available descriptions at Schema.org, and decide which are most appropriate to add to your website across your catalogue of videos.
When your video, content and additional information is published, you can then share and promote it as with any new content on your site. Make sure it's highlighted on your social media profiles, and shared with relevant websites in your industry.
How video boosts your SEO:
There are a number of measures for how video boost your SEO. Firstly, video has gained prominence in general search results. Not only do video results stand out with an image appearing in the search results, but it means users are more likely to click through and visit your website as a result. It's particularly true of tutorial and 'how to' videos. The number of people clicking on a particular search result helps that result climb higher for future searches. Various studies shown that video improves the amount of people clicking on a link by between 50%-150%!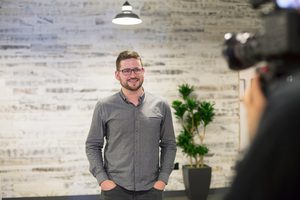 Video can also improve the time visitors spend on a particular page as they watch the content. And when people spend more time on your website, it's a positive vote for quality content which is increasingly important to search engines. Rather than seeing how to perform a task in 5 seconds and leaving, users might now be watching a two-minute video, hugely increasing their time on your website.
And more engaging and useful content means your website is more likely to get links and shares on social media. If you provide a great video explaining something relevant to your business and industry, it's likely to get a lot of references from other sites. That will provide a big boost to your results for that particular article, and for your whole website. Studies have shown that you can get three times more links than normal to an article if you include video.
If you've got more questions on video marketing and how video helps your SEO efforts, comment below.