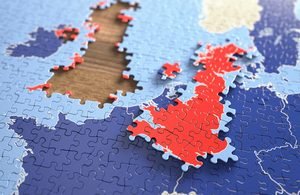 From January 1st 2021, as the UK leaves the EU, the rules for small businesses in the UK have changed. After a demanding year in 2020, SME's can expect further reforms as Brexit takes place and adjustments to business start to take place. Brexit may be having an impact on your business confidence, but to identify opportunities and stay ahead of the curve, staying agile and keeping abreast of the new legislation will help you adapt to change.
Check, Change, Go.
The easiest place to start with identifying changes you need to make in 2021 is to use the Government's Brexit checker, which is an interactive questionnaire and results in a list of actions you may need to take. The checker covers areas including both business and family situations, and gives detailed advice surrounding all topics that Brexit affects including, but not exclusively, import and export, travel, personal data exchange (GDPR), IP and copyright permissions, rules around employees from EU countries and business funding.
Government Support
The Government has so far allowed businesses to defer paying back VAT, as well as extending any temporary VAT reductions for both hospitality and tourism due to impact of Coronavirus and the predicted impact of Brexit.
Although the Brexit transition period ended on 31st December 2020, there are still many ongoing alterations you may need to make as information and opportunities become available. Several grants are still being offered by the Government including the Kickstart Scheme grant and Local Restrictions Support grants for those affected by Covid-19 and needing to prepare for Brexit eventualities.
You can check your eligibility for business grants and loans on the Gov.uk financial support web page.

Some Example Brexit Rules
As the UK leaves the single market and customs union, new legislation and rules are coming into effect. The Government have cited you must act to make changes if any of the following apply:
You import goods from the EU
You export goods to the EU
You move goods to or from Northern Ireland
You travel to the EU for business
You're living and working within the EU
You're staying in the UK if you're an EU citizen.
Whilst the transition checker is the best place to find advice on individual topics, some examples of the new changes include:
Travel and Import/Export
Free movement between the UK and EU has ceased, which will affect you if you (or your employees) travel to the EU for business. You may need a visa or work permit if you're spending more than 90 days in specific EU countries, and correct documentation to move goods across borders. You will also need to ensure you have more than 6 months left on a passport that is less than 10 years old. Additionally, you may need to check each country's entry requirements and meet their immigration rules.
Employment
If you employ individuals "from the EU, Switzerland, Norway, Iceland or Liechtenstein" you will need to check they have the correct work permit, and "that they meet professional requirements for the country they're going to" if you provide services to EU countries. (Gov.uk, 2020)
Tools to Support Small Businesses
Thankfully there are some fantastic resources available for those who need additional support and advice on whether changes need to be made because of Brexit, and how to go about it.
The Enterprise Nation Brexit Advice Service: Offer support for small businesses and entrepreneurs, hosting advice and insights into dealing with the impact of Brexit.
The FSB Small Business Brexit Pack: Offers a three-step plan to create a business Brexit action plan, links and resources on how to stay up to date with new rules, and how to be data secure. They offer advice to the self-employed and small businesses within the UK with signposting to further resources on travel, trade and immigration.
From 1 January 2021, as the UK leaves the EU, the rules for small businesses in the UK have changed. Read about the new rules to find out if your business is Brexit-ready.
Click To Tweet
For a full explanation on the new rules that may affect your SME, the Government's full Brexit explainer document can be found online, with Part 2 covering Trade of goods and services. To ensure your business is Brexit ready; take action as needed, stay informed, stay optimistic and seize opportunities where you find them.