We've passed the end of Q1 for many online marketers (Q2 for some) and this means it's a good time to take stock of where your budget was spent, what ROI your digital channels provided you and look to make increases or decreases depending on what you find out.
As I've just done my budget reshuffle I thought it apt to look at what the rest of the industry had been doing with their budgets in the past year. Where there any trends to be seen on spend?
Econsultancy do a lovely annual report on Marketing Budgets and there were certainly some trends to spot, amongst them…
Digital is continuing to grow with 68% of marketers saying they're increasing them in 2012
The average increase is looking at around 28% which is pretty healthy in today's economy
More than half of those surveyed get at least 20% of revenues from their digital activity
Another finding was that having the right talent to be effective at digital marketing is a barrier to growth of the channels. So if you have a keeper then make sure they're happy as the market is looking hot for them at the moment. This doesn't have to just be with remuneration, lots of staff want greater responsibility, a project to own and to see how their work is being used and valued within the business.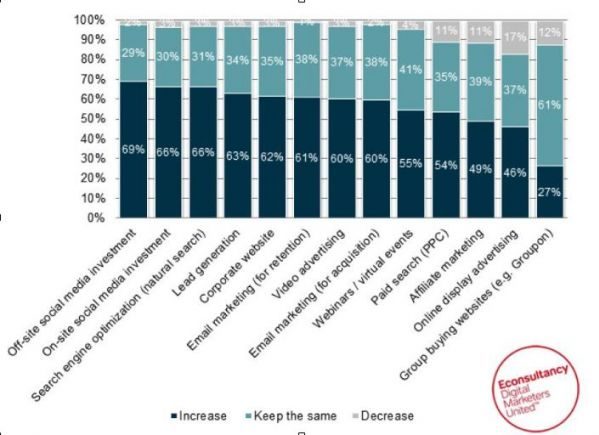 What the chart above tells us is that Social media is an area that many businesses are looking to invest in, which is a bit of a paradox as it's also the hardest to measure. I think the paradox i also the answer though, people are spending to get measurements – either in analytics tools (which are well worth the investment) or in consultancy to help them get more from this channel.
Knowing a few agencies who offer consultancy I would say that it's worth doing if you know what you want to get from Social, if you don't know what your goals are and you're just doing it because everyone else is – they're probably not the best investment for you at this time. Find out what you can measure (there are lots of articles out there), put some goals in place and make sure they tie back to your business objectives. Then, when you know what direction you want to go in – speak to the professionals.
Interestingly the chart also tells us that PPC budgets are declining…could this be why Google are turning Google Shopping into paid ad content only? More on that in another blog…