My choice for this month's learning from websites is aptly themed around Valentines because a) it's a website content theme that's pretty hard to avoid in Feb and b) these guys do a pretty good job of it!
Wahanda are a website who specialise in finding people health and beauty breaks and packages. I stumbled across it whilst looking at a Spa in Kings Lynn and thought that the way they laid out their website content and the information they provided was top notch.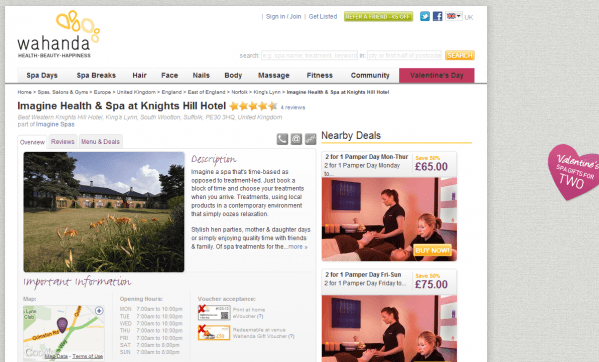 The first thing that struck me was straight away I knew how people had rated the Spa, a must when doing internet research. I could see where the spa was based and when it was open (maybe not relevant for a hotel but good for a spa treatment). Also they showed me some alternatives with nearby deals that were clear on costs and days available (my pet hate is deals not showing what days you can use them until you're near the end of the process).
Other good content features are clear referral deals, social links and a nice promotional heart at the side which when hovered over shows more details on deals and a link through to the Valentines page. This is clever as it also allows you to opt out from seeing it again.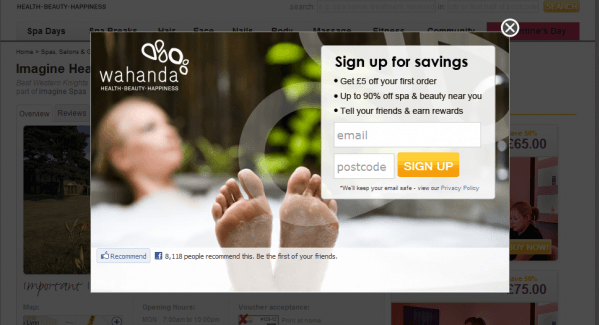 I'd clicked around a couple of pages when this popped up which is a clever little way of encouraging newsletter sign ups and capturing some details. Usually the software that is run for this will allow you to specify certain pages visited or number of clicks before showing it, so you can better qualify people. Newsletter sign ups are a good way to build an email marketing list that you can nurture, make sure you tell people what they're going to receive and give an incentive like Wahanda have.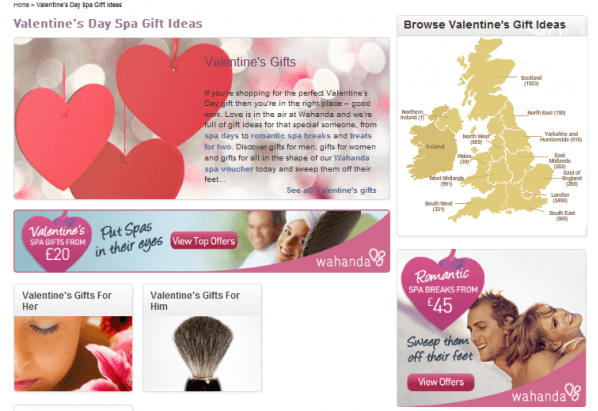 And so to the Valentines page, it's clearly laid out, shows good imagery for the promotion and uses pricing and wording like 'top offers' to encourage purchase. It's good that you can search by location or whether it's for him, her or both of you – when a guy searches for a present he typically wants easy access to information and a bit of guidance to help him out. Language is romantic with 'sweeping off feet' and 'spas in their eyes' and the word 'valentines' is used in titles and throughout copy that will help them rank well in natural search.
All in all Wahanda have done well to incorporate Valentines into their website content, they are easy to search through and provide the website content you need to make a purchasing decision.