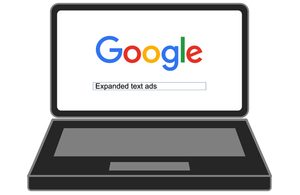 After weeks of anticipation, Google finally made Expanded Text Ads available to AdWords in late July, giving AdWords advertisers everywhere plenty of food for thought on how they can utilise the extra real estate afforded by Google to promote their business.
What are Expanded Text Ads?
In case you weren't already aware, Expanded Text Ads (ETAs) are 47% larger than the Standard Text Ads (STAs) they are replacing. The new ad format will dominate the vast majority of what users see 'above the fold' in search engine results on all devices, with mobile search results in particular set to be dominated by these larger ad capsules. Google is so keen to make ETAs the norm that it will not be possible to create or edit STAs after 31 January 2017 (moved from the original date of 26 October 2016). A full retirement of STAs is planned afterwards.
Early results have indicated that ETAs are seeing Click-Through Rate increases of up to 20%. This shouldn't come as much of a surprise, as the increased character count in conjunction with ad extensions such as Call Extensions, Location Extensions and Sitelinks give the user more opportunity than ever before to decide if they want to click through from the ad.
How is Yell rolling out the new Google AdWords feature?
With well in excess of 1m ads currently in circulation, here at Yell we are working very hard to ensure we make the most of the benefits that ETAs will bring to our customers. For PPC, new ad creative is being written across our taxonomy as we speak in line with Google best practice, and the new ad format will fully be in operation by October.
With such a large number of ads to migrate, we anticipate that we will support a combination of ETAs and STAs for a time before all of our advertisers are migrated over to the new format. This will give us a great opportunity to compare the performance of the 'old world' versus the new, from which we can deduce which areas of our taxonomy are a priority for optimisation.
PPC Plus & Premium campaigns will continue to benefit from hand-crafted ad creatives, with a purpose-built ad migration tool already in development. This has been designed to take the best elements from the ads we already have running, before enhancing them with additional copy written by our in-house PPC experts.
Device type bidding changes
In addition to the aesthetic changes, Google has also given advertisers more control over bidding across device types with ETAs. In another effort to make mobile prominence more accessible, it is now possible to stipulate individual bids for the device most valuable to that advertiser. For example, advertisers who want to focus their budget exclusively on users that are 'on the go' (for example, looking for a taxi company), mobile bids can be defined individually, rather than as percentage of the associated desktop bid. At Yell, we already adopt a sophisticated approach to bid modifiers, meaning that we do not expect our bidding strategy to alter dramatically as a result of this extra flexibility. Moreover, we will review our current bid modification strategy across mobile and apply those calculations as real bid values in the new world.
Working together with Google
Throughout the process to bring ETAs to life, we'll be in close contact with Google and our platform providers to ensure we maximise the effectiveness of our clients' campaigns through the initial migration and beyond.
If you have any questions, please leave a comment below and we'll respond ASAP.