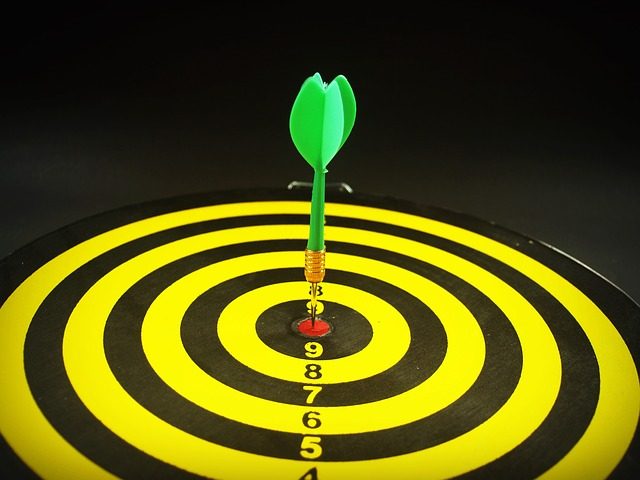 A number of PPC advertisers can find Google's list of rules and policies overwhelming. Especially if you're new to the PPC and AdWords world and not really sure how the platform works.
Fear not though! Believe it or not, you and Google share a common interest. You both want satisfied customers who are willing to use your services.
When advertising your business through PPC via Google AdWords, you're also technically advertising to Google's customers too. The user is using Google as their primary search engine to look for a product or service and Google wants to make sure that they are relaying the correct information that the user has searched to provide them with the best possible user experience. Which all seems fair, right?
This is why Google advises advertisers to follow their PPC best practices so businesses can gain the most out of their campaign and Google can achieve the most optimum experience for their users. It's a win-win!
To encourage you to follow Google's best practices, Google created the Quality Score! Google calculates a numerical score between 1-10 at keyword level to determine how relevant your advert will be to the audience you're targeting and if their overall user experience will be positive.
If you have a good quality score and offer a great user experience for your customers AND Google's users then in return, Google will reward you by decreasing your Cost-Per-Clicks (CPC's) for individual keywords across your account. Companies should be targeting a quality score of 7/10 or above if you want reductions in your CPC.
Let's take a look at some of the key factors that affect Quality Score to help you achieve this:
Keywords
Try not to be too broad with your keywords as you don't want to be appearing for irrelevant search terms not associated with your business. Use negatives wisely and make sure you stay on top of them if you do use some broader keywords. Being too broad can result in lower Click-Through-Rate's (CTR's) and in tail can result in a lower quality score. For more info on keyword match types and which type to use, check out this article written on Different Keyword Match Types.
CTR is used as an indication by Google to determine if the campaign you're running is applicable to the user. The higher the CTR, the more likelihood your advert is reaching a relatable audience from your keyword list. Having a healthy click to impressions (views) ratio is a good indication you're showing an advert relevant to the users' search query.
You can monitor this within the keywords section of your Google AdWords account by adding Quality Score as a column. Google has also recently introduced a way to view 3 separate metrics which affect Quality Score and this is available within extra columns in your AdWords interface – Expected CTR, Ad Relevance and Landing Page Experience. You're also eligible to view your historical graded metrics as well.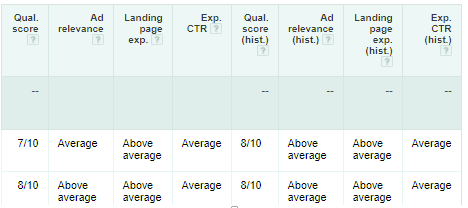 This information is really useful as you can pinpoint what attribute is affecting your Quality Score and make the necessary amendments to counteract the problem.
Adverts
When you have the keywords you want to target, you're going to need some adverts with some enticing ad copy. The copy is going to need to relate to your keywords which then needs to relate to the landing page you're sending the user through to.
Don't be afraid to undertake some A/B testing to try out different variations of ad copy and see what works best for your business. Not enough companies do this and a little change can make a big difference.
As with your keywords, your adverts need to be relevant to a user's search terms with higher CTRs being recognised by Google as a compatible PPC campaign. That's why it's vital to get everything aligned within Ad Groups.
Landing Page
Landing Page is a bit of a generic callout here, but there are so many factors which could fall into this category:
Speed
Is your landing page speed fast? Google urges companies to have a fast loading time for their users. Research shows that users will abandon a site if the page hasn't loaded in 3 seconds. Use Google's Free PageSpeed Test to get your website graded.
Call-To-Actions and Navigation
Do you have enough CTA'S (Call-To-Actions) on your landing page? A click-to-call phone number? A clear and easy navigation so customers can find your contact information? Google likes their users to find information at-hand rather than having to navigate around the website to find information that they're looking for and that's why it's so important taking customers to the correct landing page from the advert.
Landing Page Copy
Relevant keywords on your landing page and in the page title? Google crawls your website and picks up keywords related to the search term that the user typed on Google. If Google doesn't recognise the keywords within your copy on your landing page are compatible with the advert or the search term used, then Google may rank your Quality Score lower as they feel you're not taking one of their users to an applicable landing page for something they are specifically searching.
Mobile Optimised
Is your website optimised for mobiles? No? This should be an absolute priority. Back in 2016, Mobile searches took over Desktop searches in the UK which means you're already hindering your company's online success. Check to see if your website is mobile-friendly by using Yell's Free Website Checker.
These are just some of the main factors which attribute to landing page experience and contributes to your Quality Score. Your company should definitely look into getting these resolved if you're landing page experience has been highlighted for improvement. It's more likely it will increase your likelihood of not just improving your Quality Score but also your Conversion Rate. Two indisputable reasons to enhance your landing page!
Ad Groups
You have your keywords, your advert and an optimised landing page. Great! Put these together in a tightly themed ad group structure with relevant keywords and adverts whilst taking users through to a corresponding landing page and you're onto a winner. It sounds so simple but you wouldn't believe the amount of advertisers that get this wrong.
If you're a Roofer, rather than using an ad group for all roofing services – split it out into tightly themed ad groups of the services you offer. For example:
• Thatched roofing
• Flat Roofing
• Shingle Roofing
And/or split out by service:
• Roof Repairs
• Roof Maintenance
• Roof Installation
Now go further if possible:
• Flat Roof Repairs
• Flat Roof Maintenance
• Flat Roof Installation
• Thatched Roof Repairs
• Thatched Roof Maintenance etc.
Depending on traffic volume, you can go even further (Geo-Targeted):
• Flat Roof Repairs – Manchester
• Flat Roof Maintenance – Manchester
• Flat Roof Installation – Manchester
• Thatched Roof Repairs – Manchester etc.
You will need to have keywords and bespoke adverts associated with each personalised themed Ad Group and take them through to a dedicated landing page. Your landing page should explain the service of that ad group whilst displaying images of your awesome work. Have a navigable website with clear CTA's, showcase the local areas you serve, highlight your USPs -reasons why they should choose you over competitors and have a mobile-friendly website. Then you're on your way to having the perfect recipe to obtaining a great Quality Score.
Summary
So there we have it, now you know that Google are trying to satisfy their customers' needs as much as you are and you're in this together! Just remember, Google set these policies not to restrict you, but to help you. You want to profit from using Google AdWords and Google wants you to profit using their services.
It's important to bear in mind that Quality Score is also based on historical performance, so when you first create an account – it may be hard to replicate the same sort of successful quality scores compared to other accounts with 2-3 Google AdWords history. Have some patience and if you follow Google's best practice, it will give you the best chance of having a successful PPC campaign. Good luck!