There are a number of different type of Ad Extensions you can utilise for your PPC Adverts. If you use ad extensions correctly it tends to have an uplift in users clicking through onto your advert.
You don't have to use the same ad extensions across your whole account, you can narrow them down to the product or service you are targeting. Let's take you through some real-life examples from a variety of businesses and see how you may want to effectively use these for your business:
Sitelink Extensions
Sitelink Extensions are links underneath your PPC Search advert where you can take users to a different landing page on your website.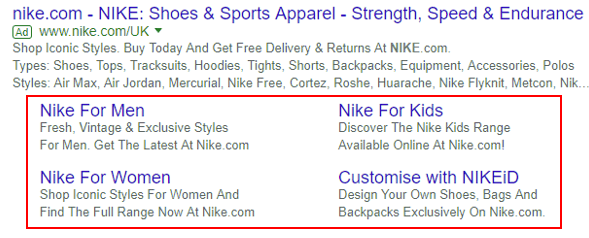 This is a great function to use across all campaigns but especially if you're running a brand campaign. Unlike SEO, you will have full control over what you wish to showcase to your customers. For example, if you'd like your customers to know about a new service or product you offer, you can add a sitelink extension with a brief description to showcase this. In essence, it will reduce the touch points of the customer journey to reach the landing page where they express interest.
Callout Extensions
Call-out Extensions are shout-outs in your advert which reflects the key selling points of your business.
Are you a 24/7 business? Do you pride yourselves on your service? Do you offer high-quality products? Great value? A family-run business? These are the sort of call-outs you can use as part of this extension to add more value to your advert.You really need to make clear why a Google user should click on your advert and choose your company over a competitor.
Structured Snippet Extensions
Structured Snippet Extensions allow advertisers to highlight particular features of their product or service.
Google provides a range of classifications from a service catalogue to particular types or style of products. Structured Snippets can be tricky due to Google's policies and requirements, For example, selecting what brands you sell, only to find out that some of the brands have trademarked their keyword. Not to worry, Google will notify you if your extension gets disapproved and you can ask for further information on how to gain approval.
Message Extensions
Message Extensions is an added feature for mobile devices which allows the Google user to send a pre-defined or bespoke message straight to your mobile phone.
Message Extensions is a great function especially for the smaller tradesman business. Rather than clicking on your advert and searching for information, the customer can use the message extensions to ask for a quote or information. A pre-populated message will appear which the user can just click 'send' or alternatively write a bespoke message. Once they hit send, it will go as a text message straight through to your mobile device and you will then get charged the normal Cost-Per-Click (CPC) as if it was a click on your advert.
Location Extensions
Location Extensions are nice and simple, it lets your customers know where your physical business location is located.

This is useful to companies who want customers to know that they are a local business to the user or have a physical store location. It can also feature a map to your location or the distance to get to your business. It's perfect for companies who have display rooms and stores.
Price Extensions
Price Extensions are great if you want to make your prices stand out without having to use any of the character limit within your advert. This means you can focus on the description of your service or product with your ad text and let the extension do the rest!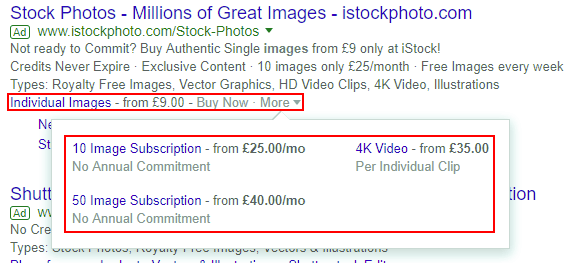 The format will appear differently on mobile and desktop. For desktop, you will have to hover your mouse over the 'more' arrow to see prices whilst on mobile, the prices are in larger sections underneath the adverts which you can swipe left or right for further prices.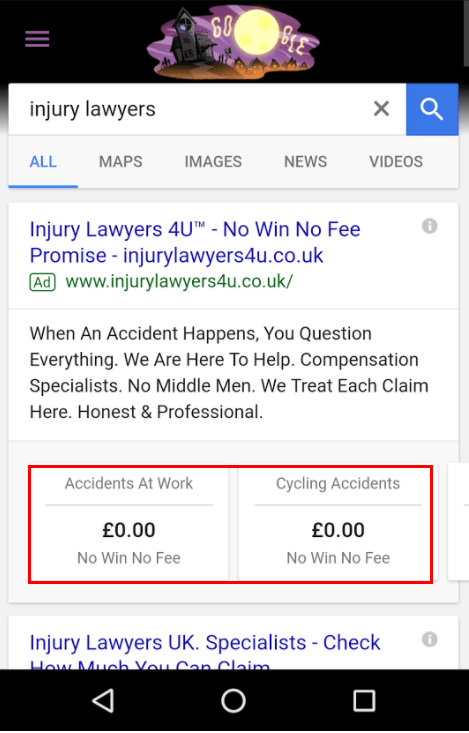 App Extensions
App extensions allow Google users to download your app below your text advert straight onto their phone or tablet.
It's ideal for companies who are trying to increase downloads of their app alongside their PPC objectives. It's a great combination to have the app extension with a brand campaign in your PPC Search campaigns as the user searching for your brand is already familiarised with your business so is more likely to download. The extension will show your app logo with a Call-To-Action to try and persuade the visitor to download.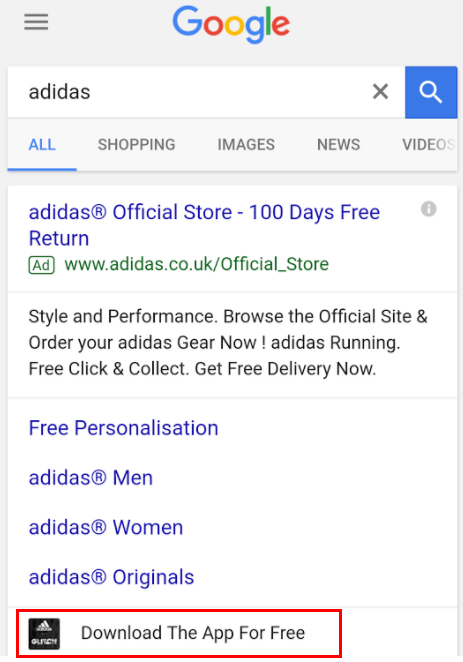 Review Extensions
Google allows you to share positive reviews and write-ups, awards and third party rankings to Google users underneath your text adverts.

Your review extensions will only be eligible for approval from what Google deems as a trustworthy and credible party such as a reputable news source. Your company will also not be allowed to use a review over 1 year old or to use any individual reviews. The review can be based on your company as a whole or a specific product like the example above. This extension really adds value to your advert as it portray's trust in your product or service and business.
Promotion Extensions
Promotion Extensions are currently only available on the BETA version of Google AdWords. It displays special offers, sales, discounts or voucher codes you'd like to use as part of your advert.
You can base your promotion by event E.G. Christmas, Black Friday etc. or if you're generally just having a sale. You can offer a monetary value, or percentage discount of a certain product or category. This is a great tactic to grab a users' attention and persuade them to click-through onto your website and purchase.
Conclusion
Ad extensions are a great way of communicating more value to your customer without the limitation of the amount of characters within your Google AdWords text advert.
These extensions can be super helpful for a potential customer before they've even browsed your website. For example, having the price extensions displayed can go either 2 ways. The user may find your prices attractive, click on your advert and then decide whether to make a purchase. Or the user may be put off by your prices and not click onto your advert which saves you money for a click which wouldn't have ended up with a purchase anyway. You will be filtering out the time-wasters!
The best thing about ad extensions is that they are all free and Yell will offer you all these extensions at no additional cost! A Yell AdWords expert will discuss what ad extensions are suitable for your business in your introductory call.