It's a bit of an old cliché, but you really do 'get what you pay for'. That doesn't quite answer your question though, does it? The most important element I believe is that to get a very good video for your business, you have to use people who have real-world experience, who have practised their craft, who have made mistakes and learned from them.
Unfortunately, there are many "video producers" out there who have read a book, looked on the net and read some other producers' experience, recite it and call it their own. These are the people you do NOT want to use, to produce a professional video for your business.
Does this mean I cannot use someone like a relative of an employee, who is doing a media course at college? Yes, of course you can use someone like this, however you will be aware that with the best will in the world, they will be inexperienced and will be using your video, your company as a 'Test'… would you do that to your customers?
In the past few years, there has been a bit of a quiet revolution within video production, with camera ops/directors moving away from camcorders to DSLR (Photography Cameras) to produce high-quality and stunning video images. They have their issues believe me, but the results far outweigh any fixed-lens camcorder. This has resulted in more 'producers' getting into video production and the costs involved going down in many cases.
There are essentially three options open to small and medium-sized businesses who are looking to have a video made for the company:
Do it yourself.
Hire a Freelance Camera Operator/Editor.
Use a Video Production Company.
With option 1, you may think it would be impossible to get good results from basic equipment that you may already have, however you'd be surprised by what you can produce with a consumer Camcorder and a bit of time and patience. It's knowing how to use it and being aware of the limitations of going down this route. The main cost involved is essentially going to be your time and picking up a Camcorder for £200-300.
Watch out for a video from us relating to "Making your own Video".
With option 2, you'll be hiring an experienced camera op/editor (videographer) who will have the necessary equipment to capture high-quality video and audio and will be able to guide you through what is best. They may have limited equipment in terms of full lighting and are unlikely to use dollies, cranes and Steadicams, though some may.
The cost to hire someone like this can vary drastically, as some may charge by the hour and some will give a quote for the full project. For a 60-second video, I have seen quotes as little as £500 (anything less, don't bother) and upwards of £1,500. As I mentioned before though, it is the experience that you want, more over than what equipment they have… chances are, experienced Camera Ops, know what kit they should use. Make sure you see a Portfolio of their work before hiring them.
A video will be coming soon to explain this further.
With Option 3, again you are paying for experience, however you are paying for a video that is completely bespoke to your business. The Video will also be planned well ahead of time to ensure that every element of your business is covered.
You will have a 'Crew' made up of a Dir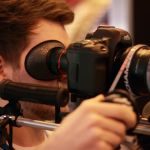 ector of Photography (DoP), Digital Cinematographers, Editor and Graphics Artist. They will know how to use lighting creatively and be able to choose, various lenses for any given situation. They will most likely be able to go to multiple locations as part of the production and use a variety of equipment to make your video completely unique, these include:
On location Green Screen – Think of how the Weather is presented on TV.
Dolly – Either a Track or Tripod adaptor with wheels
Crane/Jib – 3 Metre or longer extension for a Camera, to get unique shots
Steadicam – Makes handheld shots smooth
Multiple Lenses – Depth of Field control and creative 'looks'.
High-quality audio
Creative Lighting – For Interviews and mood creation.
2D and 3D Graphics
Unique Music dedicated to your video.
Much more…
The cost involved for this option can be variable and in many cases depends on your requirements. There are, of course, options that go beyond these, however for most SMEs, these will suit your business, your brand and successfully get your message across to your customers.