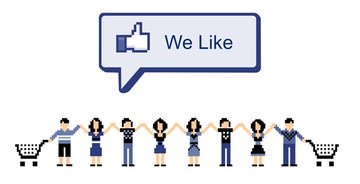 Think about the differences between a business discussion and a conversation with friends. Although you may share some personal information with a business contact, the discussion will mainly be about relevant business issues.
You should follow this pattern with your Facebook Business page.
Posting topics
Think about why people are visiting your Facebook Business page in the first place, and post information that will reinforce the visit and make it worthwhile. Information that might be relevant includes:
Developments in your business or market, including new products, applications, installations or successes. Include photographs and be brief, but make it interesting, with links to your website for more details.
Special offers and promotions, particularly ones which encourage people to register on your website.
'How-to' ideas and tools that might be relevant to readers. Share ideas, downloads and applications that you find online that you think might be useful to other businesses – if you become a helpful source of information, people are more likely to come back.
Your own videos or photographs, either within the Facebook page or linked to YouTube or Flickr.
A calendar of forthcoming events, for both your business and the industry as a whole.
Avoid making your Facebook page too sales-orientated, as this may put people off – but try to move visitors to your website, which is a more appropriate environment for selling.
Sources for posts
There are various places you can look for ideas on what to post:
News and magazine websites for your business. Look at what is being talked about, and comment or link to relevant sources.
Feedback and comments on your website, or on your Facebook page itself. Respond to comments and answer queries, and if you have negative feedback deal with it politely and positively.
Blogs in your sector and related businesses are helpful sources of ideas. Don't be afraid to link to the blogs of other companies and individuals if appropriate. You can also comments on blogs if you think it's relevant, and include a link from your Facebook page.
Follow the Twitter accounts of industry leaders and innovators, and check out LinkedIn Groups, both of which can be helpful sources.
Post regularly – once or twice a day – and keep it relevant. Link back to your Facebook page from Twitter, LinkedIn and other social media to keep the community moving and building.