As a small business trying to stay on top in your industry and local market, being pro-active in your customer support is essential to keeping customers happy with their growing demands for instantaneous service. But, I know it's hard to do. That's why I've devised these 9 tips to help you give the best customer support possible through social media.
1. Make It Instant, Or At Least Self-Serve
People love fast. In fact, they hardly want to wait for anything these days and the world is only getting faster as automation and technology push everything forward. But, how do you give good service so quickly? Making your service as "instant" as possible can be done with a self-serve knowledge base that is friendly and easy to find for customers. With a Frequently Asked Questions page established, you will save time supporting customers since many of their questions can be found on your site already. Even if they ask a question that's been answered in your FAQ, you can copy/paste the answer you've already made or link them to it, also gently letting them know that they can check your FAQ for similar questions and "instant answers" next time.
2. Be Quick!
When you do get messaged, have a schedule for checking your messages so you can respond as quickly as possible. You probably don't have staff dedicated solely to answering messages, but you should have a dedicated alert set every time you get a message. If the alert goes off and you have a message to help a customer, get online right away and do just that – don't keep them waiting.
3. Don't Be Hard to Reach
No one wants to work with a company that's hard to contact. Your social media accounts should be public and obvious. Your usernames should be consistent and instantly recognisable by your customers. For instance, your Twitter username should preferably be your company name, or a shortened version of it. If your company is named "YourCompany Ltd", your usernames should be similar, for example, "YourCompany" or "YourCo". Keep them easy to find and memorable for your customers' sake, and consistent as possible across all your online presences. Your account image should also be your logo so customers are sure they're talking to the right company.
4. Keep It Quick
I hope you love hearing from your customers, but both them and you have limited time and things to do. Keep your communication friendly, helpful, and quick. For example, if your customer asked a question but there are two possible answers and you don't know which to give them because their message didn't include one little detail (like product size), just give them both answers to save them a back-and-forth message asking for that detail. Check out this example: Maybe you sell two different sized camera lens attachments for phones. They're enquiring about it to see if it will fit their phone. Rather than asking what kind of phone they have or which of the two sizes they're looking at, save the back-and-forth and just explain the two different sizes and which phone models are compatible with each.
5. Make It Personal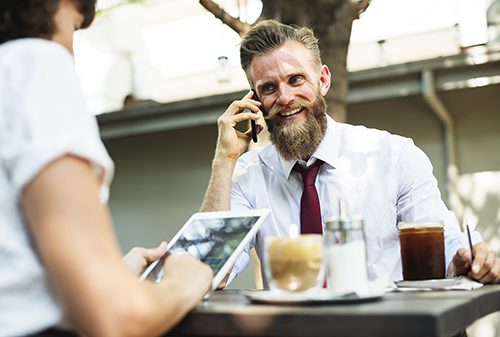 As you're keeping it quick, you shouldn't make it impersonal. A quick introduction so they know who exactly they're talking to will help them connect with your brand. For instance, "Hi [customer name], Anna here. I'd be happy to help with this, here's what you need…" Just this quick little exchange of addressing them by name (or username) and giving them your name makes it so much more personal and can do a lot for your brand image.
6. Give Them More
Going that extra mile doesn't always take time. If someone asks about a widget you sell that that fits on to phones, you could just explain your product models in an email and list which phones are compatible, but you could also make their life easier by just providing a link to each product (it'll save you time too). If they gave you their phone model, link only to the product that works with their phone and don't make them read a long email message. Saving your customers' time like this might take a couple more minutes on your end, but they will be very appreciative that you've linked to the correct products rather than making them look it all up on their own.
7. Make It Public
With social media platforms like Twitter, you might get questions tweeted at you rather than messaged to you. If that's the case, respond with a public Tweet and use that as a chance to show off your great service. In that Tweet you could link to your FAQ so other people with questions will consider consulting it before contacting you directly.
If you're asked a question as a comment on a Facebook post, why not make a post dedicated to the question (where appropriate) so they can see your answer and everyone else can admire your brand's quality interactions with clients.
8. Brand Building Using Interaction
Speaking of interaction, people love talking to brands. Whenever possible, make your customer service interactions not only public, but shareable. When you can, make your answer a public reply and try to make it so helpful/interesting that they want to share their experience with your brand. It will pay off in the short and long term as your brand's exposure begins to grow and your reputation and authority do as well.
Public social media channels can be a great place to showcase your brand's customer service
Click To Tweet
9. Remember That Service Is Everything
Now, you may be wondering why I made this last on the list. That's because I'm hoping you already know this one. Customer service really is everything. Without good service, your brand is nothing. Customers may rant about your bad service (or lack thereof) and they will not want to contact you, or buy from you, any more. And people are much more likely to share a bad experience than they are to share a good one. That means if you're ignoring, not helping, or upsetting your customers with your proposed solutions, the word is going to get out. Do everything you can to make your customers as happy as possible.