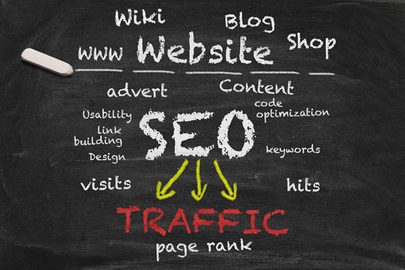 Search engine optimisation (SEO) is a key factor in ensuring that your business website is a success. By making sure that it is found and returned by search engines such as Google and Bing, you will be bringing visitors to your site.
Over the past months we have looked at many of the various aspects of SEO, and how they affect your website. By following the tips and ensuring your site meets the search engine guidelines, you should see its search position increase, along with your visitor count.
If your website is still not performing as well as it could, there are many SEO techniques which can be employed to improve your website further, and in future posts many of these will be discussed. However, before moving onto these in depth approaches, it is wise to take a step back and look at your website. Is it following the key principles of SEO, and is there anything which may be having a negative impact on your website's ranking? Often, giving your site a 'health check' will identify weaker areas which could be better optimised.
The list below recaps the main points discussed so far. Does your website follow these guidelines and meet these criteria? If you feel it could do with improvement in any of the areas, follow the link and find the related article for further information.
1. Keywords
Ensure you have chosen strong keywords which are relevant to your content and which are commonly used by the customers who will be searching for you. Keywords should be unique to a particular web page, and it is better to use a few good ones than try and overfill your website with them. For smaller sites which may struggle to compete with the market leaders for broader keywords, especially those just starting out, descriptive long-tail keywords will offer the best chance at successful optimisation.
2. Structure
Your website needs to be easy to navigate for two reasons. Firstly, customers visiting your site will get fed up and leave if your website is hard to get around, and this user behaviour is a warning sign to search engines that your site might be of poor quality and not worth returning in search results. Secondly, the search engine crawlers must be able to find and correctly index each of your web pages for those pages to be returned as results.
3. Quality
Search engines build their reputation on delivering the results that their customers want. This means the sites they return need to be good quality, informative, relevant and user friendly. There are many different factors taken into account when determining a website's quality, but as a general guide you should focus on your customers and what they want – if your site is useful to people and easy to use, it will perform well in searches.
4. Backlinks
If links to your website appear in other places on the internet, then more people will find your site and come to have a look. These links also show search engines that your website is popular, especially if those links come from relevant, reputable sources.
If the above factors are all present in your website and you are confident that there is nothing which could be misjudged by search engines and therefore penalised (such as overuse of keywords or repetition of content) then your site should find itself performing well in search results, bringing in visitors and converting them into customers. Taking a step back to consider the basics will help you to tighten up any area that may need attention and provide opportunity for a further increase in your search ranking.