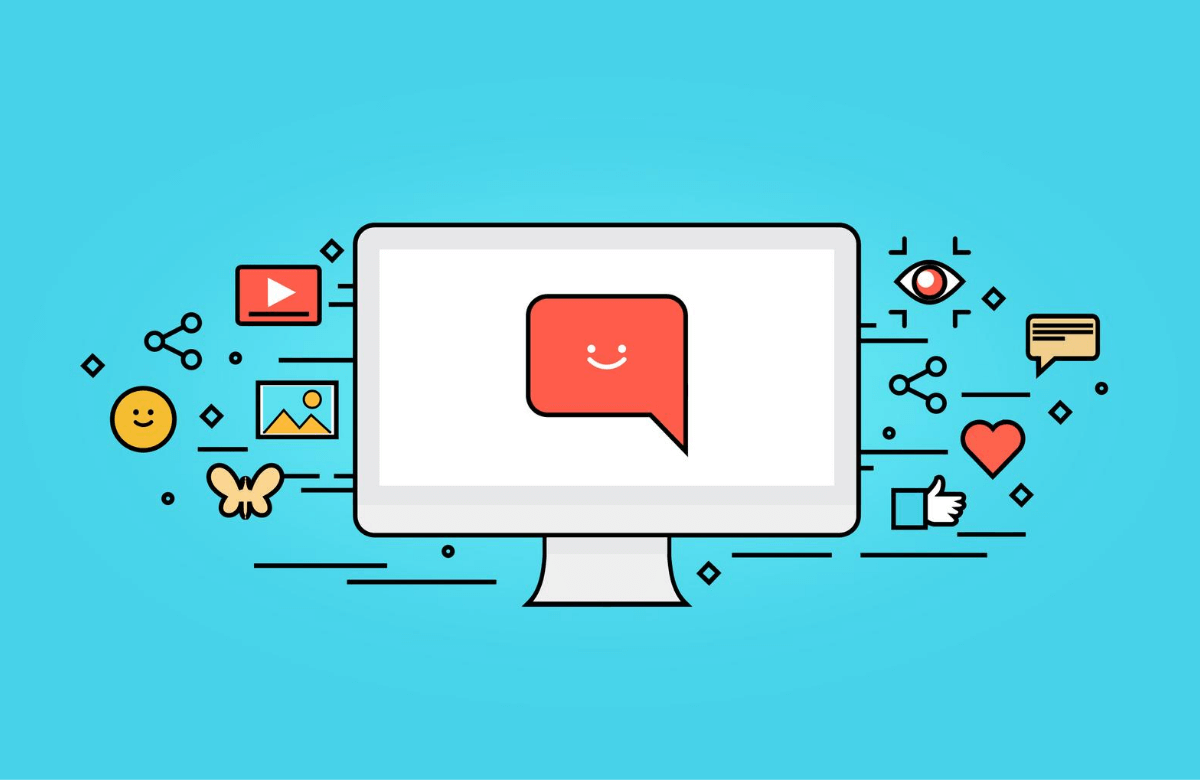 Making sure your audience is heard is the key to business success. Connecting with your customers and engaging with them on a personal level is paramount, whether it's done online or offline.
Historically, e-commerce has been quite an impersonal affair, but conversational commerce is increasingly making this a thing of the past. Conversational selling makes any online buying process more interpersonal and less faceless – just like you'd expect from a brick and mortar shop.
But what is conversational commerce/selling? And how can smaller businesses implement conversational selling tools in a meaningful way?
What is Conversational Selling?
Conversational selling is the practice of using live chat tools to speak directly with online customers while they're considering a purchase. Many of us will be familiar with sites that display an optional "chat with us" function in the bottom right corner – this is an invite to engage you in conversational selling. Its aim is to provide a similar buying experience to that you'd receive in a physical store, with a shop assistant answering questions and providing a consultative service in real time.
By interacting with prospects personally while their curiosity and buying intent is at its highest, conversational selling can do wonders for conversion rates and customer satisfaction. In fact, statistics show that consumers prefer a more personal, consultative online buying experience:
When given the choice:
75% of consumers indicated that they would prefer to engage with a brand over private messaging channels than traditional channels.
62% of consumers said they were more likely to become a repeat customer if a brand responded to their questions on digital channels.
Source: State of Digital Care (UK & US) results, 2019
Conversational sales tools suit buyers because they can get immediate answers on the fly. Anything that makes a customer happy is good for business, though businesses stand to gain too as conversational commerce tools allow businesses to make recommendations and attempt cross-sells and up-sells.
These chat functions can be manned by an AI chatbot or by a person – or a mixture of the two, as we'll explore below.
If you'd like to find out more about conversational selling, we recommend you check out What is Conversational Commerce and Why Is It Important?
How to Implement Conversational Commerce: 3 Considerations
Here, we've identified three practical considerations you'll need to ponder in order to make your conversational selling experience as worthwhile as possible – for your business and for your customers.
First Decision: Who's Going to Operate the Chat Function?
This is an important first question. Who is going to physically man your business's chat function? Do you want to use an AI chatbot? Or are you going to task one of your team to speak to each person individually? Both approaches have their advantages and disadvantages.
Manually operating the chat gives you far more control over what's said and stands a chance of providing your customers with far more varied, higher quality answers. However, it can be very time consuming and labour intensive for the human operative in question. You don't just have to consider the time taken in responding to queries, but the downtime in waiting for responses and the interruption to other work responsibilities also needs to be taken into account. There's also the fact that X-many human operatives can only speak to X-many customers at a time, whereas chatbots can generally juggle multiple chats at once.
AI-based chatbots are great at gathering information and answering basic questions, but struggle when a more nuanced answer is needed. AI-enriched chat tools tend to come at a higher cost compared to manually operable chat functions, but they can instigate conversation in a uniform way and can respond to a surprising amount of eventualities without having to trouble a single human team member. Chatbots are particularly useful if you sell globally – they can happily respond to questions at any time of the day or night.
Our advice is to find a tool that will let you enjoy the best of both worlds. Your AI chatbot can instigate chats; collect basic information; and answer simple, frequently asked questions; but it should have the ability to refer queries to a real person if more nuance is required. This way, your team aren't tied up on lots of tiny, repetitive queries (as the AI can handle those) and are only getting involved when human reasoning is needed.
Second Decision: What Do You Want Customers to Achieve Over Chat?
Next up, it's time to think about the scope you want your chat function to have. Do you want it to simply answer basic questions about product specifications, locating items, delivery times, and general FAQs? Do you want to provide an in-depth, granular consultative experience? Or do you want to land somewhere in-between?
Starting at the simpler end of the spectrum, basic questions about your product specs and your ordering process are very much the "bare minimum" and are probably best handled by an AI for efficiency's sake.
Moving forward in complexity, you can use your chat function to refer customers to on-site content with relevant advice, give updates on orders, or answer questions about stock availability; again, this can be left to a human operative or to an AI. The chatbot route is more efficient, but remember that the chatbot will need access to your stock, ordering, and content systems in order to provide these sorts of responses. If you can't securely link these systems to your chatbot function, then you may have to leave those queries in human hands for the time being.
At the top end of our spectrum of chat complexity (and if you have particularly deep pockets) you can even provide a totally consultative chat experience like skincare brand Vichy do:
So, think long and hard about the scope of your chat functions – especially if you're relying on chatbots and automation – because the world really is your oyster nowadays. What questions do you want it to answer? What data do you want it to capture? What role do you want your chat function to play in your customers' buying experience? Look at your competition and explore the tools that are available to see what kind of chat service you can affordably provide.
[Twitter: Wondering how to apply #conversationalcommerce to your business? Consider these three factors first.]
Third Decision: Where Do You Want to Chat?
You also need to consider "where" your chat is going to take place. Many of us are familiar with on-site chat functions, but they're far from your only option.
Let's explore on-site chat tools first. On-site chats (the kind that generally appear as a pop-over window in the bottom right corner) are great for discussing on-site products and keeping website exit rates low. This is ideal for businesses where the buying process is quicker or where purchases tend to be more impulsive. It's also perfect for businesses whose clientele come to their site and generally know what they're looking for – find it, purchase it, done.
Take a look at some on-site chat functions like Intercom, Drift, Chatra, Engati and Crisp. You'll notice that some of them have useful features like CRM integrations, canned responses, user rating systems, and compatibility with other external communication platforms.
However, in some situations, tethering the customer to your website may not be your best option. If your typical sales journey is a little more long-winded and consultative, you may want to consider using a more commercially familiar, off-site chat app like Facebook Messenger or WhatsApp. Thanks to Facebook's Chat Plugin and WhatsApp's click to chat, you can begin a conversation through your website, but continue the conversation through your chat app of choice.
This can prove much more convenient for you and your customer – they're free to engage with you on their phone as they go about their day and they have a direct link to you in their pocket. Conversely, if your sales or marketing teams spend a lot of time responding to public queries on Facebook, then they can easily deal with private Facebook messages without having to hop between platforms. Some brands are even experimenting with conversational AI that's accessed through smart speakers or mobile assistants like Siri!
In Conclusion
In order to make your steps toward conversational commerce worthwhile, you need to ask yourself what you want your conversational endeavours to achieve and consider numerous practicalities:
If you're not going down a completely AI-driven route, which human staff members will be on chat duty? How might this affect their other workload and responsibilities?
Consider the potential added cost of using chatbots compared to the speed and the 24/7, multi-chat efficiency that an AI can bring.
If you're going for a blended human and chatbot approach, how will your chatbot refer queries to a human if needed? How will it manage customer expectations when this happens?
How in-depth do you want chat responses to go? If you want a chatbot to answer questions about product availability or order progress, you may have to jump through extra technical hoops to link those systems securely to your AI chatbot.
Do you want your chats to "take place" on your own website, or would it make more sense to chat over Facebook Messenger or WhatsApp? Remember, thanks to the Facebook Chat Plugin, you can have on-site chat functions that are seamlessly integrated with Facebook Messenger.
Want to get started with AI-powered conversational selling? Yell customers can enable Hartley, a free messaging bot, on their Yell.com listing! Hartley automatically responds to new messages received via your Yell listing from Apple devices (Android coming soon), gathering basic information about a customer's enquiry before passing their details to you via the Yell for Business app.
Get started today – download the Yell for Business app from the App Store or Google Play now!