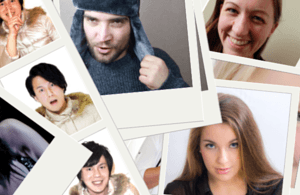 If you're in the business of using content to build a community of future and current buyers, y'all know how hard it is to keep things fresh.
There's only so many '9 ways to get more from your vacuum cleaner' articles you can write, right?
The brilliant thing about content marketing is that it forces us to do more interesting things so we have something to talk about.
That's probably the wrong way around, but the end result is the same: good content, new ideas coming into the business and hopefully a boost to brand sentiment.
What an event can give you
Blog content
Email list
Brand awareness and sentiment
Social buzz and followers
Market and product feedback
Sign-ups
Photos and video
Elevator pitch practice
Case study: the photobooth
Recently, a company I write for was invited to an event for college students – around 2,000 16- to 17-year-olds over two days. Basically our prime target market. Nice.
I'd been to an advertising festival the week before and seen how crazy people go over photobooths, so I started thinking about how we could use one.
My photobooth content plan
On the day:
Set up a photobooth with props and start hauling people in
While they wait, get them to write down their email address so we can send them the photos
Tell them about the competition we're running to choose the best photo shared on social media
Get them to write down a brand-related pledge on big whiteboard speech bubbles
Send them in for their four snaps
As they come to get their (branded) print, tell them to take a picture of it and share on social with the hashtag for a chance to win £X
Have a little chat about the product
Tour the event, showing prints and pointing people towards the booth
The week after the event:
Send out the photos to the email list, reminding people of the social competition
Blog about the event, with a few snaps included and mentioning the social competition
Share blog on social media
Choose the best photo and email the winners
Blog about the winners and share on social
So what do I have? I have an email list of exactly the right age for my product, who I've talked to about what we do. I have new followers on my social channels, as well as a whole bunch of tagged photos that make us look fun. I have blog and social content. I have promotional photos I can use in our marketing. I have brand-related pledges I can use in a future campaign.
Most importantly, I have 2,000 teenagers (and their teachers) who think my brand is kind of OK.
Every event is a content opportunity
Innocent (yep, my go-to example!) are putting on a festival at the end of May. It's a two-day phone-free love-in at a secret location somewhere in Kent. And I'm totally going.
Why are they doing it? Content. Offline content, but brand-building content just the same. Plus, they're asking people not to have their phones on but you bet they'll be photographing the whole thing – and most people will Instagram it anyway, won't they?
Any event can be spun into glorious content – so go! Send people! Get out there and generate content.
Events = real people, real stories, real value. Get yourself out there. #contentmarketing
Click To Tweet