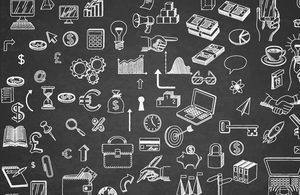 A social media strategy is an essential component of an organisation's marketing, regardless of how instrumental a part of the marketing mix social media is for them. Having a strategy in place – however basic – provides a simple manual to fall back on for when you or your team have questions regarding content, tone, customer interactions and employee usage of social media. So why is this so important?
Why do you need a social media strategy?
Think of your social media strategy as your rudder, a framework to keep you on course to meet your objectives and KPIs. If you're a one-man-team, it can help you to keep key objectives front of mind, and if you have a team and/or need to report to a senior, it gives you the reassurance that you're on the right track and everyone is on the same page.
What a social media strategy should cover
Your social media strategy should cover your objectives and KPIs, the purpose of each channel and platform, a competitor audit, an overview of your various audiences, and how you will implement your strategy. Your strategy should be concise but detailed enough that new members of staff or stakeholders in the business can follow it.
How to write a social media strategy
A social media strategy can be broken down into these nine key components:
Summary of strategy. Clearly state the current areas for improvement of your social media marketing, the goals you wish to achieve with your plan, and your budget (if applicable)
Define your audiences, segmenting them by target market and their demographics. You may be targeting different audiences from different social media platforms, in which case, define which platform the segment is active on. For example, a B2B market might be more active on LinkedIn than Facebook.
Define your platforms. Outline which platforms will you be using, which audiences you will be reaching on each one, and the types of content you'll be sharing.
Review the competition. What are your competitors doing well, and not so well? What platforms are they active on? Do they have a healthy follower growth? Do they spend on social media advertising? What hashtags do they use? How regularly do they post? Is their content salesy, engaging, or educational?
Set KPIs for each network. Outline the measures you will take to evaluate the success of your strategy. Classic KPIs for social media marketing are follower growth, website clickthroughs, and level of engagement. Some KPIs will be better suited to certain platforms.
Plan a content strategy. Using the information you have gathered about your audiences and platforms, devise your content strategy. How often will you post? Will you use the same tone and style on each platform? Will your content need to drive website clicks, or increase engagement? What kind of images will work best – and do you need to budget for getting professional shots taken? Will you use third party content? If you're going to create a content schedule (this won't suit every business, many prefer to keep content plans loose to be flexible) then mention this here.
Implementing your strategy. Define who will be creating and publishing content and engaging with followers. Mention any management tools .g. Hootsuite that you'll be using.
Measuring success. Having set your KPIs, set calendar reminders to take measurements at regular intervals. Most platforms offer elementary reporting, you can also use Google Analytics to measure web traffic from social media.
Employee usage of social media. Do you encourage employees to create "work" social media accounts? If so what can they post from these accounts? Are there any guidelines for what they can and can't post from their personal accounts? Liaise with your HR department for this section as there will most likely be a segment of the employee handbook that covers this area.
A social media strategy needn't be lengthy, in fact the more concise it is the easier it will be to implement it. Share it with your team, get everyone on board, and if anything changes – update it as you go!
How to write your #socialmedia strategy – nine key sections to include
Click To Tweet