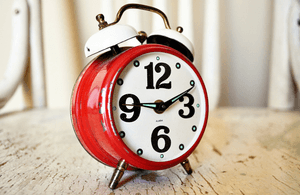 The longer people spend on your website, the better.
If you're seeing lower time-on-page stats in your analytics than you'd like, you need to start getting a bit more jazzy.
There are some really simple and wonderfully engaging bits of content you can include on your pages to get that dwell time up – with minimal effort and very few pennies.
1. Images
The time has come. If you're still just whacking a featured image on your posts (because you have to for social) and calling it good, make this one your New Year's resolution.
'Add more images' is hardly ground-breaking but I know how easy it is to fall into a machine-like process where your brain goes title-words-image-CTA-publish and moves swiftly on. It can be hard to find quality images you don't have to pay to licence, so we often skip that bit to save time and cash.
Don't!
Lest we forget, images are SO important to time-on-page because they:
Show site crawlers that your content is varied
Provide extra search benefit through image search and alt text
Give your audience options for how they consume information
Make things look pretty
Keep people scrolling
No ifs, no buts. Set yourself a minimum image count for all new content. If you've REALLY got nothing to do, go back and add nice images to old content too. It'll pay off.
If you know where to look, there are plenty of free image resources. These mainly let you use images for EDITORIAL content so be careful with the licence if you're intending to create ads and other traditional money-makers. It's better to pay the fee for the image than be prosecuted for not having the right licence on an ad campaign.
My fave free image sources:
2. GIFs
I've always lurrrved GIFs but I now love them even more because I've just discovered that you can create super-easy animations in Canva, the graphics tool for idiots like me.
Anywhere you would put an image, you can put a GIF. And the wonderful thing is: they yell for attention, then dole out bits of information in nice chunks. Dwell time, my friends, AND content you can reuse on social media.
The same is true of any alternative media: embed videos, tweets, audio clips – anything that shakes things up. If it's interesting and relevant, get it in there.

3. Longer content
Well hey, how 'bout that? People will only spend one-minute reading content that takes one minute to read? Unbelievable.
Google recommends a content length of 500 words, minimum. But 500 words might only take your readers 20 seconds to skim and discard so that's going to affect your time-on-page right there. I'm happy to predict that 2018 is the year of long-form, and I think it makes sense to be working on some much longer content in amongst your snappier news items. The world is hungry for well-thought-out, rational information right now. It behoves you to show you have stuff to say with a bit of long-form here and there.
4. Rigorous structure
With longer content, there's even more need for serious content architecture. Faced with an unbroken wall of words, your audience might give you an even worse time-on-page. If that wall of words is decorated with subtitles, calls to action, lists and media, they'll stay.
Subheadings, in particular, let your reader scan the page for the bit of information they want. You might think you don't want people to skip ANY of your wonderful content but trust me, you do. The more relevant and satisfying they find your page, the better.
Read my latest on content hierarchy to check your walls will hold.