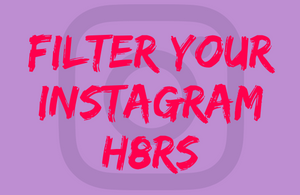 Does that sound sarcastic? Maybe it is. Instagram has just announced that it will allow account holders to make a list of keywords they deem 'unacceptable' in order to automatically hide comments on their posts. It's a mommy blogger's dream.
Banned: fake, irresponsible, shilling, sponsored…
What difference will banned keywords make to Instagram users?
For entities like LGBT charities and other groups that face an extreme amount of abuse online, this is good. Not because I feel like the social media teams behind them are delicate flowers; for the people who are inspired and protected by them and don't need to see vile stuff in the comments.
Instagram's co-founder, Kevin Systrom, said the move was about trying to get the platform back to how it started: "a welcoming community where people could share their lives."
And right now, it's really not. There is a terrible level of abuse towards account holders that aren't groups – that are just one person, feeling every horrible comment as it comes in.
For these two examples, the ability to block the worst things that get hurled at them is great. Accounts with large followings should definitely be able to take responsibility for looking after their communities. Brilliant idea.
"All different types of people – from diverse backgrounds, races, genders, sexual orientations, abilities and more – call Instagram home, but sometimes the comments on their posts can be unkind."
Kevin Systrom
Instagram CEO and co-founder
So can there really be anything bad about this?
I know there shouldn't be. Making Instagram a kind, safe place for everyone would be wonderful.
But I do feel there are an awful lot of Instagrammers that need public criticism – whether it's because they're preaching an ideology that should be taken with a pinch of salt (and possibly won't be by young followers without comments from other people); or because they're actually dangerous. #Thinspiration may be a banned hashtag on Instagram but those accounts still exist.
There's also the way more subtle art of banning emojis – which I feel is going just a sliver too far. Although society will always find ways to subvert anything (hello, poor little aubergine emoji), so…
[As an interesting aside, the gun emoji has just been changed to a water pistol, so you may find that one fades out as an accompaniment to threatening comments…]
How can you use Instagram's keyword banning as a brand?
If you're aimed at kiddies and families, maybe use Instagram's default list to ban the usual swear words you'd ban from Facebook ads comments
If there are subjects in your company history you don't want brought up – a failed campaign, an old CEO – that could go on the list (I've already heard internet murmurings of a big brand using this to stop accusations of stealing artists' designs clogging up their comments)
If you see a lot of squabbling, inappropriate behaviour and abuse between commenters, try to analyse those for words or emojis (hello, aubergine again) that filtering could nip in the bud before it goes public
How to set up your banned keywords
Go to your profile and hit either your cog (iOS) or three-dot menu (Android) in the top right corner
Tap Comments in the list
Tap Hide Inappropriate Comments to turn on the default keyword list, which bans all your usual family favourites OR
Put in your own custom keywords (separated by commas) under Custom Keywords – these can include words, phrases, numbers or even emojis
Hit Done
No more haters for you.
You can now filter your haters' comments on Instagram.
Click To Tweet