We're all used to Google rolling out endless updates (usually named after some type of creature, e.g. Hummingbird, Panda and next up (possibly) Mockingjay), but what about social media?
As I've mentioned before, social media never sleeps and it's constantly evolving – in fact there are multiple tools and features that you may actually not know about. Some of these features can help you to make the most of social media for your business, saving you time and money. Don't worry if you're constantly on the move, as many of them are available in app form so you can keep up-to-date with social media using your smartphone or tablet.
Twitter tools and features
Twitter is an extremely lucrative tool for your business, with 271 million monthly users using the social network platform to share their thoughts, opinions and business ideas. Even if you class yourself as a confident tweeter, there's no harm in experimenting with some of the tools and features to make sure that your business is doing everything it can on this channel. Most of the tools allow you to login using your Twitter account, so everything is synchronised automatically and you can get started immediately.
So which Twitter tools are worth checking out?
Tweriod – tweet at the right time
So you've finally mastered tweets and are interacting with your followers, but how do you know when is the best time to send out a tweet? If your customers range from parents to young professionals then it might seem tricky to pinpoint your audience, but Tweriod is a free service that analyses your Twitter followers and helps you work out the optimum times to send out messages.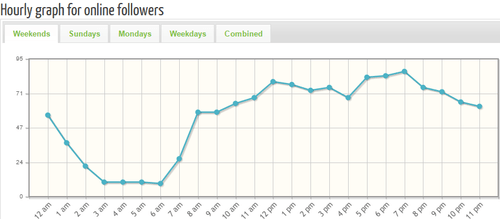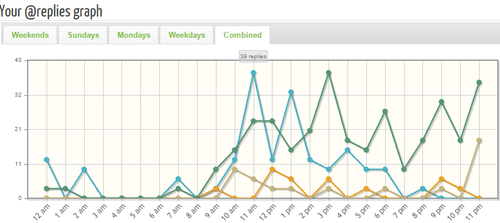 Audience mapping – tweet at the right time
You can also find out where your audience are and what they're tweeting about, as well as see those who you're following that aren't following you. This helps you to build up a picture of the sort of people and businesses that are interested in what you're saying and where in the world they are. Tweepsmap is one example of an audience mapping tool; although you can see your global statistics straight away, you will have to wait a week for any detailed data, but it's then delivered to your inbox each week for you to analyse.
Hashtag Hours – network with the right people
If you're trying to interact more on Twitter but don't know where to start then try to find some relevant hashtag hours. Hashtag hours are a great way to network with others in a similar location, industry or field – just tweet questions, advice etc. using the specific hashtag. You aren't limited to the timeframe, but you might get more response during this hour. Examples of hashtag hours include:
#SmallBizHour – Tuesdays 9pm-10pm
#MumpreneurHour – Thursdays 9pm-10pm
#DorsetHour – Mondays 7.30pm-8.30pm

LinkedIn tools and features
Initially set up to help professionals connect with one another, LinkedIn has now become more of a social platform. People share updates about their business, any content they think their connections will be interested in and participate in industry discussions with likeminded individuals. It's also a great place to go if you're recruiting as you can look up an individual and find out more about them, or even contact a potential candidate directly. Some of the latest features on LinkedIn include:
LinkedIn Pulse – share your content
A platform to help you share your content, LinkedIn Pulse gives you access to the audience that you want to reach. LinkedIn Pulse sorts each article or idea by topic and theme so that only people who want to see the content will – this means that anyone who reads your article has already been identified as an interested party. You might think is will decrease the number of readers, but when you think that LinkedIn has more than 300 million users, it's hardly something to worry about!
LinkedIn Notes – keep in touch
As you build up your contacts, you may want to add some notes to their profile (e.g. where you met, what you discussed, future potential etc.). This is a simple, but useful feature of LinkedIn. Simply go to Connections, select Keep in Touch and this should bring up a list of contacts. You can now search for a specific contact and in the top left section of their profile, click Relationship. You can then add how you met and any notes you wish to make about that contact.

LinkedIn Groups – start networking
OK so these aren't a new feature but they're often overlooked. Not for socialising as such, LinkedIn Groups are more for networking with likeminded people who share your opinions, skills or interests. Influential group members will post topics for discussion, either to find an answer to a problem, or simply to encourage a healthy debate. Think of them as a virtual community, so don't go crazy and join 50 groups because you'll never find the time to actively participate! Have a browse within your business interests and pick a few with a healthy membership, interesting discussions and some potentially useful contacts and go from there. A good starting place might be the group 'Small Business Network for start-ups and entrepreneurs'. This group has 66,170 members and its current articles and discussions include Six Tips to Boost Customer Service during the Holidays.
How to socialise professionally on social
Social media is a fantastic way to grow your business and make connections (and even friends), but remember to avoid these five things:
Vague posts that say nothing – you want people to engage and interact with you
Incessant complaining – whether about a competitor or a brand this is unprofessional
Consistent sales messages – this does nothing for your reputation
Oversharing – there's a difference between amusing and crass
Posting constantly – don't saturate people's feeds or they'll remove you
Be interesting, relevant and personable, making sure that you target updates to your audience and interact with your followers.