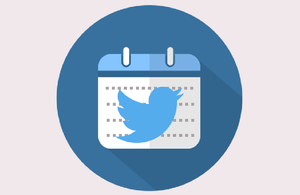 Planning and me. We don't get on. I used to think of social media as an organic, flexible thing that would flow naturally as ideas popped easily into my mind.
Then I got properly busy and that fantasy became a joke.
Social media is the part of your marketing that will usually suffer first when other priorities start screeching. We know why it's important but it still feels like a nice-to-have when your boss is asking why that presentation isn't on her desk or when the descending graph line is going to start ascending again.
So, planning is really the only way to get through and keep social on track. A good social and content plan will take all the umming and ahhing out of the process and make it easy for any old mug you manage to bribe into helping you.
Step 1: find a planning tool
This could be as easy as opening your Outlook or Google Calendar, and they are definitely up to the task. Probably the easiest thing to integrate with your emails, phone, LIFE as well.
However, if you need to set up multiple people with the calendar or have any kind of workflow or sign-off process, you're going to need a content planning tool.
There are a whole bunch of these, ranging from free to ludicrously expensive, and they all do drastically different things. I've done so many free trials and given up with all of them – except Divvy HQ. Very silly name but quite a good system.
A few content planning tools to try:
Divvy HQ – a calendar-view planner with lots of options for adding copy, assigning tasks and planning in campaigns (free)
Trello – a post-it style board of lists with drag-and-drop functionality to move items between stages (free)
Sprout Social – scheduling, social account integration, a calendar, reports…the real deal (£££)
Step 2: take a look at the old calendar
What's happening in the world this month? Taking April as an example, you could chuck in April Fools' Day, spring finally happening, the Easter bank holiday, another bank holiday weekend right at the end… Loads of lovely stuff.
Once the basics are in, check if there are any industry-related World Nonsense Days coming up. Yes, they're ridiculous. Yes, they exist purely for poor marketing people like us. But if you sell washing machines and it's World Washing Machine Day, you really have to jump on that.
Next: things in your business calendar. Got any work events in the diary? Going to any interesting conferences? Anyone doing charity work or climbing a mountain? Put those in.
The idea is to block out all the cool stuff that's going on in your company to give you ideas for blog posts and social conversations. Once those dates are in, you're halfway there.
Have a peep at Sprout Social's DELIGHTFUL Hashtag Holidays list for silly little things you can celebrate on social.
Step 3: brainstorm ideas
Go day-by-day and think of simple posts or content pieces you could do based on what's going on. The secret to this is: keep it simple, stupid! You do not have to be planning Coca-Cola worthy campaigns. I free you from that notion.
A day's posting could be as easy as "Hey, it's the first day of spring! I could do a #throwback post of that old photo of the boss planting tulips outside the office in a suit and wellies!" Chuck in some notes on the idea, a few hashtags that might be useful and any resources you know you already have.
Always remember that a) most of your posts don't get seen by the majority of your followers b) most people have bigger things going on in their life than dissing your lack of variety in content and c) once you have an efficient rhythm going, you can start getting fancy.
Step 4: plan what you'll need
This is where you go from 'calendar' to 'content plan'. Open up each idea in your calendar and read through your notes. What pie in the sky stuff have you come up with that requires a Renaissance painting, the set of a BBC cookery show and a pug?
Keeping in mind the resources you have – designer? camera? video content? – start planning the steps you'll need to go through and the people you'll have to wrangle to get your idea happening. If your post is launching on the 15th and you need a papier-mâché goat made, go back in time and plan the deadlines in your calendar. OMG, it looks fuller already!
You see, your content calendar is not just what's happening on social or your blog: it's a plan of all the work that needs to get done to make that stuff happen.
Step 5: keep things loosey goosey
You'll get a lot of your better ideas on the day – news happens, trends happen and weather happens. Social is a living thing and taking advantage of emerging situations is the whole point.
Keep your eye on the news, make sure you know who's out of the office doing something cool (it's in your calendar, remember?) so you can hound them for photos, and look at everything that happens in your day as content. The gimlet eye of a social media marketer.
Five days of simple, off-the-cuff posts:
Our #MondayMotivation today is our customer Janet – she's made a pretty sweet fort for her two-year-old out of OfficeLove boxes! [image]
The Green party has just announced its support for the #threedayweekend. We can also officially announce our support for that policy.
The OfficeLove team is at the Global Stationery Conference today. They've already collected 12,390 promotional pens and learned all about the latest trends in fax machines. [image]
It's #WorldBurgerDay so we crafted something delicious out of materials from our stock cupboard.
To celebrate that #FridayFeeling, here are five fun alternative uses for boring office products. What do you mean, procrastination? [link to Pinterest board]
Go forth and plan!