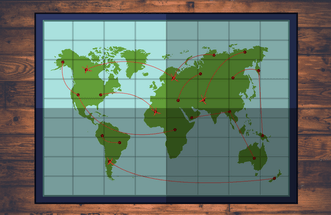 I struggle with marketing strategy. I'm quite a strategic thinker – Machiavellian, almost.
But I find it hard to organise all my crazy ideas into one sensible, achievable marketing strategy.
So, I've done the work to make sense of it, and now I give it to you.
Marketing strategy starts with goals
Start by picking your biggest goals for the business. Making money has to be in there, obviously, but every business has secondary hopes and dreams, like becoming the best-known fish and chip shop in the area.
Secondary goals all contribute to the overall aim of making money, by boosting your reputation or growing the knowledge (or even happiness!) of your colleagues. Diversity is a great business goal; excellent training schemes is a great business goal. It all feeds that number one goal: making money.
Identify the tactics that will achieve your marketing strategy goals
These tactics will be a combination of the channels and activities you think will achieve your goals, for example:
We will achieve the goal of increasing website hits by driving traffic to website content from targeted Facebook ads.
You might find it useful to split your marketing activities under each goal by paid, owned and earned. This helps you keep sight of how much you're having to pay for; you want a nice balance between the three.
Paid: things like PPC and content placement on a third-party website
Owned: your content that you host, graphics you create and social media
Earned: press coverage and links to your website
Some will cross over, for example, a referral scheme might cost you £25 per acquisition but it also depends on word of mouth and brand sentiment. It's paid and earned.
The final step of our marketing strategy – how will we know it worked?
There's no point having business goals if you don't know when you've achieved them. Being able to analyse your marketing activity lets you find failures and identify success to replicate in your next strategy.
Each of your tactics needs success metrics planned out, and they'll vary wildly depending on the channel and goal.
Context is very important: you can't aim for longer time-on-page if the page in question has content that takes literally 10 seconds to consume. That's the time that SHOULD be spent!
Success metrics include:
Return on Investment (ROI)
Cost Per Click (CPC)
Click-through rate (CTR)
Cost Per Acquisition (CPA)
Website visits
Split between organic and paid traffic
Split between direct and referral traffic
Website engagement rate (bounce rate, time-on-page)
Social engagement rate (likes, retweets)
Social reach
Downloads
Email open rate
Number of pieces of coverage
Brand recognition
Net Promoter Score (NPS)
Example marketing strategy
1. Make sales
Drive traffic to a site
Channels: PPC, directory listings, brand and organic search
Success metrics: website hits, split between paid and earned traffic
Perfect customer journey
Channels: acquisition > sales funnel > purchase > confirmation > customer service
Success metrics: increase in sales, customer service feedback, NPS
Educate about complementary products (upsell)
Channels: sales funnel optimisation (e.g. popups)
Success metrics: increase in sales of complementary products
Use sales data in marketing and journey (our most popular product this month!)
Channels: social ads, website copy, sales funnel optimisation (e.g. popups)
Success metrics: increase in sales, clicks to promoted products
2. Grow brand awareness and reputation
Publish content
Channels: social, website, print, guest posts
Success metrics: mentions, backlinks, industry coverage
PR
Channels: blogger outreach, press releases
Success metrics: inbound links, press coverage
3. Change the industry
Channels: speaking engagements, thought leadership pieces, data reports
Success metrics: growth in the market, press coverage, speaking engagements, increase in brand search