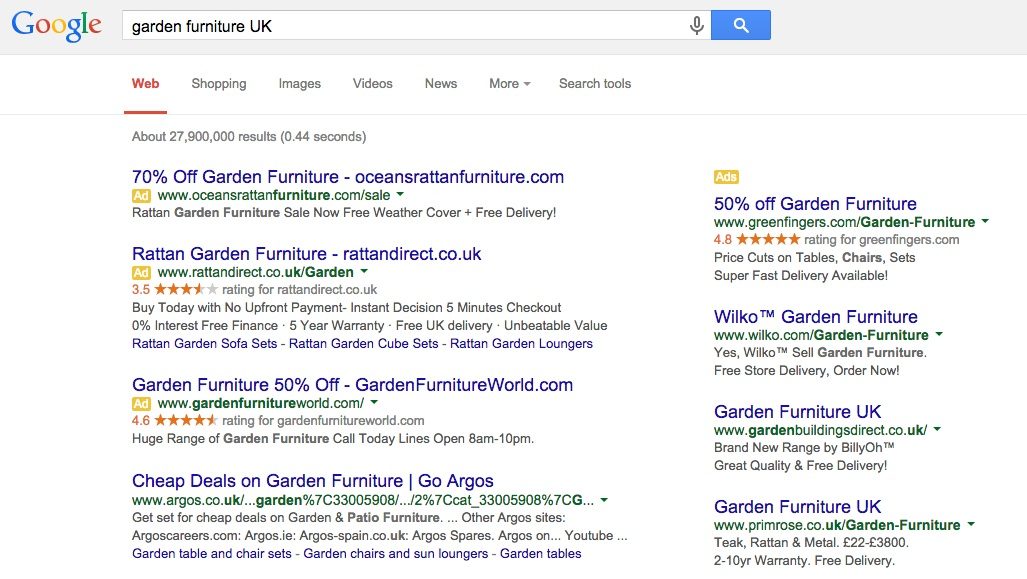 I recently undertook a certification in PPC to fill in the gaps in my knowledge as, while I grasped the basic principle behind paying Google for a more prominent search engine ranking, I wanted to know exactly how it worked, how it tied into website SEO, and if it had any impact on a website's organic rankings.
Here are some of the questions I and other attendees had before and during the course:
1. SEO and PPC: what's the relationship between them?
SEO is basically the art of driving traffic to your website organically through keyword research and other means. PPC on the other hand involves driving website traffic via paid ads, for which you 'pay per click' (PPC). Paid ads appear in the top section and side bar of the search results and are marked as 'ads'.
Website content and SEO quality directly influences the PPC ranking, so PPC and SEO strategies need to be closely aligned. Many businesses have a dual SEO and PPC strategy, as the two overlap and influence each other to a degree.
2. What are the pros and cons of PPC when compared to organic SEO?
The ideal search marketing strategy would include both SEO and PPC, as the two practices complement each other. Unlike SEO which can take a long time to impact search rankings, PPC can be an instant way to get close to the top of the pile and reach a large audience for certain search terms. An obvious disadvantage of PPC are the costs relative to organic SEO, although a PPC budget can be easily reduced or switched off should budgetary issues arise.
3. How does a search engine decide which ad bidding should get the top spot? Is it solely reliant on the highest bid?
No – search engines like Google have reputations to protect! Google does take into account the bid, but it also assigns your website a quality score based on quality and relevance, and multiplies this with your bid to determine where you'll rank. For example, a website with a quality score of 4 and a maximum bid of £2 will have a higher ranking than a website with a quality score of 1 and a maximum bid of £6:
| | | | |
| --- | --- | --- | --- |
| Quality score | Bid | Overall score | Ranking |
| 4 | £2 | 8 | 1 |
| 1 | £6 | 6 | 2 |
| 5 | £1 | 5 | 3 |
As you can see from the table, the key to getting a high ranking for the best value is to have a website that Google deems good quality and user friendly – it just wants to make sure that the ads people click on deliver a good user experience.
4. How should I apportion my PPC budget?
Every business is different – some prefer to allocate a larger budget to PPC than SEO because of its more immediate short term results, but SEO is very important for your long term search marketing strategy. If you're just starting out, start with a small budget and experiment with different ads and keywords and measure the results. Take a look at seasonal demand from your different audiences and allocate your budget accordingly – in busy months you may wish to increase the PPC budget for relevant ad groups.
5. Should I focus on competitive broad short tail keyword phrases or non-competitive long tail phrases with PPC?
As with SEO, ideally you'll want to target a selection of long and short tail keywords in order to capture customers at all stages of the sales funnel. However, it's worth bearing in mind that PPC gives you the potential for a high ranking for competitive short tail keywords with high search volumes. As a rule of thumb you may wish to start out with a 4:1 budget ratio of short tail to long tails, i.e. allocate 80% of your budget to broad short tail terms.
6. How will I know what keywords to bid for?
Just as with organic SEO, you need to carry out some research into which keywords will perform best for you both in terms of driving website traffic and targeting the right audience. This will ideally involve a look at your search terms report, some competitor analysis and some keyword research.
The difference between SEO and PPC: six common questions answered Click To Tweet
Read more
Technical SEO audit: nine basic things to check
Why you still need proactive link-building in a post-Google Penguin world