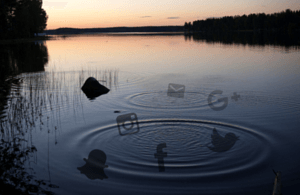 I've always likened organic social reach to ripples on a pond.
The things you share spread from colleagues and friends to family to friends of friends, until you've reached a bunch of people you don't know.
Those people? They're your potential customers, yo.
It's not just about spreading your content
Getting people within your company engaged with what you're publishing is vital. For your social reach, sure, but also so they know what's going on in the business and buy into it.
If you're putting out content that shows your expertise to the world, everyone in the business should be up on that expertise too.
It's a great way to share knowledge, company updates and industry news – making your business one big, unstoppable team.
How to get people in your business interested
1. Content roundup
Make them feel all special by making a sending around a basic internal newsletter each month. It doesn't need to contain anything bespoke: just a short blurb and a link for each piece of content.
Never underestimate how inward-facing different areas of the business can be. You could have just been knighted for services to content marketing and the guys down in the warehouse wouldn't know.
Keep everyone interested in what's going on around the business and you can guarantee they'll care more about the bigger picture.
You could also share what results you've had; helpful for when your director asks why you're spending 90% of your time messing around with the blog.
Share important industry updates so everyone's informed
Announce new products, app updates or awards
Show people the results you get from content marketing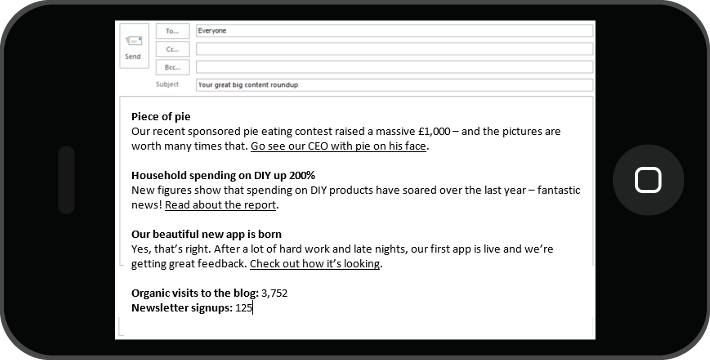 2. Get 'em writing
If you're in charge of content standards, that might make you shrink back in horror. I'm not saying you should email round the blog login details – just encourage people to suggest things they might like to share.
One great (and controllable!) way of getting other people involved is to interview a few company stars. Everyone likes feeling like they've done well, so champion a few staff members and feature them on the blog.
They'll read it, they'll share it with their mum, they'll probably post it on LinkedIn, and most people in the company will likely have a nosy at it too. The results are three-fold: the featured star feels good, other people see that staff are valued, and you get visits to the blog. Win.
How to get them sharing your content
Being more involved will mean your guys are more invested. Hopefully, that will increase how much your team is sharing the content you're publishing – but here's a few more ways to get those shares up:
Ask (nicely) if everyone wouldn't mind maybe following the company's social pages, please
Offer exclusive friends and family offers – they're all part of the team, right?
Ask colleagues to post your job opportunities out (because you want more people just. like. them.)
Post things that concern the local community – a work/play mix should go down well in their feeds
Get your colleagues sharing your #content so they're up-to-date and invested in your marketing.
Click To Tweet