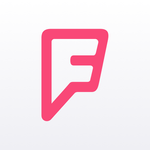 It's never been more important to know why your business needs to use Foursquare. We've all experienced a shift in our behaviour and habits due to smartphones and mobile connectivity, and the location-based network has responded in a way that means it's an essential marketing tool.
Foursquare itself boasts more than 55 million users. That's much smaller than the 100 million users quoted for Pinterest, 320 million for Twitter and 1.4 billion for Facebook. But that's still a fairly sizeable amount of potential customers, and it's also just part of the reason why Foursquare is so important. Not only does it provide a location-based service alongside the likes of Facebook Check-Ins, but it actually does quite a lot more. And the information about your business can actually reach an audience of several hundred million people.
But to explain exactly how Foursquare works, why it's so useful and how to get the best from it, some history and context is needed.
How Foursquare evolved with mobile users
Foursquare was originally launched in 2009 by Dennis Crowley and Naveen Seladurai. Crowley had already launched a location-based social network named Dodgeball which was acquired by Google in 2005, and was replaced by Google Latitude in 2009 – which was then closed by the company in 2013.
When Foursquare launched it used mobile phone GPS systems to locate a user, and then offered social networking features including the ability to 'Check In' at a location, message friends, and become 'Mayor' of a place if you logged into it more than anyone else.
As it has grown to more than 55 million users, with an equal male and female split, and around 50% outside the US, Foursquare has changed to become a powerful local business tool. Meanwhile in May 2014, the company launched Swarm as a companion mobile app which separated out some of the social networking and location sharing aspects of the service.
As a result, Swarm has become focused on social network around locations. And Foursquare has been able to concentrate on discovery and data, which are much more suited to business uses.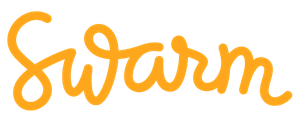 Swarm allows you to Check-In, share those details with friends, see who is within specific set distances and send messages to each other within the mobile app.
It may seem strange to use an app to arrange to meet friends for a drink, but I find it incredibly useful when I visit London for work each month. There are normally several people I know working or visiting the city, and I often forget to tell all of them when I'll be working. Or I forget to mention which client office I might be based in. Swarm makes it easy to see if a friend or acquaintance happens to be in the neighbourhood. Which is great if I've finished work and spotted that they're in a pub nearby, for example!
The result is that Foursquare has collected a wealth of data over the last six years.
7 Billion Check-Ins
65 Million Locations
75 Million Tips for those locations
250 Million Photos
90 Million 'Tastes' – which indicate the preferences of individual users.
1.3 million+ Business Pages.
As an example of the insight that it can provide, Foursquare was able to share that US shoppers spent an average of 4.9 hours at stores on Black Friday in 2015. But long queues meant each shopper only managed to get to 2.8 stores in that time, with Best Buy, JC Penney, Macy's, Dick's Sporting Goods and Sports Authority as the top five most popular.
And a drop in people physically shopping in stores was partly down to a record number of sales made online and via mobile phones, but also due to a more spread out shopping season with some retailers starting discounts at the end of November.
If you want to attract customers to a physical location, that type of data is incredibly useful. Whether you run a shop, an entertainment venue or somewhere to eat and drink, it's an important step in connecting your digital marketing to physical activity.
Around 78% of people searching for something locally on their mobile phone go on to make a purchase (Comscore Local Search Usage Study). It's vital that they find your business.
A Vital Location Platform Across The Internet
There was a comparison earlier in this article between the 50 million Foursquare users and the 1.4 billion recorded by Facebook. But as I mentioned, that doesn't include a massive reason why you should be using this particular location service.
Foursquare has 55 million+ users - find out why your small business should get involved
Click To Tweet
Foursquare provides an API which allows the huge amount of location data it has built up to be used by other businesses and services. And the companies making use of it for their own location features include Apple, Microsoft, Evernote, Pinterest, Uber and more. For example, you can not only find a restaurant via Foursquare, but a partnership with Open Table lets you book directly without leaving the mobile app. And at the same time you can hail an Uber to get you to the meal on time.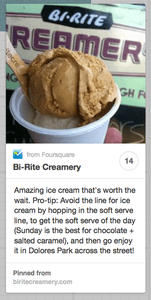 For businesses, Pinterest allows you to import 'Place Pin's from Foursquare, showing the directions and information on your business locations – adding a potential 100 million more people to the Foursquare total.
And early in 2015, Twitter partnered with Foursquare to bring accurate location-tagging to tweets. That gives 320 million users the opportunity to label their tweets with specific business, landmark or point of interest information which is sourced directly through Foursquare.
In total, more than 85,000 developers are using the Foursquare API, which means the information listed about your business can end up being shared to a massive audience.
Of course, that also potentially means that negative comments or information could be appearing if you haven't at least claimed your business listing.
And it's likely to only increase in importance as more and more mobile apps, internet platforms and tools like Apple's Siri and Microsoft's Cortana attempt to organise your life from a simple voice instruction.
Foursquare Marketing Tips
The first step to use Foursquare as a business is to make sure you're appearing. You either need to claim or set up a listing, and then optimise it with all your details – opening hours, links, and other important information (e.g payment options, deliveries, booking information). You should also make sure you have a selection of photos to upload which show the best of your business.
Sharing tips on other local businesses, areas and places of interest doesn't just demonstrate your support for the local community. It's also a great way to connect with your customers – for example ESPN adds tips and trivia to sporting venues around the world.
If you're a small business owner, why not list your favourite shops, cafes and other small firms in your area to show your support and boost everyone's profile?
You can then start offering special deals, and consider using the advertising options. That includes Foursquare Pinpoint which makes it easy to target advertising by location. And it's not just within the Foursquare service, but also users on other sites, and even non-Foursquare users. Offering deals to those who Check-In via Swarm/Foursquare is a great way to encourage measurable interaction and reward customer loyalty.
And you'll have access to the Foursquare Analytics which include unique customers at your location, first-time customers, and those who have liked your location, chain or updates (Including Tops and Lists). The audience information also includes gender and age.
Foursquare and SEO:
As a mobile application, Foursquare traditionally wouldn't have passed any search engine optimisation benefits. However, Google has recently begun to index the content with mobile applications, including travel and hotel listing apps. Around 40 percent of Google searches on Android now show results which include mobile app content, including Instagram, Airbnb and Pinterest.
Foursquare has already contributed data to Apple Maps, and there's no reason why Google won't surface your Foursquare business information with increasing frequency in the future in search results. That means it needs to be maintained with the latest information and monitored for feedback.
Why Your Business Needs To Use Foursquare
In summary, Foursquare provides an important location-based business service not only to the 55 million+ users who directly use either Foursquare or the companion Swarm application. But the listed business information will also potentially reach several hundred million users of Pinterest, Twitter, Microsoft Bing, Apple services and many more.
And it looks to potentially grow even further in the future. The rise of voice search and artificial intelligence in your mobile phone (Apple's Siri, Microsoft's Cortana and Google's Voice Search), mean that access to business location data will become even more important. You can already book restaurants and travel without leaving Foursquare and increasingly you don't even need to open an app – just ask your phone to organise it all for you.