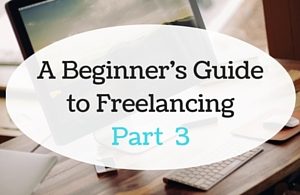 Welcome back new freelance friends! We've reached the end of our 3-part series on setting up a freelance business. If you missed the other two, please check out part 1 and part 2 to get up to speed.
You'll notice I haven't mentioned much about sales and marketing in this series – if you want to know more about getting your name out there, you've already come to the right blog! Check out the Yell Knowledge Centre home page for a plethora of marketing and PR goodness.
In this instalment, we're going to talk about figuring our your business processes, working on your trading terms and choosing a legal structure for your business.
How's it Going to Work?
It's very important to decide your internal processes and trading terms. This step will vary wildly depending on your line of work, but it's important to drill down, and can only come from you.
Let's look at processes first – ask yourself how your clients will instruct you to work, what they will expect from you throughout a project/sale, and what you may need to know before a project/sale commences.
Of course, you will also need information from them, so define what needs to be asked, and what sorts of terms you'd like them to agree (we'll talk more about trading terms shortly). The most important parts of the process are to nail down when your terms are agreed, when and how payment will happen, when work commences, and when the finished product will be delivered.
It may help to put together a sort of sales process on paper to help you envisage how your average project/sale will proceed. For example, if you are providing a service with a deliverable end result, a very basic process may look something like this:
Receive request for work
Clarify details of project/order
Provide quotation
Client acceptance of quote
Provide trading terms
Client accepts trading terms
Work commences on project
Deliver finished work/product
Client signs off on delivered work/product
Provide invoice for the work
Receive payment for the work
Feel free to use this example process and tweak to your requirements. You may want to ask for half payment up front and half on completion, or you may touch base with the client more closely throughout the project. Work out something that works best for you.
Dotting the "i's" on your "T's & C's"
Once you've decided on the general flow that your average project is going to take, you can turn your attention to the kinds of payment terms you want your clients to agree to. Now, terms and contracts don't have to be full of long words and confusing language – in fact, they're much better when they aren't. Providing a terms/contract document isn't mandatory, but it can help get you out of a pickle if a client isn't playing ball.
If you need to outsource the writing of a professional terms/contract document to a legal or business expert, by all means, do it – it may end up paying for itself if a deal goes sour. Now don't panic, it's unlikely that that any problems will arise if you stay kind and professional, but it helps all parties to have something in black and white – it's always better to be safe than sorry.
Here are a few suggestions of things you may want to set out in your terms:
Payment terms and timescales
What information and support you will need from each other
How the finished product will be delivered
Specific details about the project, including the brief, scope and other important information.
Copyright and legal responsibilities
Deadlines and any related dates
How either party can cancel the contract
The dotted line for you and your client to sign to show their agreement.
The terms you offer will vary wildly depending on what line of work you're in. If you need further information I suggest you look online for specific contract information for your field or better still, seek guidance from a legal or business expert.
A Selection of Structures
Once you have a name, a brand and a plan, now comes the time to register your business legally. There are 3 main company structures to consider. Each come with certain requirements and responsibilities to HMRC and/or to Companies House. Please check the gov.uk website for more detailed information.
The easiest type of company structure you can set up is a sole trader, making it a great option to those who are totally new to business. Becoming a sole trader means that you and your business are effectively the same entity; which comes with the drawback of always being personally responsible for any debts or liabilities that the business incurs. Contrary to popular belief, you can employ people as a sole trader, but you need to sort out their tax and National Insurance through a PAYE system.
Next up, we have partnerships; ideal if you are setting up a business with one or more other people with equal responsibility. Basic partnerships have a lot of similarities with sole traders in terms of responsibility; you are still liable for debts and losses personally, but only for your relative share within the partnership. There are limited liability options available to partnerships who want to protect their personal assets such as Limited Partnerships and Limited Liability Partnerships (LLPs) which come with their own requirements for setup and maintenance.
Lastly, we have a Limited Company. It's a separate legal entity to any directors, and as such the business is responsible for its own debts rather than any individual person being liable. This may sound attractive, but there is a lot of maintenance involved in running a Limited Company relating to tax and yearly accounts. This can be a confusing endeavour for someone not in the know, so it may be worth employing an accountant to help, which all adds to your yearly expenses.
Regardless of your company's structure, you need to register for VAT if your taxable turnover becomes higher than £83,000. You can voluntarily register for VAT if your turnover is lower than this. Being VAT registered comes with various responsibilities – you can find more information on gov.uk's VAT registration page.
General Advice
Here's a little bit of extra advice that I'd give myself personally if I were to go back in a time machine and talk to my startup self; I'm sure it applies to more folk that just me, so here goes:
Only when you leave the 9 to 5 behind to you begin to understand how fundamental it is to your daily routine. You don't have to try and emulate a 9 to 5 workday if it isn't what works for you. If you have family and social obligations, you can use your time to better tend to them, and indeed to your own needs. Figure out a routine that is purely your own.
Understand that there will be a period of adjustment to your new lifestyle; personally, professionally and financially. This can take a hefty spoonful of willpower and resolve, so be prepared for it.
Don't be scared of talk about personal and professional liability. As long as you're level-headed and sensible, your biz will have the best chance of survival. It's important to be aware of any kind of liability before you go in – no matter how much of a worry that talk might be. It's better to know where you stand than to bury your head and hope. Forewarned is forearmed!
You have to spend money to make money. Don't go mad, but if you do things on the cheap it'll absolutely show through. Only you know your limits regards to finances, but bear your reputation in mind!
Expect to leave your comfort zone regularly, but one of the good things about working for yourself is that you get to pick your battles and do things on your own terms.
Remember that writers like me can spout "shoulds" and "woulds" online until the cows come home, but this (and the previous parts of this guide) represent the advice of just one person. Any decision about your business needs to be well researched and to come from you and you alone. Whether the answer comes from your heart or your head, it needs to sit right and make sense to your overall plan. Starting a business can be scary, but it can be really fun. Self-employment has been one of the scariest things I've ever done but is also one of the most rewarding.
So be careful, be strong, and enjoy it.
Check out the last part of our 3-part series on freelancing for beginners.
Click To Tweet