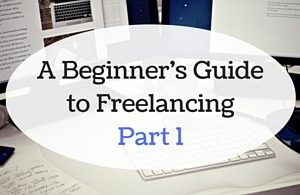 EDIT: Part 2 and Part 3 have now been unleashed!
Starting one's own business is a dream to many, but if you're completely in the dark about how to go about setting up shop, it can seem like a daunting proposition.
However, it doesn't have to be scary at all. At the time of writing, the UK is one of the easiest places in the world to start a business, and setting up as a sole trader is really quite simple.
It may seem like the list of things to do to set up your business is never ending. Flying by the seat of your pants might work for a small few, but with a little careful planning and forethought, you can ensure your business gets the best start by focusing your attention on the right things beforehand.
Market Research & Defining Your Offer
Firstly, you need to define the services you want to provide and who to. Write down all of the services in your niche that you would like to offer. Are they cohesive? Are there any services that seem a little out of place? Keep them all in mind for now.
Next, you need to do a bit of market research. Sounds like a pain, but it really doesn't have to be – at the most basic level, market research can consist of mere searches on Google and social media for the "job title" you will have (e.g., accountant, graphic designer, events manager, etc.) as well as related services and keywords. Most importantly, you need to establish where those looking for your services are hanging out. Where do people seem to be looking for freelancers like you? Are they looking on social media? Google searches? Offline sources?
There may be certain groups of companies that require your services more than others; for example, graphic designers and copywriters may tend to do a lot of work with marketing agencies and digital marketing consultants, so appealing directly to those kinds of organisations could be very fruitful. Try to look at your business objectively and see if there are any associations like this that you can spot in order to appeal to a specific subset of your audience.
You should also be able to determine what kinds of similar companies are out there, what services they provide, their perceived level of expertise, how they advertise and who to. It pays to know what you are up against, but always remain courteous to any competitors, and even build rapport with them. You never know – they may pass you work when they're snowed under! Additionally, what services do they say they provide? Do they provide any appropriate services you can offer that you hadn't previously thought of?
Some elements of market research may have you wondering "why bother?" in the face of hundreds of others in the same line of work, but there is hope. I know personally that there's nothing more disheartening than typing your desired job title into Google only to discover pages of results from freelancers just like you. But just because there are a lot of other people out there that do the same thing, it doesn't necessarily mean you are doomed to fail – especially with creative fields. Only you see the world from your perspective, and therefore only you can create the way you do.
With the added insight of this basic market research, take that list of services that you put together earlier and edit it in line with what you now know about the sorts of people/companies who will look for you, what they are after, and what your competition offers.
Market research is an important step and one that's not to be taken lightly. However that said it can give some fascinating insight and end up being fun in a weird way. Maybe I'm just strange like that. We've got a lot of ground to cover here, so please check out these resources for more information about market research:
Naming & Branding
Once you've got an idea of who you'll be marketing to and how, now comes one of the fun bits – working on your brand. The first step is coming up with a name. Do you want to use your own name, or do you have a company name in mind? Names can be fun and interesting, but they must ultimately be practical, and at least make mention of your particular industry so people will have a rough idea of what you do from your name.
Ask yourself a few questions about your business – do you want to seem modern or traditional? Quirky or serious? Luxurious or basic? These sorts of questions will not only help you with your naming, but with the way you portray your brand graphically and textually. The market research from earlier pays here too, how do others in your niche portray themselves? Of course don't copy anyone, but bear the average sort of outlook in mind when you are constructing your brand. You may consider standing out too much a risk, but conversely you could take the gamble of being a bit different and having a higher chance of sticking in people's minds. That's a decision that's totally down to you.
Whichever direction you take things, remember that any branding or naming should not reference any trends or things that may date quickly. You have to be sure you'll be comfortable with that decision in 2, 5 or 10 years' time.
Join me next time for some of the everyday, practical elements of starting your life as a freelancer. We'll discuss pricing your services and dealing with accounts.
If you're working from home, you may be interested in my earlier article, 3 Steps to Home-Office Productivity.
EDIT: Head on over to part 2 and part 3!
Starting a freelance business? Check out Part 1 of our guide to give your business the best start in life!
Click To Tweet
Image Credit: Picography on Pixabay.