Digital Marketing for Builders
From a brand new website, to Paid Search, Video, Social Marketing and SEO, learn how Yell's digital marketing services can benefit your building business.
Digital Marketing for
Builders
From a brand new website, to Paid Search, Video, Social Media Advertising and SEO, learn how Yell's digital marketing services can benefit your building business.
Whether you're an independent builder or a larger company, your skills and services are in demand. But how do your customers find you?
Did you know that in the UK there are over 22,000 Google searches a month for 'builder near me'? There are 4,400 searches a month for 'house renovator' and 27,000 for 'loft conversions'. And that's not to mention location-specific searches like 'builders in Cranleigh' (4,400 searches a month) or 'builders in London (1,900 searches a month)1.
Having an online presence is an essential part of any business, and the best way to target your potential clients is by reaching out to them as they search and move online.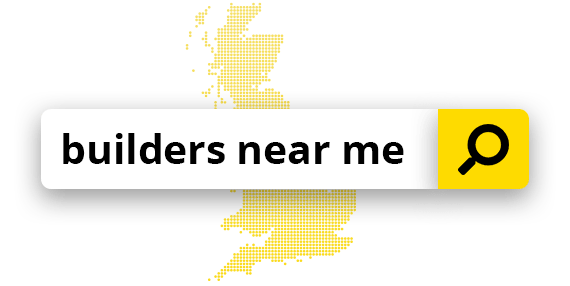 Here at Yell, we offer a range of digital marketing services to help your building business target, attract and sell to potential customers by boosting your online presence. We can work closely with you to create the perfect site to showcase your skills and services, and then we can provide SEO packages to promote that website to your customers as they search online. To boost your traffic, generate more leads and drive sales even further, our paid search offering casts your marketing net even wider than search engines, helping to reach your relevant audience wherever they may go online, as well as reminding them about your company if they've already visited your site.
Customers love to see before and afters of gorgeous loft extensions, renovations or whole new builds. If you're keen to expand your visual promotion, our video packages are the perfect way to show off your skills and showcase your portfolio of work, so your potential clients can envision how your expertise could work for them.
Pick just one, or a mix, of our digital marketing services and packages to focus your building business' resources and efforts on the most effective tactics, which can be continually adjusted based on data and insights to ensure that we're delivering the desired results.
Explore our various digital marketing services for builders: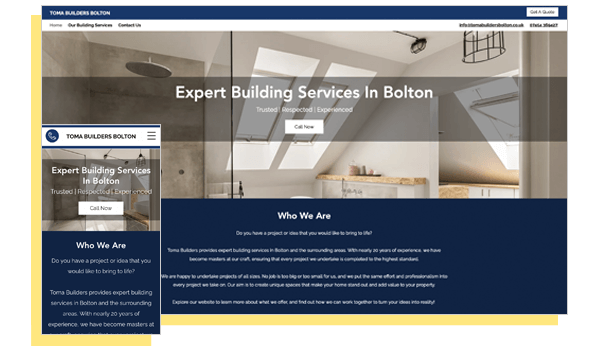 Having a professional, readable, accessible and functional website that appeals to your target audience is essential for all businesses and trades, building included. While the bulk of your work takes place offline, your marketing, customer service and initial communication point is most likely to be online.
We'll be able to work with you to design and create an attractive, beautifully designed, bespoke website that will show off your skills and expertise, explain your services and allow customers to easily get in touch to bring you on for their next project.
And it doesn't end there – we'll also be on hand to support with any updates to the website as needed. Get in touch to find out more.

Paid search can be a powerful tool for any small businesses looking to increase their online presence and reach their target audience. Yell's paid search services have helped small businesses of all types to effectively reach and engage with their audience through targeted ads on the key search engines of Google and Bing.
Our PPC packages mean we can use your advertising budget in a way that best benefits your business, and target specific demographics, interests, and locations for relevant search queries. This allows for a more focused and efficient ad campaign, as we'll be able to tailor your ads to reach your desired audience directly. Additionally, our paid search services offer detailed analytics and insights, so we can track the effectiveness of your campaigns and make data-driven decisions on future advertising efforts.
And it's not just about driving brand new visitors to your site – paid search campaigns can even retarget interested customers who visited your site in the past with a reminder of your products and services.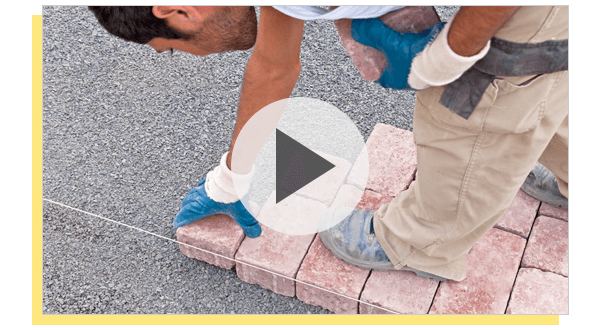 A picture may tell a thousand words, but video speaks volumes and what better way to showcase your building work, from foundations to loft extensions, than with a well-edited, beautifully shot video? Our video packages include options such as drone footage to capture those overhead, rooftop shots; animation to tie the film together in a fun way; and voiceovers to explain your building and services to your customers.
We'll work with you every step of the way, so you have professional films to share on your social networks, website and beyond.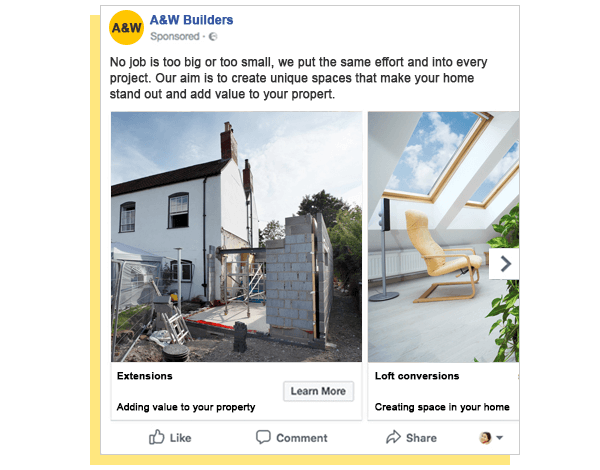 There's no denying that social media is one of the top ways to inspire new customers to engage with your business. In fact, many people turn to social media before Google to discover new local building businesses.
If you're keen to share your construction work on social networks like Instagram, Facebook or YouTube, but are too short on time or inspiration, then our social services will be perfect for building your brand awareness, website traffic, leads or bookings. We can help you to showcase your expertise, skills and the result of your company's hard work with creative social media campaigns or targeted social advertising, which we can shape to reach your specific audience.
Online Reputation Management for Builders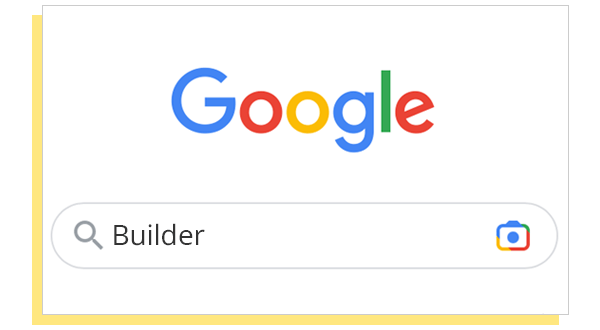 Whether you offer a wide range of building services or specialise in a certain type of work, you'll be able to benefit from our Search Engine Optimisation (SEO) services in a number of ways. For example, we'll help you identify the most relevant keywords for your company and will optimise your website to attract targeted traffic from the huge number of people who are actively searching for the trade and services you offer every day.
In addition, our SEO packages can help you as a builder to differentiate yourselves from your competitors by highlighting the unique features and benefits your company has to offer.
By optimising your website for local search, we'll be able to drive more leads from your geographic region, which can be particularly useful if you serve a specific area. SEO is an essential marketing tool for builders – to find out how we can help you to attract qualified leads, build credibility, and stand out from your competitors, you can find out more or contact us below.
Denise Hughes, a Director for Stuarts Skip Hire in South Wales, talks about how Yell helped them increase quality business leads by 300% with paid advertising on Yell.com, PPC ads, Reputation Manager, and a new website.
April 2021
A digital marketing strategy is a plan that outlines the steps a company, like your building business, will take to reach its marketing goals through the use of online channels and technologies. It includes identifying target audiences, creating engaging content, and utilising social media, search engine optimisation, and other tactics to promote your skills and business, and reach potential customers.
Recommended reading
For more detailed information on the topics discussed here, here are some recommended articles from our Knowledge Centre
Business Advice
As a builder, a digital marketing plan is essential for reaching and engaging new customers in today's digital age. With many home owners searching for building services online, builders really do need to have a solid online presence and a comprehensive digital marketing plan to be found by people searching online for the services they offer.
PPC
Let's begin this guide with what PPC really means and how it works. Pay-per-click (PPC) is a method of advertising your business online by paying for your advert every time someone clicks on it.
WEBSITE
Are you looking to promote your business online? With more people turning to the internet to find local businesses, having an online presence is essential (especially in the current climate). In this article, we look at the steps you can take to build your online presence.
If you are running a small business, learning how to leverage your time is essential. One great way to do this is by using a content strategy known as "Content Repurposing". In this article, we explore the power of repurposing content. What Is Content Repurposing?
Contact Us
Let's talk. You can call, start a live chat, or fill in our contact form and one of our friendly experts will call to help advise you on the best digital marketing for your business needs. We're here for you every step of the way.
1. All figures taken from Google Keyword Planner, December 2022