Digital Marketing for Plumbers
Grow your online presence with Yell's tailored digital marketing solutions for Plumbers. Reach new customers and boost your sales today!
Digital Marketing for
Plumbers
Grow your online presence with Yell's tailored digital marketing solutions for Plumbers. Reach new customers and boost your sales today!
Boost business and increase revenue with Yell's digital marketing packages – we'll improve your online presence, increase the visibility of your website and help you gain more customers.
Google shows that there are a substantial number of UK searches every month for plumbing services like yours. For example, there are 9,900 searches for 'blocked drain', 12,100 for 'boiler servicing near me', 14,800 for 'emergency plumber' and 110,00 searches every month for 'plumber near me'1. With the right digital marketing strategies, we'll be able to drive more of these relevant searchers to your website.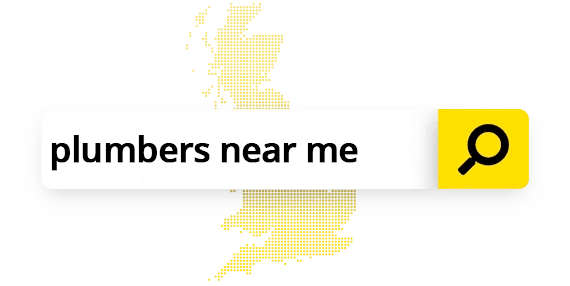 We offer a range of services to help your plumbing business gain more traction online and reach more of these interested potential customers. Appear higher in search engines with our SEO packages, and drive website traffic quickly and effectively through our PPC services. Our video creation options will help to showcase your company with great promotional videos while our social media advertising options can boost your engagement and visibility in spaces like Facebook and Instagram. We can then support you in building trust and credibility by listing your business details on relevant directories, and you'll be able to consolidate your online reviews onto our reputation management dashboard for easy management.
We'll also be able to measure and review progress, regularly adjusting our approach for the best results possible.
You can learn more about each of our services below, or get in touch today to learn more about how Yell can help your plumbing business stand out from competition online.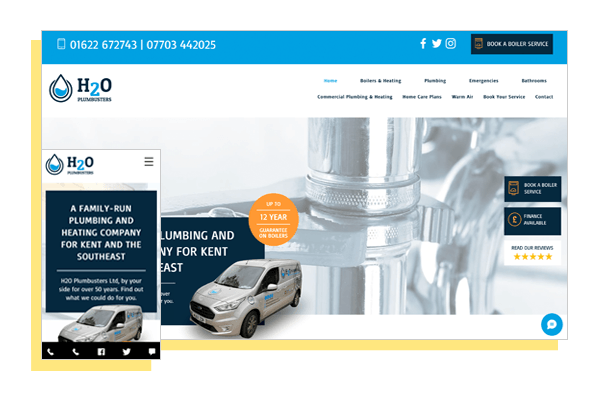 A professionally designed website can display your skills, expertise and professionalism in the plumbing industry and inspire more potential clients to get in touch. It's also a space to communicate your values and highlight what it is about you and your services that's unique and special. Not only can you use your website to bring on new customers, but you can also use it to build your brand and establish a great reputation within your industry.
With the website packages here at Yell, we'll create a site for you that's visually appealing, easy to navigate, reflects your business and helps you to stand out from your competitors. We'll make sure that your site not only looks fantastic, but also functions well and is completely secure, so your customers' personal information is protected as they browse.
Your new site will work across mobile devices too, and we can provide an ongoing support service to help with managing and updating your website as needed.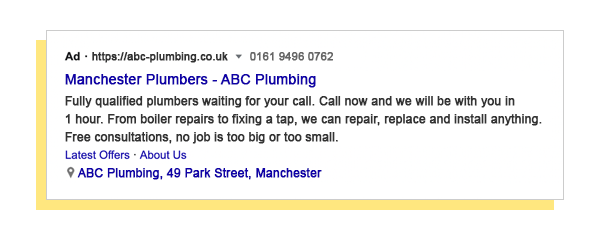 PPC (also referred to as Pay-Per-Click or Paid Search) is a type of online advertising where you only pay when someone clicks on your ad. It's a quick and effective way to drive additional customers through to your site, by featuring ads for your business in prime spots on search engines or across Google's Display Network.
Not only will your ads give a traffic boost to your website, but they'll also help you to increase brand awareness and reach new audiences. Yell's PPC experts will work to understand the right demographics, location and interests of your potential customers, so your ads will appear to the most relevant people in the right places online. We'll also shape the creative and copy of the ads to ensure they perform well with those audiences.
With our range of analytics and insights tools, we'll continue to track the performance of your ad campaigns on an ongoing basis, and can adjust and rework them as needed to make sure they drive the best possible value for your budgets.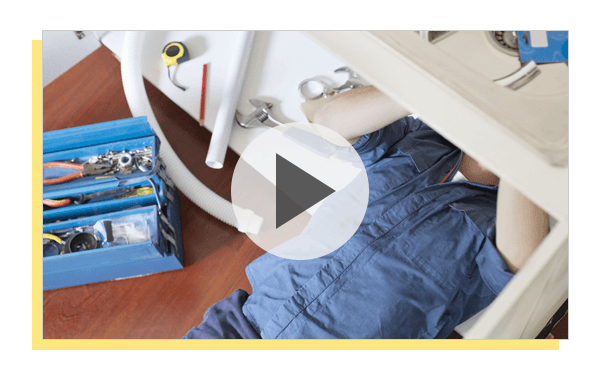 Professionally shot videos are an investment that can benefit your business in a multitude of ways, and are a fantastic way to communicate to your customers. Thanks to its nature in being such an engaging marketing device, you can use video to really bring your business to life as a trusted authority.
Whether you're introducing potential customers to your team, showcasing your expertise with tips and advice, or providing 'before and after' shots of your work, video can help you stand out from your competition and spark the interest of new clients.
Yell's video creation services include options for filming, editing, voice overs, animation, and even drone footage. We'll be able to work closely with you to make sure your videos look great and reflect your brand and, once the videos are complete, you'll be free to share them across your marketing platforms, website, email and social channels.
Used in the right way, marketing videos can be valuable assets that can continue to attract customers, build loyalty, and boost your business for some time to come.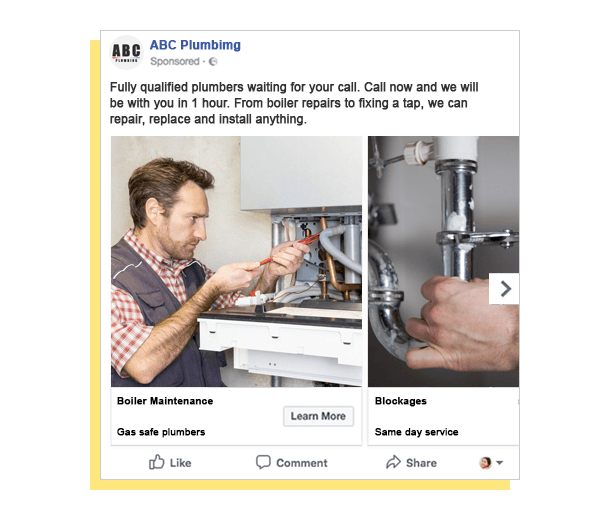 Securing a strong social media presence is an excellent way to engage with and appeal to customers as they browse on channels like Facebook and Instagram. However, regularly posting and building a community can take time and energy that could be better spent on the actual day-to-day running of your plumbing business. This is where social media advertising can come in – you can still build engagement but with less management time.
Yell's social media advertising packages come as part of our Smart Performance solution and include the creation of carefully crafted ads to appear on social networks. By acquiring information about your ideal audiences (from demographic to location and interests) we'll target your ads to reach the right people as they scroll through their socials. Not only will this improve online visibility for your business, but will also lead to increases in traffic and callouts as a result.
Online Reputation Management for Plumbers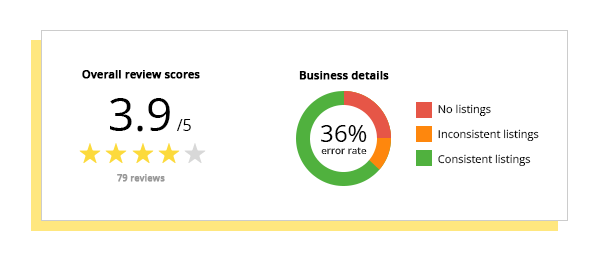 In the competitive plumbing industry, prospective customers are highly likely to search for reviews of your company when considering your services. Whether they need boiler repair, bathroom fitting, repairs or maintenance, it's important for many to be sure that you're a trustworthy and safe pair of hands to help. This is why having a proven track record of high-quality work, as well as great customer satisfaction is essential for your visibility, credibility and trust, and can be a deciding factor when it comes to clients choosing you over a competitor.
Our Reputation Management services can assist you in achieving this by:
Listing your business and contact information on a range of websites and directories, all synched with your Yell Business Profile.
Granting access to a specialised online portal that consolidates your online reviews, making it easier for you to monitor and respond to client feedback.
Offering a social posting management system, so you can link your social networks into one accessible dashboard.
All of this will make it quicker and easier for you to engage with and respond to customer feedback and queries.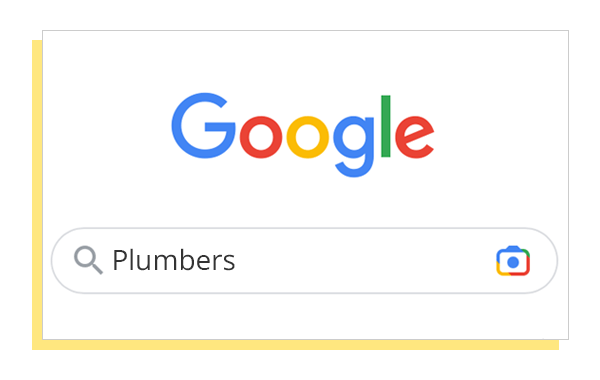 SEO (Search Engine Optimisation) is a marketing approach with the goal of improving your site's rankings on search engine results pages (SERPs) on sites like Google or Bing. If your website appears in the top results when potential customers search for plumbing-related topics in their area, they'll be more likely to click through and book your services.
Using a range of expert tools and strategies, the SEO professionals at Yell will identify the most valuable keywords for your site to rank for and will optimise your site for the best visibility in search engines. We can also concentrate on local search for your website, which will help to drive more leads from whichever geographic area you work in.
Denise Hughes, a Director for Stuarts Skip Hire in South Wales, talks about how Yell helped them increase quality business leads by 300% with paid advertising on Yell.com, PPC ads, Reputation Manager, and a new website.
April 2021
Local SEO is a digital marketing strategy that focuses on improving a business' online visibility within a determined geographical area. It will mean your business is more likely to appear for people including your service and area in their search query (e.g. 'drainage repair in Manchester'), but you would also be more likely to appear to users in Manchester who are simply searching for 'plumbers' or 'plumbers near me'.
There are many potential components of a local SEO strategy, but this could include:
Google Business Profile – a profile that helps you appear in Google's Local Pack and will support you appearing at the top of search results.
Local keyword research – identifying location-specific terms for your business and optimising your site accordingly.
Customer reviews – building a good review profile on Google Business Profile and other websites, helping to boost your reputation locally.
Recommended reading
For more detailed information on the topics discussed here, here are some recommended articles from our Knowledge Centre
SEO
There are three significant streams of SEO – Off-Page SEO, On-Page SEO and Technical SEO. I've previously walked readers through weaving Technical SEO into the website foundations and considering On-Page SEO.
PPC
Let's begin this guide with what PPC really means and how it works. Pay-per-click (PPC) is a method of advertising your business online by paying for your advert every time someone clicks on it.
WEBSITE
Are you looking to promote your business online? With more people turning to the internet to find local businesses, having an online presence is essential (especially in the current climate). In this article, we look at the steps you can take to build your online presence.
If you are running a small business, learning how to leverage your time is essential. One great way to do this is by using a content strategy known as "Content Repurposing". In this article, we explore the power of repurposing content. What Is Content Repurposing?
Contact Us
Let's talk. You can call, start a live chat, or fill in our contact form and one of our friendly experts will call to help advise you on the best digital marketing for your business needs. We're here for you every step of the way.
1. All figures taken from Google Keyword Planner, March 2023