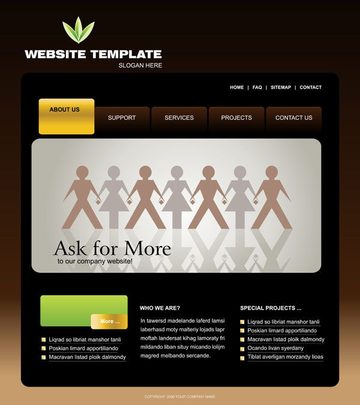 A new website is an important investment for your business. This article aims to take you through the principal costs of setting up and operating a website, as follows:
Buying your domain name
This is the name of your website – the 'address' – which is bought from a website registrar. The price generally depends on the type of domain – .com, .co.uk, .biz etc – and on what other services are provided.
In general, .co.uk names cost around £10 a year, and .com names around £15 a year. Learn more about how to register for a domain name and take a look at our brief guide to choosing the right domain name.
Web hosting
Your website will be hosted on a server which is permanently connected to the internet. Hosting costs depend to some extent on how big and complex your website is, but for a setting up a small business site on shared web hosting, the cost is rarely more than £100 a year. The cost of website hosting can go up depending on what extra features you might want, such as regular backups, email mailboxes, website security tools, error logs and the ability to run more advanced technical scripts and apps.
Website design and development
This is the process of actually creating and setting up your website, and is likely to be the single most expensive element of having a website. The total cost will depend on variables such as:
the number of pages
the complexity of the design
what content you provide, and what you have to source from subcontractors
how many integrated features are needed, such as data feeds, animation or streaming video
what kind of interactive facilities you need – e.g. a shopping cart/e-commerce system
whether you have a content management system so you can update the website yourself ongoing without the need to know how to write website code
As a guide, many freelance web designers may produce a simple website from copy and imagery that you provide for under £300, although of course, this can increase if the site needs to be larger, more interactive, and more complicated.
To create a more complex and dynamic site, you will probably need to use an experienced full service website design company. You will benefit from their know-how and technical expertise, and they will also have all the skills and experience that you are unlikely to have in your business, or from one web designer alone.
Of course, the cost of building a website this way is higher: a good digital agency may charge several hundred pounds a day, and for a very complex website the total cost will be upwards of several thousand pounds, into tens of thousands. However, it's important to see this as an investment in the future success of your business.
Ongoing website maintenance
You'll need to keep your site up-to-date to take account of changes to your business, to technology, and to design styles. If you have a very complex site, a specialist web design agency is probably best placed to handle maintenance, although there are many independent website maintenance specialists to choose from. The cost of maintenance contracts will depend on how complicated the site is.
Setting up a small business website can sound complex, but it doesn't have to be with an expert service provider. Yell can design, build, host and maintain a website for your business including updating its content and imagery regularly, and we have a range of affordable packages to suit your specific needs and budget. We even offer a free DIY option! Find out more here. Keep an eye on our Knowledge Centre too for the latest articles in web design and best practice, including 5 Website Updates To Do in 2022.
This article was originally written on 13 September 2011, and was updated on 03 September 2020.