If your building or optimizing your own site, it's important to understand what type of hosting you have and the advantages and disadvantages of it. Hosting varies greatly in price, from a couple of pounds a month to a couple of hundred. For simplicity, in this blog post I'll refer to two main types of site, static and dynamic.
Static sites are static HTML driven sites, that once uploaded, do not change. Dynamic sites include more complicated sites, like blogs or shopping carts. These require databases and server side code to handle users logging in, creating and changing these pages on the fly.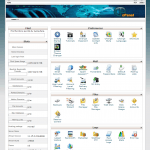 Shared hosting is by far the cheapest option, often starting at just a couple of pounds per month. Some shared hosting include support for dynamic sites, but most are targetted at static site hosting. Shared hosting is inexpensive and easy to setup, most provide a control panel. With the control panel you can easily set up your site and some even provide an automated install process for popular CMS'.
Shared hosting means the server your site is physically hosted with is shared with other customers. This is "the catch", in order to stop one site slowing others down the CPU usage will be limited. Some shared servers can host hundreds of sites, each sites CPU is throttled to ensure one site dosen't slow down the rest. Just like programs on your computer, sites on servers use CPU and dynamic sites use a lot more than static sites. This makes it a bad choice for dynamic sites as a spike in traffic could cause you to exceed your CPU limit which can result in site suspended notices or extra costs. You can see how many sites a server hosts by using this tool.
Shared hosting provides reasonable speed for static sites, though it is generally slower than more expensive options. Though even just hosting a static site, you are still at risk of another site on the server slowing your own down. Site speed is a factor in SEO so you could lose out in organic rankings for this.
Some believe that if other sites on the server contain spam or use 'black hat' SEO techniques your site will be penalized, however Google have confirmed this is not the case. The only SEO risk from using shared hosting is speed.
In conclusion, shared hosting is inexpensive and easy to use. But it may not be fast enough for database driven, "dynamic" sites.