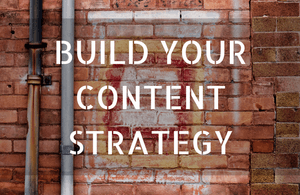 I'm a words person, myself. That's because I'm a writer; a purveyor of The Word.
But I'm also a content marketer, and that means I have to see beyond the medium I can work with quickest to the other media that make my content strategy varied. Because 'content' means much, much more than blog posts.
You need variety: the spicy stuff that tickles the taste buds and keeps your audience interested.
Photos
Customer images
Scour your social media platforms for any customers posting photos related to your products or services. You can use a social media management tool like Hootsuite or a mentions website like Brand24 to find stuff that isn't tagged – then just ask the person if you can use their image and away you go.
Encouraging customers to share this content with you is easy: you incentivise it (competitions) or you do really nice shout-outs – or both. Retweeting someone saying, "Look how Emma's been using her new GrateSmart cheese grater to shred hamster bedding! Pretty darn crafty. Give our love to Hammy, Emma." is going to make them engage with you and other people think you're lovely, and you'll get sent more content. For example, I would retweet my retweet of Emma's tweet (with me?) saying "Anyone else using their GrateSmart for something totally weird? Send us a pic! #beingweirdisgrate" – but maybe that's just me.
These images can then be used on Instagram, on a website feed, on the blog, on a feedback page, in your newsletter…you name it.
Company collateral
Collecting company photos is also very important. Anything cool that's going on – that doesn't involve debauchery – should be snapped and saved for use on your social platforms, blogs and newsletters.
Product team busy inventing something new (but not top secret)? Snap. Office getting a revamp? Snap. CEO doing a charity bike ride? Snap. These are the things Instagrams, company blogs and newsletters are made of. All of which are content, my dear. No content strategy would be complete without a bit of corporate responsibility.
Graphics
By collecting customer input through small surveys, Twitter polls and customer service (all of which you should have anyway for wider business benefit), you can generate a bunch of stats and quotes that can then be made into quick graphics by your designer or – don't panic – you, using something like Canva. Trust me, it's easy and super-fast.
Stuff you can make into social graphics
Customer quotes about your product
Stats from your surveys and polls
Advice based on customer questions
Facts related to your industry / audience
Video
Video always seems like an obvious thing you know your content strategy needs. In meetings, all the big wigs will say 'everyone's doing video, can't we do video?' while you die quietly inside because you don't know where to start or how on earth to budget for it.
As well as getting a professional company video, there's lots you can do yourself on zero budget that doesn't take very long at all. It'll always have that homespun look though – so be careful where you use it and consider whether it fits with your company's vibe.
That said, anyone who consumes social media (I've seen your great aunt on Facebook) is used to enjoying video content that looks homemade. It's authentic and can work really well if you're capturing something about people.
How to get going with DIY video
Experiment with Instagram Stories and save your live videos to repurpose in blogs, on other social platforms and for YouTube
Use your phone's basic video editing tools to slow down or speed up short clips (good for humour or showing a journey/tour)
Use an app like Legend to turn your social media graphics into GIFs with moving text and images
Start out small with Instagram's Boomerang app, which turns short videos into cutesy GIF-style loops
---
If you're worried about where the heck you're going to get the ideas to use even half of these mediums, check out my post on sources of content YOU ALREADY HAVE. Mind = blown.