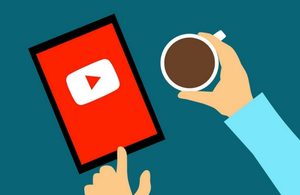 As you're most likely already aware, the internet is packed with business advice. But there's so much of it floating around, it can be tricky to select which guidance to run with and which to give the boot.
Paradoxically, floating in a noisy sea of advice in this way can be isolating. Cutting through the digital clutter to find something truly valuable can feel like a real chore.
Now I know this is a slight tangent, but I have a confession to make.
My name's Jenii and I'm a YouTube addict.
I would much rather watch a YouTube video about something than tune in to a real TV programme about it. YouTube is a great resource for learning new things, opening yourself up to new ideas, and galvanising older skills; and that includes business topics.
Yes, it does have a reputation as an entertainment platform, but it's also incredibly useful for business owners to learn and grow.
So in no particular order, let's take a look at five informative and entertaining YouTube channels for freelance and small business advice. And rest assured – they're all produced by real business owners, for real business owners. Let's dive in!
Emma Mills (MiTV)
Manchester-based Emma is the director of a successful virtual PA and call handling firm, and as such she has a unique insight into small businesses and their productivity problems. She and her team produce weekly episodes of MiTV, which are short, super-digestible videos which share easy ways that business owners can keep their operations moving smoothly through "quick wins".
I feel that Emma's practical advice is useful for owners of businesses of all sizes. And animal lovers will be glad to hear that her cute dog Ralph also makes a regular appearance!
Sam Dey (Deytips)
Self-confessed "marketing nerd" Sam's YouTube channel is all about helping small business people and solopreneurs create powerful and well-converting websites. He creates videos most days, and shares useful tips about content marketing, SEO, and selling through ecommerce platforms like Ebay or Amazon, as well as some affiliate marketing and blog monetisation advice. Whether you're selling products or services (or both!) you're likely to find something useful on Sam's channel.
Jorden Makelle
Jorden's Channel (Some NSFW Language)
I'm a huge fan of plain-speaking business women telling it like it is (as you can probably tell by the amount of ladies on this list!) and Jorden is certainly no exception. Jorden is a Dallas, Texas-based freelance blogger and writing trainer, and her channel is all about marketing yourself; chiefly through written content, but she also touches upon some crucial advice for productivity, online marketing, content creation tools and tricks, as well as some peeks behind the curtain at her own business practices. Jorden's channel is a must see for all creative freelancers, and especially those who are looking to make a name for themselves through content marketing.
Courtney Johnston (The Rule Breaker's Club)
Courtney is a professional copywriter based in Montreal who shares actionable advice to help people "package & sell their brilliance" (which I think is a great tagline). As a copywriter, a hearty handful of her videos are about copywriting and creating highly converting sales text, but topics on her channel run the gamut from client liaison advice, to streamlining your operations, to increasing sales, encouraging positive business habits, list building, email marketing, and everything in between!
Angie Taffs (The Small Business Kit)
Devon-based Angie is a small business consultant and creator of the Small Business Kit. She provides a wealth of advice through her YouTube channel covering topics such as time management, the art of the follow up, business etiquette, and productivity hacks. However one topic Angie gives particularly good advice about is simply (or perhaps not so simply!) looking after yourself as a business owner. Though Angie aims her expertise at businesswomen, I feel that everyone can appreciate her thoughtful expertise and practical knowledge.
Check out these 5 excellent #YouTube channels for #freelance advice!
Click To Tweet
If you're looking for more YouTube channels to brighten up your subscription feed, check out these other articles:
4 YouTube Channels for Content Marketing Advice
6 YouTube Channels Every Small Business Should Follow
5 MORE YouTube Channels Every Small Business Should Follow
5 YouTube Channels for Digital Marketing Success
Did you enjoy these channels? Do you have any favourite business channels that give out valuable advice again and again? Do you have a YouTube channel for your business? Please share away and let's have a chat down in the comments!