Digital Marketing for Beauty Salons
Discover how Yell's PPC, social advertising, video, website design, reputation management packages & SEO, can help your beauty business thrive online.
Digital Marketing for
Beauty Salons
Discover how Yell's PPC, social advertising, video, website design, reputation management packages & SEO, can help your beauty business thrive online.
Whether you're a multi-service beauty salon providing a range of services and therapies, or whether you focus your efforts on perfecting one type of treatment, you'll know that the beauty industry is a competitive one.
If you want to be the go-to salon for people looking for a quality beauty experience then it's important to have a strong online presence.
To give an idea of the number of people who could be searching for your services online, there are 40,500 online searches made in the UK every month for the term 'pedicure near me', 49,500 searches for 'eyelash extensions', 74,000 searches for simply the term 'beauty salon' and a huge 201,000 monthly searches for 'nail salon near me'1.
Making sure your salon is visible for terms like these will increase your likelihood of attracting relevant and engaged website traffic, which should lead to more bookings and more customers.
However, creating and overseeing a successful digital marketing campaign takes time, expertise and a range of professional tools and skills. Here at Yell, we offer a range of packages to help your beauty business outperform your competitors online, so you can focus on providing your customers with a high level of service offline.
To start with, having a well-designed, accessible website is essential. We can create an attractive, on-brand online space that showcases your team, services, and expertise, as well as a secure and intuitive platform for your customers to book appointments. Our website packages also come with ongoing support, so your site is always up-to-date and working well.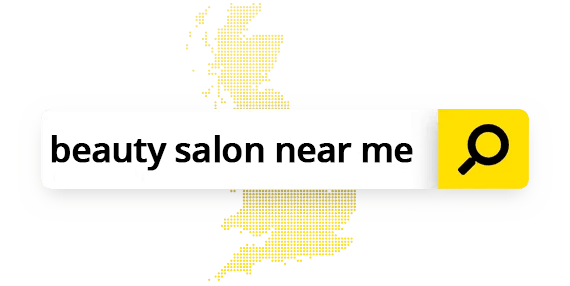 By optimising the structure and content of your website with search engine performance in mind, our experienced SEO experts can help you gain more visibility online and drive more potential clients through to your site. We can also use a local search approach, to ensure your website is more visible to customers in your geographic region.
Pay-Per-Click (PPC) campaigns are another effective way to reach potential customers. By investing in targeted PPC ads, your business can appear in the most visible areas of search engine results pages, and you can direct the right people to your website based on their location, interests and demographic. Our team of PPC experts can create custom campaigns that match the needs of your business, as well as providing you with detailed analytics and insights into the performance of your campaigns.
Creating professional and stylish videos to highlight the quality of your treatments and the expertise of your team is also a great way to capture and hold your viewers' attention. We can work with you to create a range of quality, bespoke videos using a range of styles and tools, from filming and editing, to animation and voice overs.
Advertising on social media is a cost and time-effective way to engage with customers, boost visibility, and reach a wider audience in spaces like Instagram and Facebook. The experts here at Yell can help you create targeted campaigns and provide measurable, real-time results so we can continually adjust our approach and use your budget in the best way possible.
And, finally, you'll want customers to know they can trust your salon. With our online reputation management services, we'll create listings for your business across a wide network of websites and directories. With access to our centralised management tools, you'll be able to monitor and respond to customer reviews and social network engagements with ease.
Websites for Beauty Salons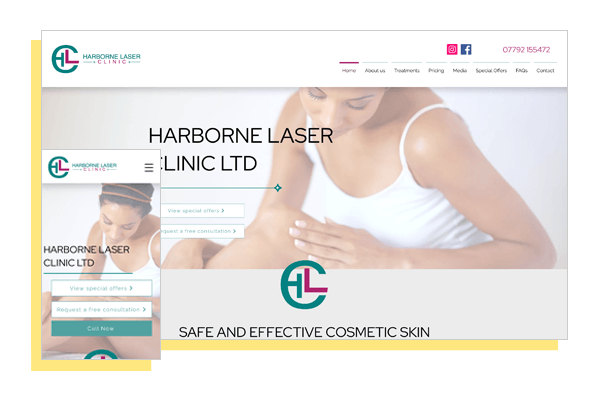 Imagine you're a customer searching for a beauty salon online. You come across two websites - one is outdated, slow to load, and difficult to navigate. The other is sleek, modern, and easy to use. Which one are you more likely to book with?
In today's digital age, having a well-designed website is crucial in making a great first impression and standing out in a crowded market.
Don't let an outdated website hold you back. Yell's website team can help you with the creation of a new, professionally designed website to attract and retain customers, build credibility and trust, boost visibility and really stand out from the competition. Your website is a powerful tool and a reflection of your salon – you can think of it like a digital shopfront for your business. Giving your customers a positive experience online is the first step in creating a happy, loyal clientele.
Our website experts will work closely with you to create a space that not only looks great, but also functions flawlessly. Pick from our selection of packages to create a website that showcases your unique beauty brand and expertise, while also providing a seamless experience for your customers.
We don't just stop at designing your website; we also provide ongoing support to ensure that it's always up-to-date and working properly. That way, you can focus on what you do best: running your business.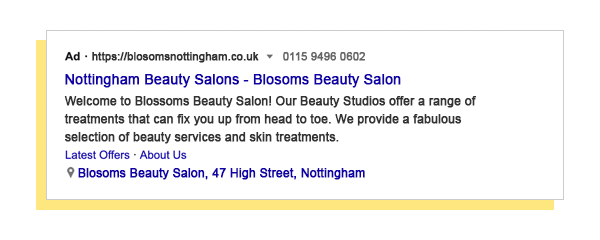 PPC (Pay-per-click) is a powerful tool that can help you to reach a wider audience, increase traffic to your website, and drive more bookings for your salon. While SEO can take time to show results, PPC can provide instant visibility and traffic for your business. Your ads will appear at the top of search engine results pages, giving you immediate exposure to potential customers.
Yell's PPC services offer a cost-effective way to advertise your salon – your ads will only cost you money when someone clicks on them, meaning you're not wasting budget on people who aren't interested in your services. We'll identify your ideal audiences, based on factors such as location, demographics and interest, so your ads will reach the right people for your salon as they search for relevant queries online. We'll also work hard to shape the ad copy, style and design so it reflects your business and appeals to your potential clients.
One of the benefits of PPC advertising over traditional offline advertising is that the results are easily measurable. Our experts will continually track the performance of your campaigns and adjust them as needed to continually improve your ads and maximise your success.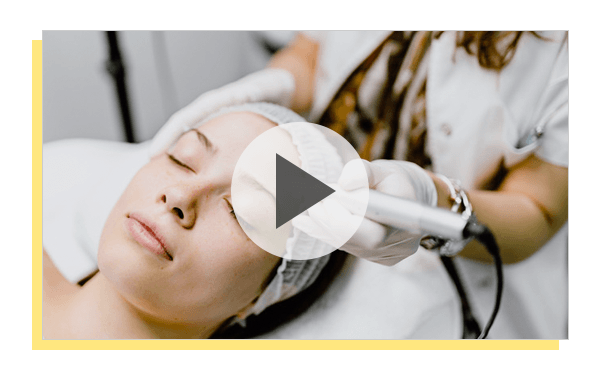 Imagine scrolling through your social media feed and coming across a video that presents a beautiful, luxurious salon with happy clients and expertly trained staff. The video draws you in and before you know it, you're booking an appointment for your next beauty treatment. This is the power of professionally shot video for beauty salons.
Video is an incredibly valuable marketing tool for beauty salons, and with Yell's video packages, we'll work to create well-produced videos that highlights the unique features and strengths of your salon, setting it apart from the competition. You can showcase your services, ambiance and style in a way that engages viewers and encourages them to book an appointment.
With options including video editing, animation and voice overs, our video team can create a professionally shot video that can then be used to connect you with your audience through your marketing channels, social networks and email.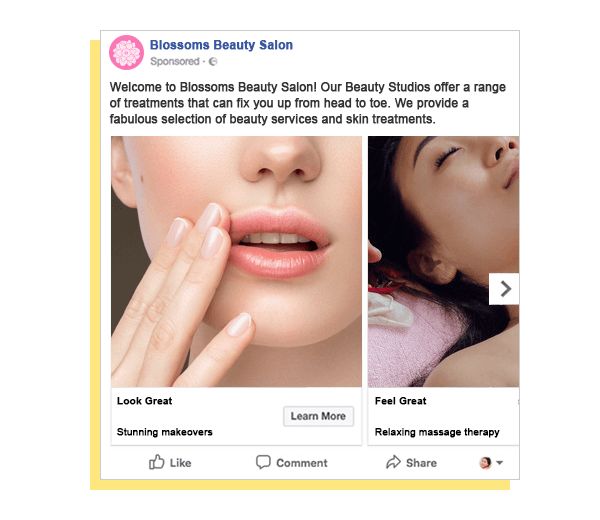 With social media advertising you can reach a specific target audience based on demographics, interests, and behaviours in social spaces like Facebook and Instagram. This means your ads are seen by potential clients who are most likely to be interested in booking an appointment at your salon.
Yell's social media advertising services form part of our Smart Performance package, working alongside search and display advertising to build brand awareness for your salon in a cost and time-effective way.
By investing in social media advertising, you can also build brand awareness for your salon. Even if someone doesn't click on your ad or book an appointment right away, they may remember your salon when they're in need of a beauty treatment in the future.
Not only will social advertising help to increase your brand visibility, improve customer engagement and reach a wider audience, but you can also benefit from measurable, real-time results so we can adjust your strategies to drive maximum value.
Online Reputation Management for Beauty Salons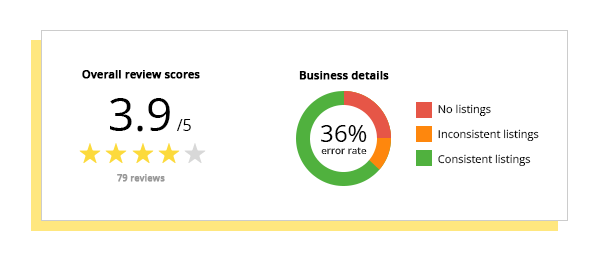 As a beauty salon owner, you know that your business' reputation is everything. But have you considered how your online reputation could be impacting your business? Think of online reputation management like a first impression. When potential clients search for your salon online, they're forming an impression of your business based on what they see. If they're unable to find your business on key industry directories, or can't find any reviews for your salon, they may be hesitant to book an appointment. On the other hand, if they discover up-to-date information, positive reviews and engaged responses from the salon, they'll be more likely to make a booking and become a loyal customer.
Yell's online reputation management service means you'll be able to monitor and respond to reviews across a selection of listing publishers on our Reputation Management network, all from a centralised review management tool. We'll also create listings for your salon across a network of over a network of relevant websites and directories websites and directories, so potential clients can find your key business and contact information when they search for your services online.
You'll also have the option to link your social networks and Google Business Profile information into one social posting management dashboard, so you can easily post across all your channels and engage with your customers.
Not only will these tools enable you to attract new clients by securing positive reviews, but they'll also help you retain existing ones. By overseeing quick responses to reviews and queries on your social channels, you'll be able to show your clients that you care about their feedback and value their business.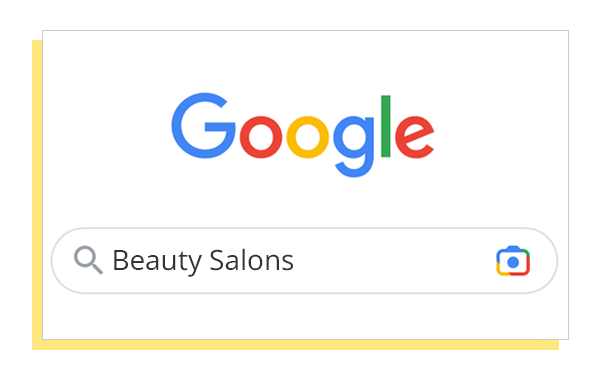 Even with an attractive and accessible website, you may still struggle to bring traffic to your site – this is where SEO (Search Engine Optimisation) comes in. In the same way that a facial or massage can revitalise your skin, SEO can give your website the boost it needs to reach its full potential. It's generally considered to be one of the key digital marketing tools in driving traffic to your website and increasing your salon's visibility online.
With Yell's SEO packages, our experts will increase the chances of your salon showing up on the first page of search engine results when potential customers search for beauty services in your area. By optimising your site with relevant keywords and phrases, shaping content in the right way, and ensuring the technical set up of your site is sound, we can position your salon as a trusted source of information, improve its ranking in search engines and, in turn, drive more appointments and revenue for your salon.
In a crowded market, SEO can make sure your salon stands out from the competition and targets customers who are specifically searching for the services you offer.
Chris Birch, Director and Strategist at Entrepreneur Consulting Limited, explains how Yell Smart Performance multi-channel digital advertising has helped save time, drive website visitors, and maximise advertising conversion which has contributed to ongoing monthly revenues of over £9,000.
April 2022
SEO, or search engine optimization, is the process of optimising your website to rank higher in search engine results pages, such as Google or Bing. When someone searches for "beauty salon near me" or "nail extensions in [your city]", you want your website to appear at the top of the search results, so potential customers can easily find you.
Good SEO practices also help to create a better user experience for your website visitors. By optimising your website's structure, content and design, you can make it easier for people to find the information they need and navigate your site. This can lead to longer visits, more engagement and increased business for your beauty salon.
SEO involves a combination of tasks like researching and identifying relevant keywords, creating high-quality content, optimising your site's structure and code, and building links from other reputable websites.
Recommended reading
For more detailed information on the topics discussed here, here are some recommended articles from our Knowledge Centre
SEO
There are three significant streams of SEO – Off-Page SEO, On-Page SEO and Technical SEO. I've previously walked readers through weaving Technical SEO into the website foundations and considering On-Page SEO.
PPC
Let's begin this guide with what PPC really means and how it works. Pay-per-click (PPC) is a method of advertising your business online by paying for your advert every time someone clicks on it.
WEBSITE
Are you looking to promote your business online? With more people turning to the internet to find local businesses, having an online presence is essential (especially in the current climate). In this article, we look at the steps you can take to build your online presence.
If you are running a small business, learning how to leverage your time is essential. One great way to do this is by using a content strategy known as "Content Repurposing". In this article, we explore the power of repurposing content. What Is Content Repurposing?
Contact Us
Let's talk. You can call, start a live chat, or fill in our contact form and one of our friendly experts will call to help advise you on the best digital marketing for your business needs. We're here for you every step of the way.
1. All figures taken from Google Keyword Planner, February 2023