Digital Marketing for Cleaning Businesses
From a new website, to Paid Media, Video, Social Marketing and SEO, learn how Yell's digital marketing services can benefit your cleaning business.
Digital Marketing for
Cleaning Businesses
From a new website, to Paid Media, Video, Social Marketing and SEO, learn how Yell's digital marketing services can benefit your cleaning business.
Are you looking to grow your cleaning business, increase your client base or expand your team?
A strong online presence with an integrated digital marketing strategy means you can boost the visibility of your cleaning company and promote your services to more potential customers in various locations across the web.
Cleaning professionals of all types are in demand – as proven by the number of searches on Google in the UK alone. There are on average 6,600 searches each month for 'professional carpet cleaning', 14,800 for 'end of tenancy cleans', 33,100 per month for 'window cleaner' and a massive 135,000 for 'dry cleaners near me'. By ensuring your business has a professional and visible digital footprint, you'll be able to appear for terms like this on search engines and advertising spaces and, as a result, increase your bookings and revenue.1
The team here at Yell offer a range of online marketing services that are ideal for giving your cleaning company the digital boost it needs. With our website design packages, we'll work with you to create a professional, secure and functional business site that reflects your branding and offering. To ensure your site is visible in search engines, our SEO packages will assess the best keywords and optimise your site for maximum value.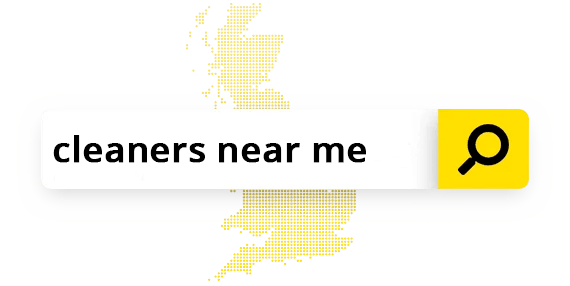 Our PPC services are ideal for reaching customers across the web with bespoke adverts that will drive more cleaning leads, and our social media advertising packages will target potential clients through networks like Facebook and Instagram. We can even help create high quality videos of your company or work for you to use as promotion tools across your own marketing and social spaces. Once you've completed your work with a customer, our reputation management packages will assist with gathering and promoting reviews of your work, to build your company's authority and credibility even further.
Whether you'd like to book a variety of packages to reach customers in a range of different ways and locations, or would prefer to give just one of our digital marketing services a try, Yell will help your cleaning company to flourish online. Read on for more about how each of our services can benefit you.
Explore our various digital marketing services for Cleaning Businesses:
Websites for Cleaning Businesses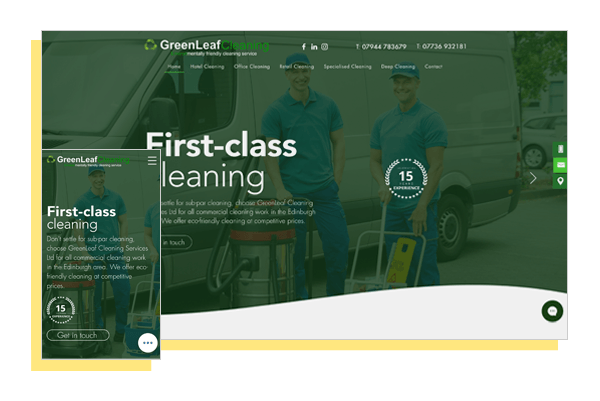 When a potential client is searching for cleaning companies like yours, they'll most likely search for the services they need online. When faced with a range of competitors, it's worth having a website that stands out and really reflects your brand and business. Not just that, but it's important to ensure your website is secure and functions well, so visitors can learn about your company and get in touch easily.
Our website packages include a range of options, with a focus on designing and creating an attractive, bespoke website that appeals to your customers. You can use this space to introduce your team, explain your services and working times, showcase the quality of your work and direct interested customers to your contact details.
We know that websites take ongoing care, so we'll be on hand to support with any updates and amendments as you need them.
PPC for Cleaning Businesses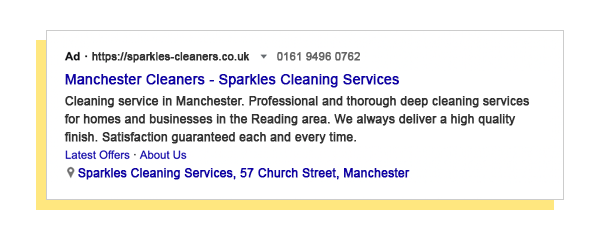 PPC (also referred to as Pay-Per-Click or Paid Search) can help your business reach customers through targeted paid ads on Google and Bing.
We'll gain a firm understanding of your audience, including their demographics, location and interests, and will use this information to ensure they're targeted with the perfect kinds of ads in the right places online.
With our PPC packages you'll also receive detailed analytics and insights, so we can measure and track the success of your campaigns and make data-driven decisions on how to shape your budgets and ad spend.
Video for Cleaning Businesses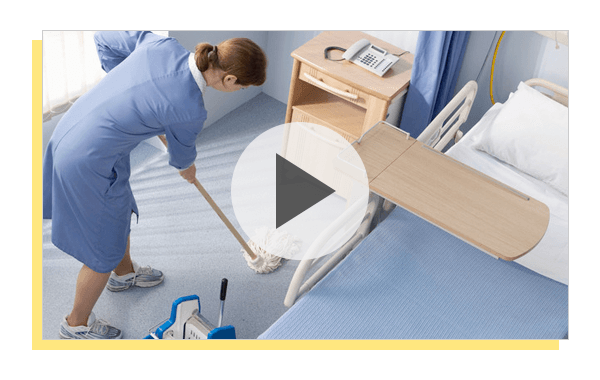 Whether it's sparkling 'before and after' shots, how to's or guides, cleaning is an industry that lends itself well to videos, and is increasing in popularity on social networks. Carefully shot and edited video footage is not just a fantastic way of demonstrating the quality of your cleaning skills and services to potential customers, but it can also be a successful marketing tool for increasing business and driving growth.
We can work closely with you to plan and execute videos to use in your outreach or to show off on your social feeds. Our video packages include options like filming, editing, drone footage, animation and voice overs, allowing for a creative and flexible approach to promoting your cleaning company.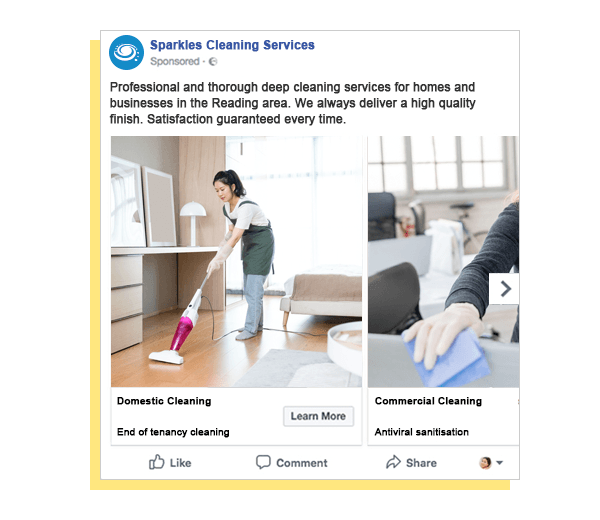 Maintaining a presence on social networks is an effective way to build an online reputation, but can also be time consuming, taking you away from the focus of running your cleaning business.
Yell's social media services involve advertising on sites like Facebook and Instagram, so you can maintain a presence without the need to be regularly posting. This is a cost and time effective way to increase your company's visibility to a targeted audience of specific demographics, locations, interests and behaviours. Not only will social advertising help to increase your brand visibility, improve customer engagement and reach a wider audience, but you can also benefit from measurable, real-time results so we can adjust your strategies to drive maximum value.
SEO for Cleaning Businesses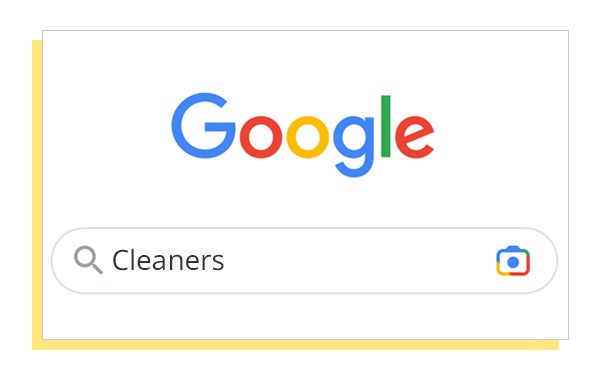 Customers are increasingly turning to search engines like Google when looking for businesses like cleaning companies. SEO (Search Engine Optimisation) focuses on helping your website to rank higher in search engines for queries and searches that are relevant to your business. Not only will this increase the chance for potential customers to discover your company when searching for cleaning services, but it can also boost your credibility and set you apart from your competitors. Appearing on the first page of search results will demonstrate that you're a reputable and trustworthy business that can provide high-quality cleaning services.
Our experienced SEO experts will be able to use their industry knowledge and a wealth of tools to the benefit of your business. We'll get to know your company and what it is that makes you so special, reporting back with detailed insights around website performance. We'll then be able to determine the best keywords you should be targeting with a Google Search Console audit. This will enable us to advise and support on updating and optimising the content of your website so it performs better in search engines, driving more traffic to your website.
Our local search approach is particularly useful if your cleaning company operates in a very specific location – we can tailor your site in a way that you become more visible to customers in the right geographic region.
Online Reputation Management for Cleaning Businesses

Online reviews have long been one of the key factors people consider when choosing an item or service. Where word of mouth once reigned supreme, now potential customers are turning to social media and review sites to determine how qualified, trustworthy, and reputable a company is.
As powerful as this is as a marketing device - helping to draw in new customers and set your business above competitors - the process of securing, responding to and sharing customer reviews of your cleaning business is time intensive. This is where our online reputation management solution comes in – you'll have access to a specialised online portal to consolidate your online reviews, making it easier for you to monitor and respond to client feedback.
With our social posting management system, you can connect your social networks into one easily accessible dashboard so it's even quicker for you to post across your channels and respond to your customers.
Plus, our listings management service enables us to generate entries for your cleaning services on a network of relevant websites and directories. By doing this, your customers will have access to your essential contact information from a range of relevant sites. All the details will be synced from your Yell Business Profile to ensure they're up to date.
Howard Marsh, Owner of HM Maintenance, describes how investing in a new Yell Ultimate Smart Website and Yell Smart Performance have helped his business reach and be chosen by higher value potential customers across central Scotland. An investment that paid for itself within 6 months!
August 2022
Benchmarking your starting point and keeping track of the performance of your site is one of the main ways to understand whether your digital marketing efforts are successful. This is usually done using a range of tools to monitor:
Website traffic: the number of visitors to your website
Conversion rates: how many visitors then go on to book or purchase
Lead generation: how many people get in touch to express interest
ROI (Return on Investment): how much value your marketing efforts are driving when compared to the cost of executing them
Social media engagement: the number of interactions your profiles and posts get on social networks, usually in the form of likes, shares, comments and followers
Keyword rankings: the number of keywords your site is ranking for in search engines, and the position they're ranking in
Ad performance: the efficiency and effectiveness of your PPC campaigns, including click-through rates, conversion rates and cost-per-click
Recommended reading
For more detailed information on the topics discussed here, here are some recommended articles from our Knowledge Centre
SEO
There are three significant streams of SEO – Off-Page SEO, On-Page SEO and Technical SEO. I've previously walked readers through weaving Technical SEO into the website foundations and considering On-Page SEO when writing content.
Read more...
PPC
Let's begin this guide with what PPC really means and how it works. Pay-per-click (PPC) is a method of advertising your business online by paying for your advert every time someone clicks on it.
Read more...
WEBSITE
Are you looking to promote your business online? With more people turning to the internet to find local businesses, having an online presence is essential (especially in the current climate). In this article, we look at the steps you can take to build your online presence.
Read more...
If you are running a small business, learning how to leverage your time is essential. One great way to do this is by using a content strategy known as "Content Repurposing". In this article, we explore the power of repurposing content. What Is Content Repurposing?
Read more...
Contact Us
Let's talk. You can call, start a live chat, or fill in our contact form and one of our friendly experts will call to help advise you on the best digital marketing for your business needs. We're here for you every step of the way.
1. All figures taken from Google Keyword Planner, January 2023