Digital Marketing for Dentists and Orthodontists
Discover how Yell's digital marketing services, ranging from a new website to PPC, Video, Social ads & SEO can help drive business for your dental practice.
Digital Marketing for
Dentists and Orthodontists
Discover how Yell's digital marketing services, ranging from a new website to PPC, Video, Social ads & SEO can help drive business for your dental practice.
If you're keen to grow the client base of your dentist or orthodontist surgery and attract talented staff, it's important to have a strong online presence that showcases your expertise and rises above the competition.
A solid, integrated digital marketing strategy means your business can reach and engage with potential customers in a wide range of spaces across the web, helping to drive traffic, increase appointments, and, ultimately, boost revenue.
Hundreds of thousands of searches are made online by people looking for local dental services on Google, including 'cosmetic dentistry near me' with 2,400 monthly searches, 8,100 for 'orthodontist near me', 'dentist surgery' with 12,100 per month and 'dental clinic near me' with 14,800 searches every month. Meanwhile, specific treatments are also in high demand, with considerable numbers searching for the likes of 'dental implants' (27,100 a month) and 'composite bonding' (74,000 a month)1.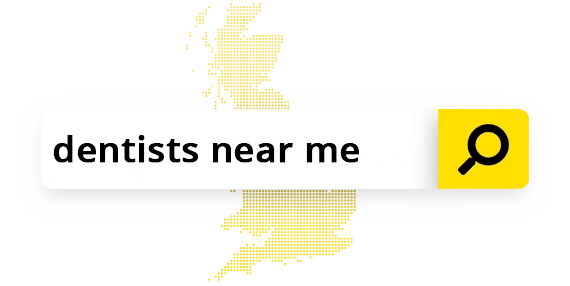 By shaping your digital marketing efforts around appealing to potential customers in your location who are looking for the services you offer, you can attract high percentages of this traffic to your website and convert them into appointments and ongoing clients.
Here at Yell, we offer a range of services to target and engage with your potential customers, from the creation of your own bespoke website, right through to gathering reviews after treatment. Meanwhile, our SEO packages will help your surgery to rank for relevant terms on search engines and our PPC services can focus on targeting a carefully selected demographic across the web with tailored ads. Our video creation options will help you showcase your team as well as your work in a creative and attractive way.
Whether you're after one specific service, or would like an integrated strategy that combines several different approaches, the team here at Yell will be able to oversee your digital marketing so you can focus on the job of running your business.
Explore our various digital marketing services for Dentists and Orthodontists:
Websites for Dentists and Orthodontists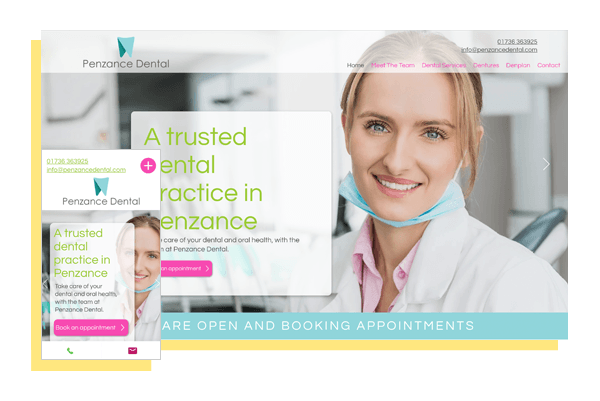 The first stop for any potential client in assessing whether your dental surgery is right for them will be your website, where they'll review your services, team and prices, and decide whether to get in touch.
Having a professional, attractive and functional website reflects well on your business and can help you stand out from competitors. With Yell's website packages, we'll work closely with you to ensure your website is secure, runs smoothly and appeals to your clients. We also offer options with integrated booking systems, so your customers don't even need to pick up the phone to make an appointment.
We know no business stands still, so we'll also be on hand to care for your site over time and attend to any updates or changes you need.
PPC for Dentists and Orthodontists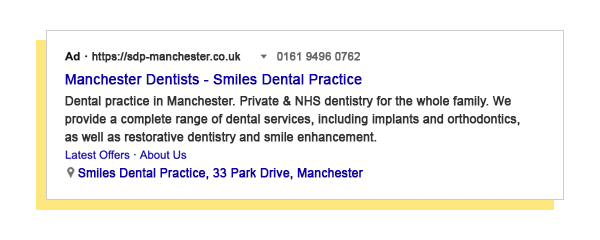 PPC (also referred to as Pay-Per-Click or Paid Search) offers more ways of reaching your potential customers as they search online, by showing them tailored, targeted ads.
By defining the demographics, location and interests of your potential clients, we can ensure your business is appearing for them as paid ads on Google and Bing. Say, for example, your surgery is based in London and someone from that area searches for a top-level term like 'dentist surgery', we could ensure ads for your business are appearing to them in the ad spaces for this query, even if you don't rank organically at the top of Google.
Unlike SEO, which can take time to see results, your ads can begin to drive clicks and leads within minutes of going live, so you could start seeing a boost in traffic straight away. We'll also provide detailed analytics and insights, so we can measure and track the performance of your campaigns and continually adjust them to drive maximum value for your budget.
Video for Dentists and Orthodontists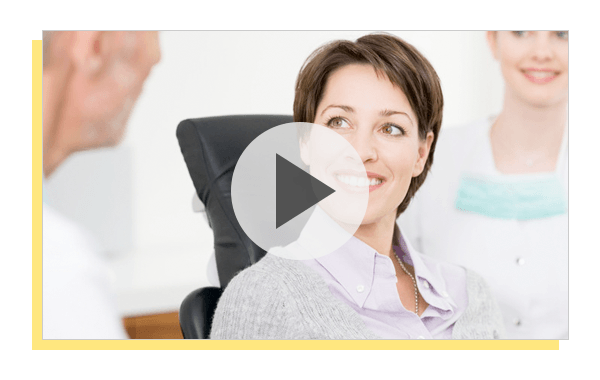 While well-written, optimised onsite copy is key for performing well in SEO, having expertly crafted marketing videos for your dental business is an excellent way of showcasing your team, services, surgery and ethos. It gives the chance to speak directly to your audience and visually enhance your messaging.
Yell's video experts will work closely with you to plan and film footage that reflects your business and shows off your skills. There are also options for animation and voice over - both of which can help to add creative flair - and even drone footage to highlight your location and surroundings. Once we've edited together the final piece, the video will be yours to share on your social networks, website and marketing – this can then be used to boost your SEO, paid advertising and more.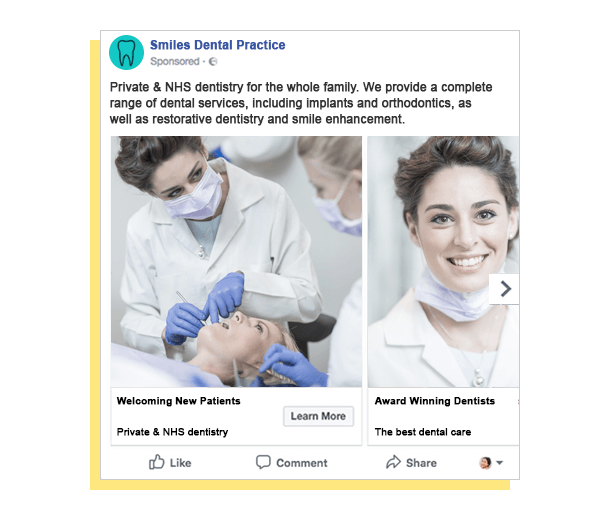 While Google is the most visited site in the world, Facebook is the most searched-for word in Google, which shows just how much impact social media has. While you may not have time to be regularly maintaining a social media presence for your dentist or orthodontist surgery, Yell's social media services will help keep you visible and engaged in these spaces.
We'll oversee the placement of bespoke, crafted ads that will be shown to a targeted audience based on their interests, behaviours, demographic and location. This means your surgery and services will have boosted visibility and engagement, driving more value from increased traffic. Yell's social media team will then report back with measurable results so we can continue to adjust your social media campaigns, meaning you can be sure you're getting as much value from your ads as possible.
Online Reputation Management for Dentists and Orthodontists

Marketing your business is a continual loop – you outreach to potential customers, book appointments, provide a service and then hope your happy clients will spread the word about your surgery. And there's no denying the value of online reviews; they can be the difference between a customer booking with you or a competitor.
With our online reputation management services, you'll have access to a specialised online portal that consolidates your online reviews, making it easier for you to monitor and respond to client feedback. These reviews will then help to draw in new clients, boost your reputation and ensure you stand out from your competitors.
We also offer a social posting management system, so you can link your social networks into one easily accessible place making it quick and easy for you to manage conversations and respond to your customers.
Plus, with our listings management service, we can create entries for your surgery across a network of websites and directories. This will ensure your key contact information can be easily found by your customers, with all details synced from your Yell Business Profile so you know they're correct and up to date.
SEO for Dentists and Orthodontists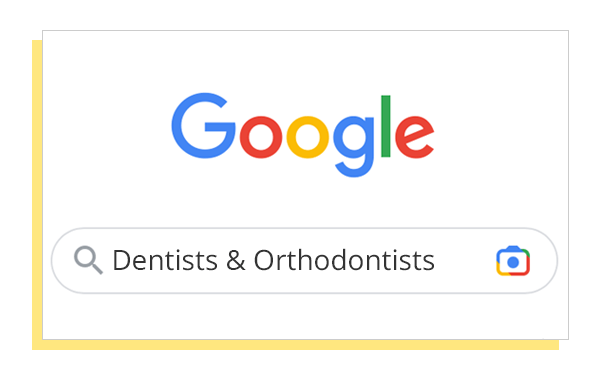 As the most visited site in the world, it's no surprise that a strong presence on Google is a key approach to most digital marketing strategies. SEO (Search Engine Optimisation) focuses on helping your website to rank higher in search engines like Google when users search for dentist or orthodontist services like yours. The higher your site appears on the search engines results pages (SERPs), the more likely the user is to click through to your site, as you sit higher and more visibly than your competitors.
The SEO experts here at Yell will audit your website and feed back their findings with a detailed performance report. Off the back of this, and based on your offerings, they'll complete a Google Search Console audit to find the best keywords to target on your site. We'll factor in the specifics of your surgery, like location, treatments and availability to ensure you're visible in the right places for relevant terms. With some careful, targeted optimisation and ongoing support from our SEO team, your site will see a boosted performance in search engines and higher traffic numbers.
Hussein Lalani, Owner of The Muswell Hill Club, tells us how he used Yell Reputation Manager to help him take control of the club's online reputation and how Smart Performance multi-channel digital advertising has contributed to over 700 new memberships in 8 months.
May 2022
SEO content refers to the text on a website or webpage that is created to enhance its ranking and visibility on search engine results pages (SERPs). The purpose of SEO content is often to target specific keywords and phrases that people are searching for, in order to attract more relevant traffic to a website. For instance, in the dentist and orthodontist industry, this could take the form of a blog post discussing the significance of good oral health, or providing information on specific treatments like dental implants. By consistently producing fresh, relevant content related to your business, you signal to search engines that your website is a credible source of information for these topics.
Recommended reading
For more detailed information on the topics discussed here, here are some recommended articles from our Knowledge Centre
SEO
There are three significant streams of SEO – Off-Page SEO, On-Page SEO and Technical SEO. I've previously walked readers through weaving Technical SEO into the website foundations and considering On-Page SEO when writing content.
Read more...
PPC
Let's begin this guide with what PPC really means and how it works. Pay-per-click (PPC) is a method of advertising your business online by paying for your advert every time someone clicks on it.
Read more...
WEBSITE
Are you looking to promote your business online? With more people turning to the internet to find local businesses, having an online presence is essential (especially in the current climate). In this article, we look at the steps you can take to build your online presence.
Read more...
If you are running a small business, learning how to leverage your time is essential. One great way to do this is by using a content strategy known as "Content Repurposing". In this article, we explore the power of repurposing content. What Is Content Repurposing?
Read more...
Contact Us
Let's talk. You can call, start a live chat, or fill in our contact form and one of our friendly experts will call to help advise you on the best digital marketing for your business needs. We're here for you every step of the way.
1. All figures taken from Google Keyword Planner, January 2023