Digital Marketing for Estate Agents
From a new website, to Paid Media, Video, Social Marketing and SEO, learn how Yell's digital marketing services can benefit your estate agent business.
Digital Marketing for
Estate Agents
From a new website, to Paid Media, Video, Social Marketing and SEO, learn how Yell's digital marketing services can benefit your estate agents.
If you're an estate agent looking to drive more website visits, increase requests for house valuations, add more properties to your portfolio and bring more landlords onboard, a strong, integrated digital marketing strategy is going to be one of the best tools you can use. By creating and maintaining a strong online presence, you can set yourself above competitors and build trust and credibility with buyers, sellers, renters and landlords.
Whether you're a one-branch agency or multi-branch, potential customers and clients are searching for your services online. There's an average of 4,400 monthly searches on Google for 'local estate agents', 22,200 for 'letting agents', 49,500 for 'estate agents near me' and a huge 110,000 monthly UK searches for the general term 'estate agents'1.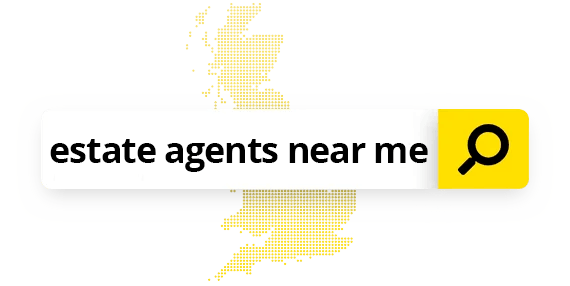 With Yell's digital marketing expertise, we can help your estate agent business to thrive online. Our website design packages will ensure your online shopfront not only looks fantastic, but is easy and secure for you and your customers to use. Meanwhile with our SEO, PPC and social media advertising offerings, your site will be more easily discoverable when your potential clients browse the web. Our video solutions will create professional and slick marketing assets and once you've supplied your services to clients, our online reputation management packages helps secure customer reviews and make sure they're visible on relevant databases.
Our experts will be able to provide detailed, valuable, data-driven insights into the property sector, which we'll use to inform and refine our strategies and campaigns. We'll be able to provide benchmarking reports and regular measurements of your campaign's success.
While each of our services can be booked individually, you can also book several or all of our digital marketing services for an integrated strategy that can deliver increased traffic and a boost to your property business.
Explore our various digital marketing services for Estate Agents
Websites for Estate Agents
As an estate agent, are you struggling to stand out among the competition? While walk ins were once the lead driver of clients and sales, in today's digital age having a strong online presence is key to attracting potential clients. When someone is looking for a new property or a real estate agent, they'll likely start their search online. That's why it's crucial to have a website that not only reflects your brand and business but also provides a secure and functional platform for visitors to learn more about you and easily get in touch.
Our website packages are tailored to meet the specific needs of your business. We understand the importance of a bespoke, eye-catching website that showcases your team, services, expertise and, of course, the properties. With our website development and design services, you can highlight the quality of your sales and lettings, and direct interested clients to your contact details.
Websites also require ongoing care and maintenance, which is why we offer ongoing support to ensure yours is always up-to-date and functioning at its best. Get in touch to discuss how we can help create a site that sets you apart and attracts you more clients.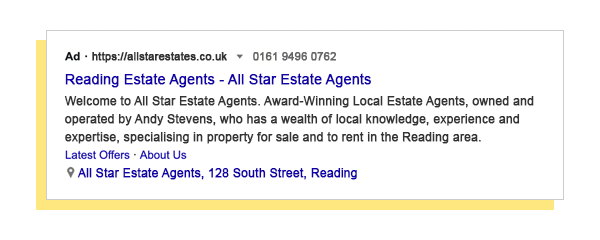 Estate agents understand the importance of reaching the right audience to promote properties and services. One way to achieve this is through Pay-Per-Click (PPC or Paid Search) advertising. By investing in PPC, you can ensure that your ads appear in key, highly visible areas of search engine results pages (SERPs) when potential customers search for keywords related to your business on sites like Google and Bing.
The Paid Search experts here at Yell specialise in creating targeted PPC campaigns, tailored to meet the unique needs of businesses, including estate agents. We start by gaining a thorough understanding of your desired audience, including their age, income, location, and interests so we can serve them ads that are relevant and compelling, while driving traffic to your website. More traffic will mean more leads generated for your business.
But that's just the beginning. With our PPC packages, you'll also receive detailed analytics and insights into the performance of your campaigns. We use this data to measure the success of your ads, track user behaviour, and adjust our approach to make sure that your budget is being spent in the most effective way possible. Our team will also work with you to continually refine your ad targeting and messaging, so we can be confident you're reaching the right people with the right message at the right time.
In short, PPC can be a game-changer for estate agents looking to expand their reach and generate more leads. With our expert guidance and data-driven approach, you can be sure that your investment in PPC will yield results that make a real difference for your business.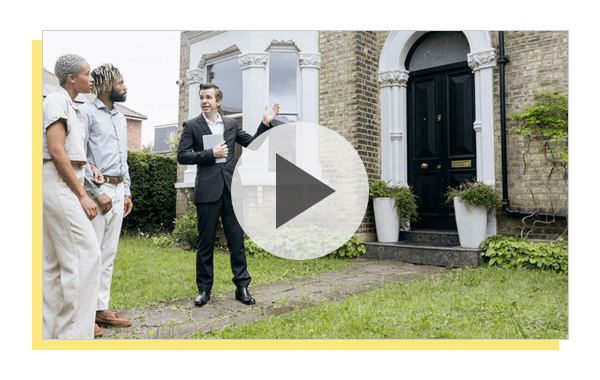 While images and text tell their own story, professionally shot videos are a highly engaging way to capture and hold your viewers' attention. In the competitive real estate industry, video is not only an effective way to showcase properties in an immersive way, but you can demonstrate your own expertise as an authority in your field.
With our range of video packages, we can work closely with you to capture your brand, team and properties in a way that reflects your skills and proficiency. And you can choose from a range of styles and tools, with options like filming, editing, animation, voice overs and even drone footage for capturing fantastic overhead shots of homes and gardens.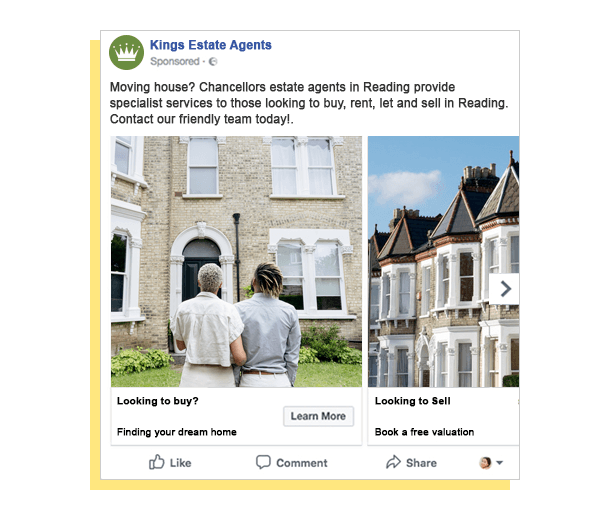 Maintaining a presence on social networks is an effective way to share properties, promote your services and build an online reputation. It can, however, also be time consuming, taking you away from the focus of your day-to-day work.
By advertising on social media platforms like Facebook and Instagram, you can create targeted advertising campaigns that reach specific demographics, interests, behaviours, and locations. This means, as an estate agent, you can advertise services to potential clients who are most likely to be interested in buying, selling or renting in your area, within the social networks they're using.
Our social media services offer a cost and time-effective way to engage with your customers, boost your visibility to your audience and establish yourself as a trusted authority. This can then lead to increased traffic to your site, more eyeballs on your properties and more credibility for your business.
Not only will social advertising help to increase your brand visibility, improve customer engagement and reach a wider audience, but you can also benefit from measurable, real-time results so we can adjust your strategies to drive maximum value.
Online Reputation Management for Estate Agents

For potential clients considering estate agents, online reviews have become an essential decision-making tool. While traditional word-of-mouth recommendations used to be the go-to source for evaluating an agent's credibility, now customers are turning to social media and review sites to assess an agent's expertise, reliability, and reputation.
As useful as they are though, the process of requesting, responding to and promoting customer reviews can be tricky and time-consuming. This is where our online reputation management services can help – our Reputation Manager solution helps you monitor, manage and respond to your online reviews and will list your business on relevant online platforms and directories so it's easily discoverable across the web.
Reputation Manager also helps you manage your social networks from one easily accessible dashboard, making it fast and efficient for you to respond to customers, landlords and renters.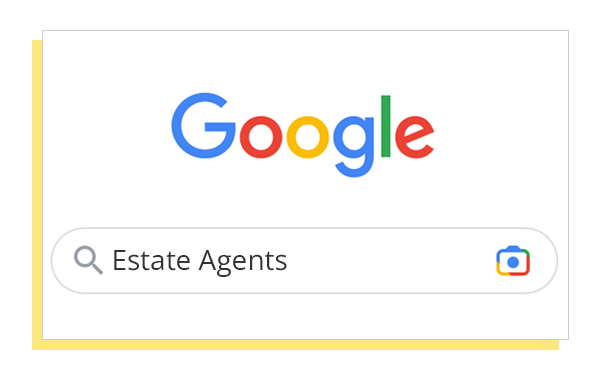 Google is the most visited site in the world, and when people search for estate agents, either nationally or in your local area, you want to be at the top of the search results.
That's where SEO (Search Engine Optimisation) comes in. By optimising your website for relevant search terms, you can achieve higher rankings in search engines, improve your visibility online, boost traffic and increase credibility as a reputable and trustworthy business.
Our team of experienced SEO experts can help you achieve this. We'll take the time to understand your estate agent business and identify what makes you unique, then use a range of tools and techniques to optimise the structure and content of your website for the best search engine performance.
If your estate agency operates in a specific location, our local search approach can be particularly useful. We can tailor your website to ensure you're more visible to potential clients in your geographic region, helping you stand out from the competition and reaching the buyers, sellers, renters and landlords who are mostly likely to convert to revenue.
Don't let your estate agency get lost in the search results. Let us help you improve your visibility and attract more potential clients to your business.
Chris Birch, Director and Strategist at Entrepreneur Consulting Limited, explains how Yell Smart Performance multi-channel digital advertising has helped save time, drive website visitors, and maximise advertising conversion which has contributed to ongoing monthly revenues of over £9,000.
April 2022
Impression is a term that can be used in both SEO or PPC. In SEO it tends to refer to the number of times your website has appeared in searches on engines like Google or Bing. In PPC, it refers to the number of times your ads have been displayed on a webpage or app.
By tracking impressions, estate agents can assess the effectiveness of their advertising efforts and gain valuable insights into how many potential clients may have seen their ads or organic search results.
While impressions do not necessarily indicate that an ad or search engine result has been seen or engaged with, they can provide valuable insights into the reach, visibility and success of your digital marketing efforts.
Recommended reading
For more detailed information on the topics discussed here, here are some recommended articles from our Knowledge Centre
SEO
There are three significant streams of SEO – Off-Page SEO, On-Page SEO and Technical SEO. I've previously walked readers through weaving Technical SEO into the website foundations and considering On-Page SEO when writing content.
Read more...
PPC
Let's begin this guide with what PPC really means and how it works. Pay-per-click (PPC) is a method of advertising your business online by paying for your advert every time someone clicks on it.
Read more...
WEBSITE
Are you looking to promote your business online? With more people turning to the internet to find local businesses, having an online presence is essential (especially in the current climate). In this article, we look at the steps you can take to build your online presence.
Read more...
If you are running a small business, learning how to leverage your time is essential. One great way to do this is by using a content strategy known as "Content Repurposing". In this article, we explore the power of repurposing content. What Is Content Repurposing?
Read more...
Contact Us
Let's talk. You can call, start a live chat, or fill in our contact form and one of our friendly experts will call to help advise you on the best digital marketing for your business needs. We're here for you every step of the way.