Digital Marketing For Event and Wedding Planners
From a brand new website, to Paid Media, Video, Social Marketing and SEO, learn how Yell's digital marketing services can benefit your events or wedding planning business.
Digital Marketing for
Event and Wedding Planners
From a brand new website, to Paid Media, Video, Social Marketing and SEO, learn how Yell's digital marketing services can benefit your events or wedding planning business.
A professional online presence is an essential part of any business, particularly when it comes to an industry as visual and compelling as events management.
Establishing a well-designed website, active socials, excellent reviews and visibility across a range of sites is an integrated way to reach and appeal to your potential customers across the web.
In the UK there are over 880 Google searches every month for 'party planners near me', 1,600 for 'event coordinator', 5,300 for 'events management' and a huge 18,100 for 'wedding planner'1. Our digital marketing packages can ensure your site becomes more visible for terms like these, which in turn will help to increase traffic to your site, as well as leads and bookings from your customers.
From web design to SEO, PPC to reputation management, and video creation to social media advertising, Yell's digital marketing packages offer a range of tactics to suit your needs.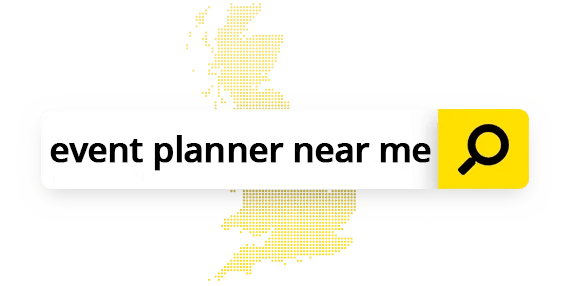 You can pick just one or a mix of our services to boost your event business' performance online, meaning you can focus your attention on shaping the best experiences for your customers offline.
We'll help your website to be found in a range of trustworthy spaces across the internet, helping potential customers find you when they need you.
Explore our various digital marketing services for Event and Wedding Planners
Websites for Event and Wedding Planners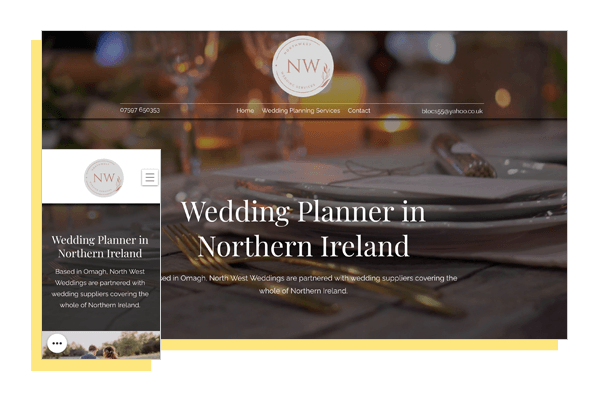 One of the first steps to creating a polished, credible online presence is ensuring your website looks professional, reads clearly and functions well. For many people this may be their first experience of your business, and their initial communication point with you.
With our website creation packages, we'll work with you to ensure your branding and customer experience is reflected in the design and content of your site. You'll be able to showcase your services and events work with ease, while making sure it's simple for your potential customers to get in touch.
We'll also be available on an ongoing basis to help with any amendments or updates as needed.
PPC for Event and Wedding Planners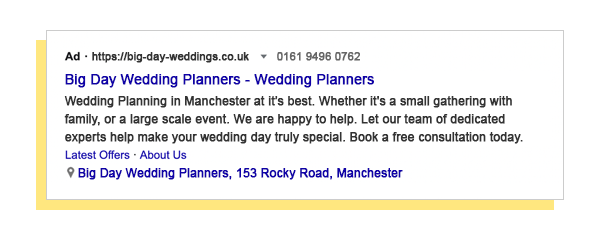 Your clients spend their time online across a range of different sites, from search engines to editorial spaces. Each of these is a new opportunity for you to reach out to customers and publicise your business through targeted ads.
With our PPC packages we can get an understanding of demographics, interests and locations of your potential customers, using this information to target them with tailored ads that will reach them directly.
We'll even be able to help you retarget interested customers who may have previously visited your site, with a reminder about your services as they move elsewhere online.
We'll carefully monitor and oversee your campaigns and ad spend to ensure these are driving as much value as possible to your business, including making ongoing adjustments if needed.
Most digital marketing strategies tend to be split between organic (SEO) and paid (PPC). Although the two work well individually, an integrated approach is often the best way to be as visible to potential customers as possible. Find out more about PPC below or choose from a range of packages for an integrated digital marketing approach.
Video for Event and Wedding Planners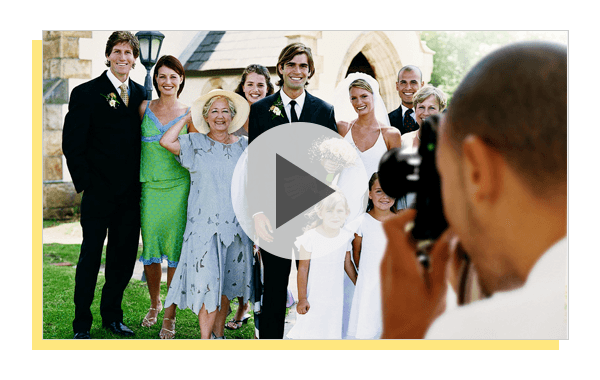 What better way to showcase the events and weddings you work on than with a beautifully shot video? Whether you're introducing the team, interviewing happy clients, describing your approach or simply letting the footage speak for itself, video can encapsulate your business in ways words can't express.
Our video packages include features such as: drone footage for dramatic overhead shots; voiceovers to talk viewers through your services; and even animation for additional creative touches. We'll work closely with you to capture your events and brand in the right way. You can then use the video however you like from sharing on your social feeds to displaying on your website.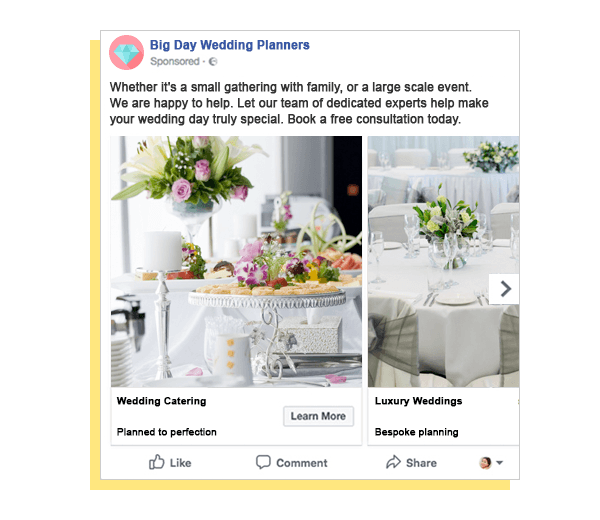 While networks like Facebook and Instagram are perfect for sharing pictures of your events, they're also an incredibly effective marketing tool. Across all social platforms, people are search for business recommendations, reviews and products, both locally and nationally.
Our social media services build your brand awareness, website traffic, leads or bookings by reaching potential customers as they browse their favourite networks. We can help you to share your expertise, skills and the results of your company's hard work through creative campaigns or targeted social advertising, which we can shape to reach your specific audience. Even if you're too busy to post on your own feeds, we'll maintain a presence in those all-important social spaces.
Online Reputation Management for Event and Wedding Planners

A well-rounded digital marketing strategy aims to appeal to customers in all phases of their journey, from the moment they start considering an event through to getting in touch and booking your services. But it doesn't stop there – if you're creating fantastic events, it's worth capturing and sharing testimonials and reviews from satisfied customers to build visibility, credibility and trust. Not only will this help differentiate you from your competitors, but it's proven to attract more business.
Our reputation management solution will help you to oversee your customers' feedback by consolidating online reviews from a range of social networks and publishers into one centralised review management portal. You'll then be able to respond with ease, so you can build trust and authority with existing and new clients. We'll also list your business details on a range of relevant websites and directories and can provide access to a single tool, so you can view all your social networks in one place and easily engage with your customers and potential clients.
SEO for Event and Wedding Planners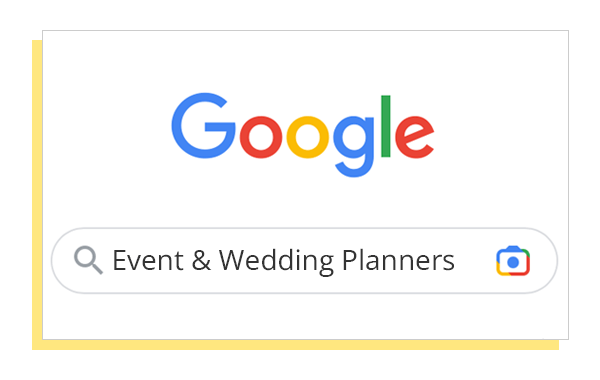 Google is the most visited website in the world, responding to billions of queries every single day. When a potential customer is looking for event or wedding planning services, the likelihood is they'll turn to Google first.
That's where our SEO services come in. We'll get to know your business and what makes you unique, boost your rankings on Google whilst making sure you're visible for relevant searches.
We'll optimise your website to reflect the most important and relevant keywords. Perhaps you only cater to specific types of events, or only work in a small geographic location – we can help you to include these relevant terms and are more likely to appear for them in search engines.
A strong SEO strategy is one of the best ways to drive online traffic, increase qualified leads and really stand out from your competitors. Click below to learn more about how Yell can help you with yours.
Becs Newman, Office & Marketing Manager at Wildflower Turf Limited, describes how Yell Smart Performance digital advertising gets their online ads seen by the right people at the right time in the right places, helping their business grow by 40% last year.
April 2022
Local SEO is the process of optimising a website with specific terms and place names to rank higher in search results for location-based searches. For example, if you're a wedding planner who covers the whole of Sussex, it would be important to include Sussex-related keywords in your website content. This increases your likelihood of appearing in top positions in search engines when potential customers are searching for your services in your area. Local SEO also involves claiming and verifying your business on Google My Business so your website is more likely to appear to users in specific locations.
Recommended reading
For more detailed information on the topics discussed here, here are some recommended articles from our Knowledge Centre
SEO
There are three significant streams of SEO – Off-Page SEO, On-Page SEO and Technical SEO. I've previously walked readers through weaving Technical SEO into the website foundations and considering On-Page SEO when writing content.
Read more...
PPC
Let's begin this guide with what PPC really means and how it works. Pay-per-click (PPC) is a method of advertising your business online by paying for your advert every time someone clicks on it.
Read more...
WEBSITE
Are you looking to promote your business online? With more people turning to the internet to find local businesses, having an online presence is essential (especially in the current climate). In this article, we look at the steps you can take to build your online presence.
Read more...
If you are running a small business, learning how to leverage your time is essential. One great way to do this is by using a content strategy known as "Content Repurposing". In this article, we explore the power of repurposing content. What Is Content Repurposing?
Read more...
Contact Us
Let's talk. You can call, start a live chat, or fill in our contact form and one of our friendly experts will call to help advise you on the best digital marketing for your business needs. We're here for you every step of the way.
1. Google Keyword Planner January 2023