Digital Marketing for Interior Designers
Looking to take your interior design business to the next level? Our digital marketing experts can help you reach new customers and grow your brand online.
Digital Marketing for
Interior Designers
Looking to take your interior design business to the next level? Our digital marketing experts can help you reach new customers and grow your brand online.
If you're looking for ways to improve the online presence of your interior design business, then Yell's digital marketing experts are here to help.
Whether you work alone or as part of a larger agency, we can create and implement an effective online strategy to enhance the visibility of your business, drive more leads and increase revenue.
There are thousands of people every month searching online for services like yours. A few examples of popular UK Google queries include: 'home styling' (1,300 searches a month); 'interior designer near me' (8,100 searches a month); 'bedroom designer' (33,100 searches a month); and 'interior designer' (40,500 searches a month)1.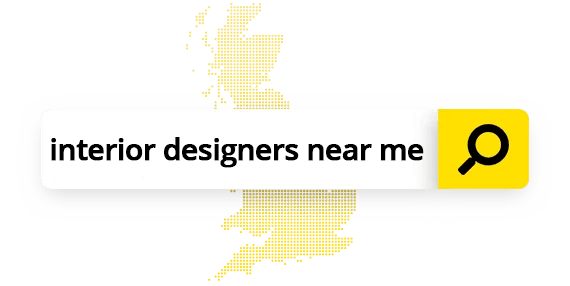 By increasing your site's visibility for terms like these, you can tap into this interest, attracting more qualified visitors, and giving your business a valuable boost.
Here at Yell, we offer a range of digital marketing services that are designed to target and engage your potential customers. From creating a professional, bespoke website to gathering reviews after your projects are complete, we can make sure your business and services are represented clearly and effectively online. Our SEO packages can help your site to rank for relevant terms on search engines, while our PPC services can target a carefully selected demographic with tailored ads. And if you choose our video creation options, we can help you showcase your work and team to encourage even more interest and engagement with your business.
You can choose just one of these services, or pick a few – maybe even all – of them, for an integrated, well-rounded digital marketing strategy that will drive value and revenue for your business. Learn more about each of our packages below or get in touch today to discuss how we can help your interior design company succeed online.
Websites for Interior Designers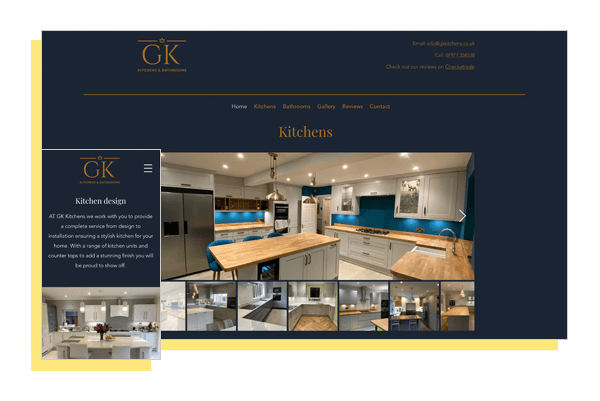 If anyone understands the power of creating spaces that are both functional and beautiful, it's interior designers. Your expertise and keen eye for detail gives you a unique perspective on how to design spaces that meet the needs of the people who use them. That's why it's so important that your website reflects your style, displays your work and encourages readers to get in touch in the right way. The design and user experience of your site could be the key that encourages a potential customer to pick you over a competitor.
With Yell's website packages, we'll work closely with you to ensure your website is not just beautifully designed, but also functions perfectly whilst appealing to your clients. We also offer options with secure, integrated booking systems, so your customers don't even need to pick up the phone to make an appointment.
PPC for Interior Designers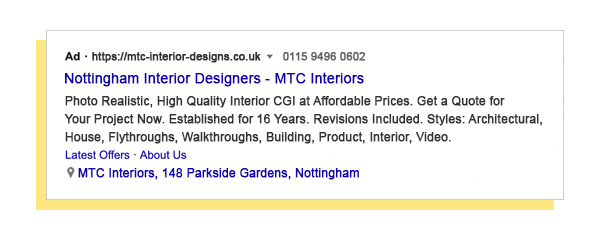 Our PPC (or Pay-Per-Click) advertising services offer the perfect solution if you're looking for a quick way to reach potential customers online. With targeted paid ads on Google and Bing, we can help place your business in front of the right people as they search online.
To make sure we're driving the most value for your interior design business, we'll dive into your audience's demographics, location, and interests, and create ads that speak directly to them. Plus, our PPC packages come with detailed analytics and insights, so we can track your campaigns' success and adjust your budgets and ad spend accordingly.
Video for Interior Designers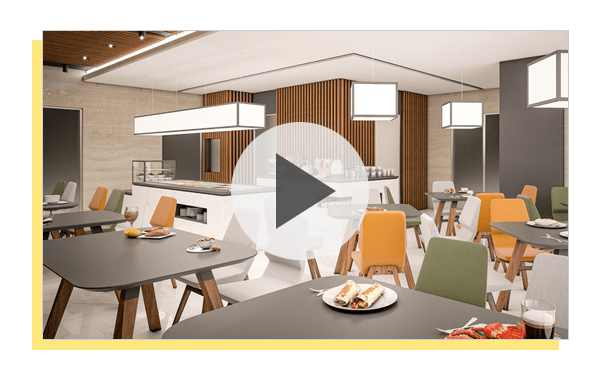 Video is a powerful tool that can help you engage with your current and potential clients in a visual and immersive way. It allows you to showcase your interior design work, demonstrate your process, introduce your team, and share your values with the viewer. With the right kind of video, you can communicate your brand message, build trust and inspire potential customers to get in touch quickly and effectively.
Our team of video experts can help you to plan and execute a video marketing strategy that's tailored to your business needs. We'll take the time to understand your business, so we can create videos that accurately reflect your brand and vision. Our video packages include everything from filming and editing to animation, voice-overs, and even drone footage, so you can showcase even your largest interior projects in a visually appealing way. Once complete you'll easily be able to incorporate your videos into your website, social media and marketing campaigns to help you reach a wider audience and drive more business.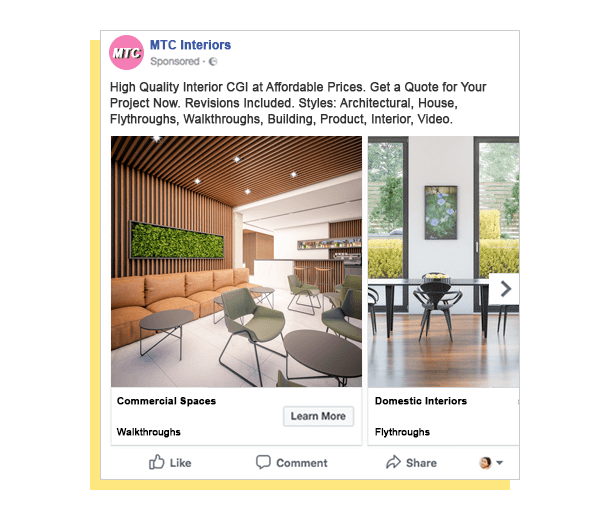 While Google is the most visited site in the world, the most searched-for word is 'Facebook', which shows the massive influence that social media has for so many people. However, running your business takes a lot of time and effort, and it's common for interior designers to often be too busy to shape and maintain a social media presence.
This is where Yell's social media experts can help – we'll keep your business visible and engaged with targeted ads on social platforms like Instagram and Facebook, leaving you more time to focus on the smooth running of your business.
With our social media advertising packages, which come as part of our Smart Performance solution, we'll take care of everything from crafting bespoke ads to carefully targeting your audience based on their interests, behaviours, demographics, and, if applicable, location. This way, your ads will be driving more relevant and qualified traffic to your website, helping to increase bookings and boost revenue.
Online Reputation Management for Interior Designers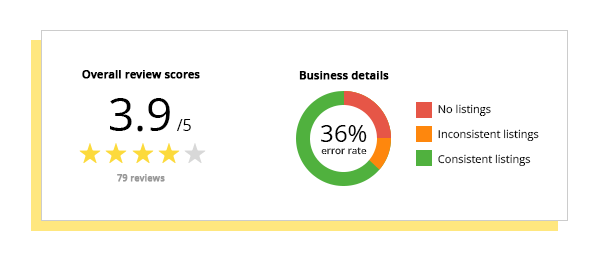 When looking for new businesses to work with, it's important for clients to know that they're choosing a company they can trust. If your business has a proven history of high-quality work and great customer satisfaction, then it's more likely to stand out from competitors. By curating credible reviews and sharing them in the right places online, you can show off your great work and prove that your services are right for each potential customer.
We shaped our Reputation Management services with these needs in mind and offer a range of packages to help you build and maintain a positive reputation. These include:
Listing your business' information on various websites and directories, all synced with your Yell Business Profile for maximum visibility and accuracy.
Providing access to a specialised dashboard that consolidates all your online reviews, making it easy for you to monitor and respond to feedback from clients.
Offering a social posting management system that lets you link all your social networks into one convenient portal.
Not only will you be able to engage with and respond to customers quickly and easily, but you'll also be able to boost your online reputation, increase visibility and build trust in your interiors business.
SEO for Interior Designers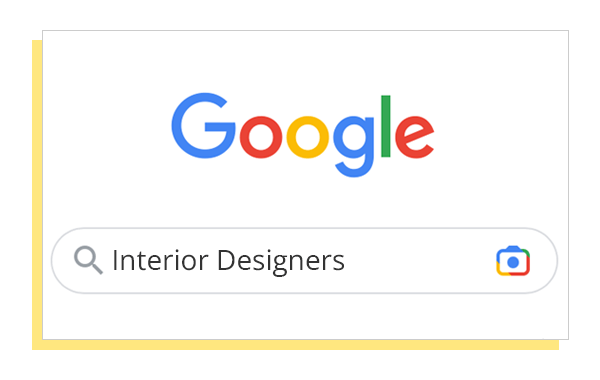 Google is the most visited site in the world, and, when it comes to searching for products, goods, or services, it's where most people go first. That's why it's important for your interior design firm to be visible on search engines when potential clients are searching for skills like yours.
With Yell's SEO packages, our experts can start by auditing your site and giving you a detailed performance report, including a Google Search Console audit, to pinpoint areas for improvement and find the best keywords to target. We'll also consider your studio's specifics, like location, services, and specialisms, to ensure that you show up in the right places for relevant searches. If you prefer working with clients in certain areas, we can use local SEO to increase your visibility in those specific geographic regions.
With some strategic optimisation and support from our SEO team, your site will see a performance boost in search engines, leading to higher traffic numbers, more business and an increase in revenue.
Densley James, Managing Director at Sigma Engineering Product Design describes how Yell's marketing support has helped the business reach a wider clientele and transform turnover by delivering an ecommerce website and targeted online advertising to drive more website visits and calls.
August 2021
Each interior design business is unique and will have its own individual strengths. It's worth taking these into account when promoting your company, as the needs of your customers may be different to others. However, some solid steps to take when increasing online visibility include:
Create a website – this is your online showroom, where you can display your portfolio, explain your services and provide contact information. Make sure this is well designed, easy to navigate, and mobile and SEO-friendly.
Utilise social media – whether you're posting yourself or making the most of advertising space, social networks are perfect for promoting visual content like interior design. Share photos, inspiration, tips and advice and make sure to engage with your followers as much as possible.
Start a blog – not only will a blog help to establish your authority and expertise within the industry, but it's also an excellent opportunity to showcase your portfolio and provide behind-the-scenes glimpses of your work. Plus, a good blog, optimised for the right keywords, can boost your success in search engines.
Register with online directories – making sure your business is listed with the right directories will help potential customers to find you when they're searching for local interior designers.
Advertise online – Pay-Per-Click (PPC) and social media advertising is a highly effective way to reach targeted clients based on their demographics, interests and location.
Rank well on Google – Search Engine Optimisation (SEO) has steadily become one of the most powerful tools for expanding your reach and client base. Optimising your site to help it rank in top positions on search engines like Google will dramatically increase traffic and revenue.
Yell's digital marketing services can help you with most areas of online promotion – get in touch to find out more.
Recommended reading
For more detailed information on the topics discussed here, here are some recommended articles from our Knowledge Centre
SEO
There are three significant streams of SEO – Off-Page SEO, On-Page SEO and Technical SEO. I've previously walked readers through weaving Technical SEO into the website foundations and considering On-Page SEO.
PPC
Let's begin this guide with what PPC really means and how it works. Pay-per-click (PPC) is a method of advertising your business online by paying for your advert every time someone clicks on it.
WEBSITE
Are you looking to promote your business online? With more people turning to the internet to find local businesses, having an online presence is essential (especially in the current climate). In this article, we look at the steps you can take to build your online presence.
If you are running a small business, learning how to leverage your time is essential. One great way to do this is by using a content strategy known as "Content Repurposing". In this article, we explore the power of repurposing content. What Is Content Repurposing?
Contact Us
Let's talk. You can call, start a live chat, or fill in our contact form and one of our friendly experts will call to help advise you on the best digital marketing for your business needs. We're here for you every step of the way.
1. All figures taken from Google Keyword Planner, March 2023