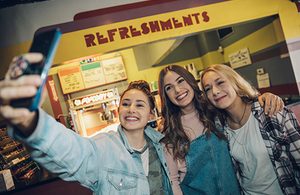 User-generated or third party photos, videos, reviews and other social media content related to your business can be both a gift and a threat.
On the one hand, your customers are creating content for you – great right?
On the other hand, you don't have full control over that content – so how can you know if they're going to share something in a negative or a positive light?
I know a social media team at a spa who had exactly this problem. They wanted people to take photos while in the spa, so that they would share them on social media and spread the message to their friends. But many guests had privacy concerns and wanted to relax without camera intrusion. So the team decided on a blanket ban on photography.
The result was tighter control over their brand image and fewer privacy-related complaints from customers. Then, to give guests the power to create their own content, they found a creative way around the problem – they researched a fun spa-themed photo booth for guests to go into in their robes and have their photos taken in. Guests could then find the photos online and share on their social media channels complete with the spa's logo and branding.
The take-away from this example is that there is always a way to give your guests and web visitors the power to create their own content, or share your content for you. You can steer them towards producing a positive on-brand piece of content.
Here are a few other great ways that you can give your website visitors and customers the opportunity to create and/or share content for you:
Give visitors a good online experience. Having a user-friendly website is a must, not an option. If potential customers have an easy time navigating your website, and your social media presence and reactivity to enquiries is good, they will have a positive first impression of your business. Building on this, populate your website and social channels with relevant shareable content, so that even if they don't create their own, it's easy for them to share yours.
Create content your audience would be proud to share. Not all users will have time to generate their own content, so why not create it for them? Each time you devise a new piece of content, ask yourself: would you share that yourself if you saw it online? People only share content that really impresses or entertains them (and therefore might impress or entertain their own followers), so bear this in mind when planning your content.
Vary content formats. This could be an embedded video on your home page, a detailed infographic, or simply an amusing GIF. As long as the content is on brand, you can provide your online audience with lots of different formats and themes to choose from.
SEO every piece of content. This means naming and tagging images and videos appropriately, and researching keywords for written content, to give your content the best chance of being found. Above all it means creating stand-out content that people want to read – search engines prioritise quality.
Brand all your content. Make sure you get the credit for your content, and that new viewers see your company as the initial creator. Watermarking your logo onto images and videos is surprisingly straightforward.
Enlist supporters to spread the word. Business partners, suppliers, former customers: all these supporters are a resource you can use to extend the reach of your content. Tag one or two relevant key accounts in your social media posts – if the content is also relevant to their followers, they'll likely share it.
Provide physical props. If you have a physical venue like a shop or restaurant, give visitors appealing props with which to create their own content. For example flower walls (or doughnut walls!) make a great creative backdrop for photos, and 'selfie points' are a reminder for people to take photos of their experience with you (don't forget to print your logo, handle and hashtag on any signage). Attractive decor can also set the scene for a photo, especially quirky signs and unusual furniture.
Make it easy for them to tag you. If they're going to promote your business for free, the least you can do is give them the information they need to create their social media post. Make sure your logo, social media handles and hashtags are prominently displayed on your website and if applicable, in your shop or place of work.
Encourage reviews of your business. Online reviews are great user-generated content that often directly influence new sales – people like hearing first-hand accounts of a product or service before they commit to purchasing themselves. However, most people won't bother to review your business unless you prompt them and make it easy for them. So if the majority of your customers buy from you online then why not email them post-purchase to ask them to leave you a review? If they purchase in store, pop a little 'How did we do?' feedback card in with their item.
Syndicate content through all channels. Don't rely on people making the effort to visit your website to happen across your cool new infographic – share it far and wide through email, social media and even the press if you think it's newsworthy enough. If you're really hoping to make a piece of content go viral, put some money behind it – boost a Facebook post or pay for an advert.
READ MORE
How Your Product Partners and Suppliers Can Help With Your Content
How To Write Stand-Out Copy In A World Where Everyone's A Writer
How To Give Customers The Power To Create Social Media Content For You
Click To Tweet