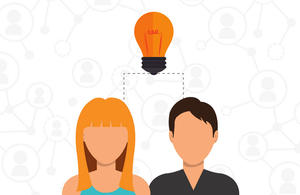 A referral scheme gives you the best chance of getting more customers just like the ones you already have and love the most.
Once you've reached someone who liked you enough to buy from you, wouldn't it be great to then infect all their friends with the same love bug?
Let's get into referral schemes.
1. Bulb
Bulb is a millennial energy supplier. Yes, that's a thing. Welcome to 2018.
Bulb tore up the rule book for energy by making it super easy for you to switch to them – and super easy for you to leave them as well. They're all about renewable energy and they're very transparent compared with traditional energy companies.
Their referral scheme gives you £50 credit (with special £100 offers from time-to-time) when you get someone to switch – and there's £50 in it for your mate, too. The wonderful thing is how easy it is. You generate your own link to share on social or with particular people, and you can make it whatever you want so it's easy to remember.
I actually did this one. I saw someone on Facebook post their referral link, so I switched. I then told my work neighbour about it, and he switched. I got £100 for those two, and lower energy bills.
It's such a good referral scheme that you find yourself doing Bulb's selling for them. Which is the very definition of an excellent marketing tool.
2. Heist
Heist is a luxury tights company. Again, that's a thing. If you've never worn tights, you cannot understand how incredibly, excruciatingly annoying they are. They stretch, they sag, they bobble, they ladder and sometimes they even HURT.
So, Heist came along with some super-engineering of the hosiery kind. An amazingly high, wide and soft waistband that sort of sausages you into a nice shape, without making you feel like you sold out to the patriarchy. We're not talking Spanx, OK.
Heist's tights start at about £19 which is a LOT. Their referral scheme is therefore very important for them to reach people who might not go out of their way to hunt down such a luxury item. They know how good their tights are; they just need people to see the value compared with Primark's three-pairs-for-£3 alternative.
As with Bulb, the key to their success is getting loyal customers to indoctrinate other people like them. They know the exact selling points that will strike a chord with their peers, so it's marketing gold dust.
3. Monzo
Like, THE bank card to be seen with. Monzo is another millennial-centric tearing-up of the rulebook. They're a purely mobile bank, their cards are day-glo pink and they give out 'Golden Tickets', which let you help your friends skip the waiting list.
Monzo's referral scheme is for 'ambassadors'. That immediately makes you feel special, whoever you are. You apply for a referral link and away you go. It's the same old refer-a-friend we've all been doing for years – but special.
Monzo is making anyone an influencer. For a generation brought up with the idea that if you get enough Instagram followers, you'll be rich, that's pretty tasty. They ask for your website and social handles, which is pretty interesting. It gives Monzo an exact figure for its potential reach through referrals, which is any marketer's dream.
How these referral schemes succeed:
They create a community or club (cult) of like-minded people
They build loyalty and repeat custom
They generate good brand awareness and sentiment
They're super easy – especially for mobile, where most people are
There's no limit to the number of referrals you can give out (and earn from)
They have all the data they need to forecast their potential success and track actual gains