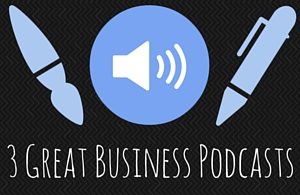 Much like blogs and marketing emails, podcasts are an internet staple that first came to prominence in the mid noughties; they went a bit quiet for a while, but all three are now back with a vengeance.
I'm a fairly new convert to podcasts; they're great for listening to in the background. Whether it's when you're working or just chilling out; during your commute to the office, or even at home whilst you're doing the housework. It's like talk radio, but you get to choose the topics, the presenters and the time.
Here are three of my personal picks, jam packed with awesome advice for any small business owner.
ProBlogger Podcast
Link: Podcast at Problogger
Presenter: Darren Rowse
Normal Episode Duration: 10-20 minutes
Darren is undoubtedly blogging royalty. He's been blogging since the early 2000's, so in online writing terms, he's a true veteran. This podcast is very much about blogging and writing, but the advice is framed carefully to keep the podcast useful to all creatives where possible. Format-wise, Darren does occasionally feature interviews, but the majority of the podcasts are just him, on his own, providing "talking head" advice. Its obvious that all of his tips come from genuine, personal experience in blogging, content creation and business.
Darren knows the stumbling blocks that creators regularly come up against, and if you are a marketer who relies on content marketing and the written word, this podcast is a must listen.
Top Picks:
Clients from Hell Podcast
Link: Clients from Hell at Libsyn
Presenter: Bryce Bladon
Normal Episode Duration: 30 minutes
Don't let the title scare you away. Clients from Hell is a fab podcast produced by photographer and copywriter Bryce Bladon. Bryce and many of his guests come from a variety of creative backgrounds, and cover discuss topics that are applicable to all kinds of creative freelance professions. The podcast always features a guest, but this isn't your regular interview format; it's far more conversational, like two old friends having a catch up. He is careful to pick guests with interesting stories, points of view, those from different backgrounds and places in their career.
Personally I really enjoy this podcast. It manages to be informational and entertaining in equal measure. Bryce comes across as a nice chap, and his guests always have interesting tips and anecdotes to pass along.
Sidenote: By the way if you're wondering about the title, it comes from Bryce's site Clients from Hell, where small business owners from around the world share freelance horror stories. It's always good for a giggle.
Top Picks:
Off the Charts Podcast
Link: At NathalieLussier.com or Stitcher
Presenter: Nathalie Lussier
Normal Episode Duration: 5-15 minutes
Nathalie is a Digital Strategist – in layman's terms a digital marketing/business expert – and her podcast explores interesting ways and best practices for marketing your business online, as well as general business advice. The Off the Charts podcast features a nice mixture of talks from guests and Nathalie giving her own advice. Nathalie's solo episodes cover her main areas of expertise within digital marketing and her guests are wisely selected to cover other aspects of entrepreneurship.
Nathalie's solo podcasts cover matters of creativity, increasing conversions, using technology in client relations, list building – all the good stuff.
Her guest speakers cover a more disparate range of topics such as self discipline, team leadership, risk management, delegation, scaling your business and of the other important things that us business owners need to thrive.
Top Picks:
If you're a small business owner, you need to know about these three great podcasts.
Click To Tweet
Have I missed a good podcast that you think is the bee's knees? Please share the link down in the comments.