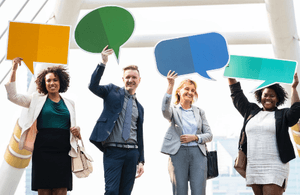 Listing your company on review websites can seem like a scary prospect. You're putting your precious business out there to get potentially battered by the slings and arrows of former customers and personal opinion.
But actually, there are many more positives than negatives to online reviews – not least the warm, fuzzy feeling when you get a glowing new recommendation! So let's take a look at seven major reasons why all small-to-medium businesses should embrace online reviews…
1. It Gets You Seen in the Knowledge Panel and/or Map Pack
I know what some of you may be asking – what on earth is a knowledge panel and a map pack? Well, when you conduct a search on Google for a specific company or for a type of company within a location (e.g., "hairdresser central birmingham") Google may display a map pack result or knowledge panel result as shown below: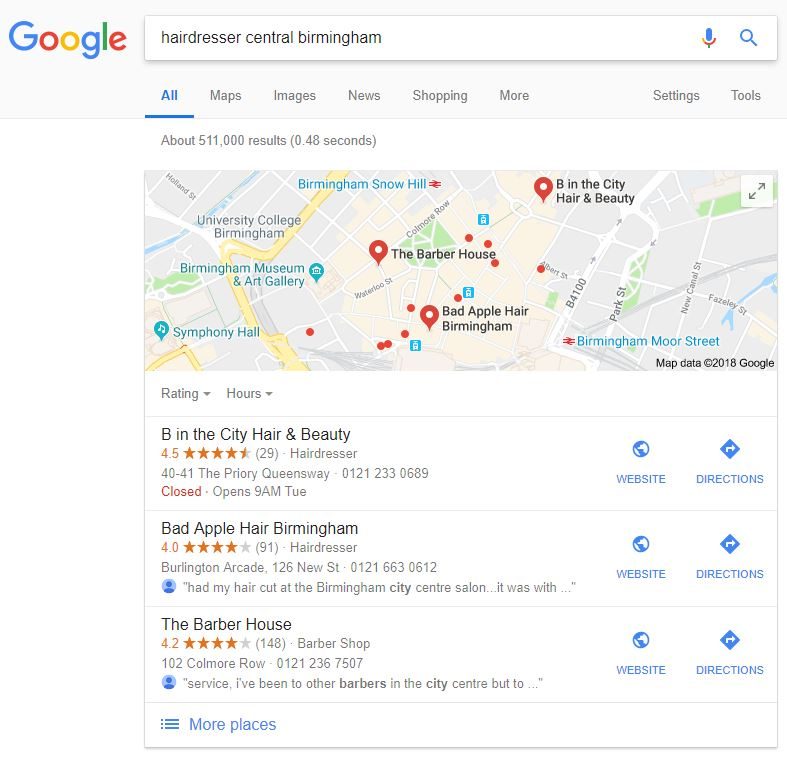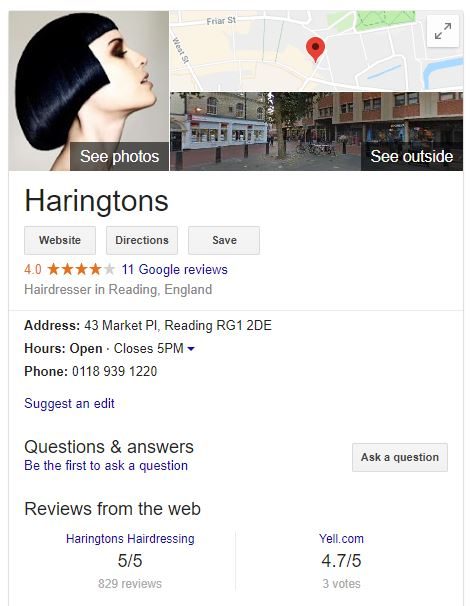 If you're familiar with these kinds of results, you probably understand how appearing here is great exposure. Listing your business on Google's own business review platform Google My Business, as well as listing it on trusted sites such as Facebook and Yell.com, helps your chances of appearing here when users search for something relevant. Google also corroborates your contact details across platforms, so listing your business in multiple places helps Google provide accurate information too. Knowledge panel and map pack presence is a crucial part of local SEO – an absolute must if reaching potential customers in your local area is key.
2. It's More Far-Reaching Than Real-Life Word of Mouth
Word of mouth of any kind is great; personal recommendations are arguably the best kind of marketing out there! Having happy customers tell their family, friends, or business contacts is a great feeling – but this "real-life" word of mouth can only reach so far. This is where online word of mouth takes the baton.
When prospects read online reviews, they're being advised by people who they may never even meet in real life. Online reviews aren't just a wishy-washy digital marketing fad – they give your business real-world credibility on a global platform.
In fact, 73% of consumers are more likely to choose a business that has online reviews compared to a business that has none (Critical Research, 2017). So if you aren't actively encouraging customers to leave a review, you could lose out to your competition!
3. Review Sites Are an Unbiased Data Source
Review sites are a great place to go for unbiased opinions. Generally, consumers want to share their honest experience with the world, and review sites themselves provide a neutral ground for consumers and businesses to come together. Leading review sites (including Yell.com) have strict policies and measures in place so companies can't actively remove or bury negative reviews – aiming for the absolute, unfiltered truth.
The psychological power of social proof is undeniable. When we're looking to take a certain course of action (e.g., making a given purchase), we base our choices on what other people do and what they appear to approve. It served us well as hunter-gatherers and continues to generally serve us well as we navigate 5-star ratings and descriptive reviews.
4. Reviews Give You Valuable Marketing Insight
If you're ever stuck for inspiration in terms of your copy and overall offering, checking out some recent customer reviews can be a great source of market research. Looking at what nice things people had to say gives you unique insight into what you're good at and what parts of your service mean the most to your clientele. Similarly, negative reviews can also teach you a thing or two, but we'll talk more about that shortly.
On a similar note, you can publish particularly stellar reviews verbatim in brochures, flyers, catalogues, and so on – although I'd recommend that you ask for the reviewer's permission to do so first.
5. Signing Up Usually Costs Nothing
Pretty much all of the household name review sites (such as Yell.com, Google My Business, TripAdvisor, Cylex, etc.) generally don't charge a business to create a basic listing. All usually give you an opportunity to share your brand through copy and images and once that's all set there's only minimal upkeep – responding to reviews, updating your offering as your business develops, and providing periodical offers and announcements.
Both online and offline marketing can be a rather costly affair, so it's quite refreshing to find a marketing avenue with bags of potential without reaching for your wallet!
6. Negative Reviews Aren't the End of the World!
One of the main reasons that companies shy away from jumping on the online review train is the fear of negative exposure. But merely putting yourself out there doesn't magically attract a barrage of negative attention. However, if you do happen to receive a less-than-rosy review, you can absolutely learn from it and you may even be able to turn it around into a positive experience. There may be a certain defensive knee-jerk reaction when you first see a negative review, but try to calmly analyse the point that's being made and consider how things could have been done differently – and most crucially how you can put things right in the here and now.
Additionally, negative reviews can also help to qualify (or disqualify) prospects. If a negative review indicates that a client was expecting something different, that review can serve to inform future prospects that they may want to look somewhere else. Reviews on both sides of the coin help to give future prospects truthful insight and a better idea of what to expect when working with you.
7. Reviews Engage Customers and Give Them A Voice
Everyone likes to feel that their voice is being heard, regardless of whether their experience is positive or negative. Review sites give your clients a voice away from the noisy social media landscape in a neutral and professional setting. They also give you a voice as a company – an opportunity to publicly put things right and to express gratitude to all reviewers.
Therefore, review sites facilitate an open, public conversation with your customers. They give you an opportunity to listen to your client base more closely, learn from what they have to say, and for your word of mouth to reach far and wide – all through an unbiased third party.
So if you haven't already claimed your free listing on Yell.com, grab yours today! And be sure to list your business on Google My Business too!
On the fence about listing your business on review sites? Here are 7 reasons why you should...
Click To Tweet
So now it's your turn. Is your business listed on review sites? If so – which ones? If not – what's holding you back? Let us know down in the comments!