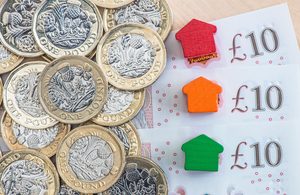 You might have come across the terms 'secured' and 'unsecured' when hearing about business loans.
Which option you choose will depend largely on your business, your circumstances, eligibility, what you need the money for and your long-term plans.
The fundamental difference between the two is that a secured business loan requires you to put tangible assets up as security – which can be taken by the lender should you default on the loan – while an unsecured business loan doesn't need this.
In this guide, we'll tell you all you need to know about unsecured business loans.
What is an unsecured business loan?
With an unsecured loan, you don't put up any of your tangible assets (like property or vehicles) as security. Security assures the lender that they'll recoup their costs, should you default on repayments.
How much can I borrow?
Many lenders offer unsecured loans of up to £350,000 and more.
Could I get an unsecured business loan from my bank?
While most big banks do offer unsecured business loans, they generally aren't as flexible as businesses need them to be.
Banks don't tend to lend multiple smaller amounts – they're more interested in the occasional high-value loans. This is fine for some businesses but many businesses need smaller cash injections on a more regular basis.
This is where alternative finance providers come in. Alternative lenders are often much more flexible – many let you repay your loan early if you can, which banks tend not to.
Banks can also take a lot longer than alternative lenders to process loans. When you're running a fast-paced business, speed can be really important. This can mean that loans from alternative lenders end up costing a little more overall, but if it's more suited to your business, that speed is crucial.
Why might I need an unsecured loan?
You might turn to an unsecured loan if you haven't got any assets in your business – lots of companies are virtual in nature and don't have physical premises or large amounts of equipment. Or perhaps you need to borrow more than your assets are worth. It could be that you don't want to tie your assets up in a loan – maybe you have other plans for them.
An unsecured loan can help with things like:
Who can get an unsecured loan?
Without the security of assets to rely on, lenders will often want to see a strong trading position before lending to a business on an unsecured basis.
You'll generally need strong trading accounts, decent credit history and a strong cash flow position to get an unsecured business loan. Lenders will want to see that your business is profitable, with a healthy profit margin and a high enough turnover compared to the amount you need to borrow. This is to ensure you have plenty of breathing space to meet the repayments, should anything go wrong. It will often mean assessing the directors of the company and their records too.
Because of the increased element of risk, an unsecured loan is also typically more expensive in terms of interest rates than a secured loan.
Personal Guarantees
You might be asked to provide a personal guarantee with an unsecured loan. This means that you, as an individual, would be personally liable for the loan repayments should the business fail to pay.
This needs careful consideration because it could see your personal assets, such as your home, being put at risk if your business defaults on the loan. There are times when a personal guarantee is not required, but if you're on the borderline of being accepted, or you want to speed up the application process, then it's something to be prepared for. Things like personal guarantee insurance are available for some extra assurance here.
Unsecured business loans – key points
Usually for more established businesses with a strong trading history and healthy accounts
Typically more expensive overall than secured loans
No assets required
May need to provide a personal guarantee
Flexible – can usually repay early
Can be processed quickly in a straightforward process
Less up-front cost
Funding Options helps businesses find the right funding for their situation. Whether they want to grow, they're fighting for survival, or simply need to pay a tax bill, @FundingOptions is helping businesses walk tall.