Now I'm working from home like so many people, I'm spending hours a day sat next to my husband, who runs the Amazon and eBay accounts for a small business. For Amazon and eBay sellers during coronavirus, the world has changed overnight.
So, Husband is having to think on his feet and put 10 years of experience to work, solving completely new problems.
5 tips for small-business Amazon and eBay sellers during coronavirus
1. Downgrade from your professional plan
If your order flow has decreased, you could save money by downgrading from professional seller to save the subscription fees. This does limit your access to features but might be a good way to save on overheads for the minute.
On Amazon, you can have a maximum of 40 sales before you need your professional seller plan. eBay is a lot cheaper to sell on, so it's very likely you could get by on a basic plan if you're not already.
2. Streamline your product offering
Prioritise high-value but easy-to-deliver items. Think about what people are actually likely to order during this period of staying at home and focus your efforts on those things.
Don't take on more custom than you can handle even if you see a surge; it's only going to get harder to deliver on those orders. With both eBay and Amazon, it's so easy to lose seller privileges if you can't maintain standards like shipping time.
3. Start doing manual tracking
As businesses adapt to homeworking, government guidance and financial issues, logistics can be rocky.
Check your tracking manually on your courier sites, so you're aware of any issues with delivery times before you get a complaint through. You may want to increase shipping estimates so your seller metrics don't suffer as a result of delays.
Royal Mail have confirmed that they will no longer require a signature for any order, so people can avoid contact. Postal workers will instead sign on behalf of your customer.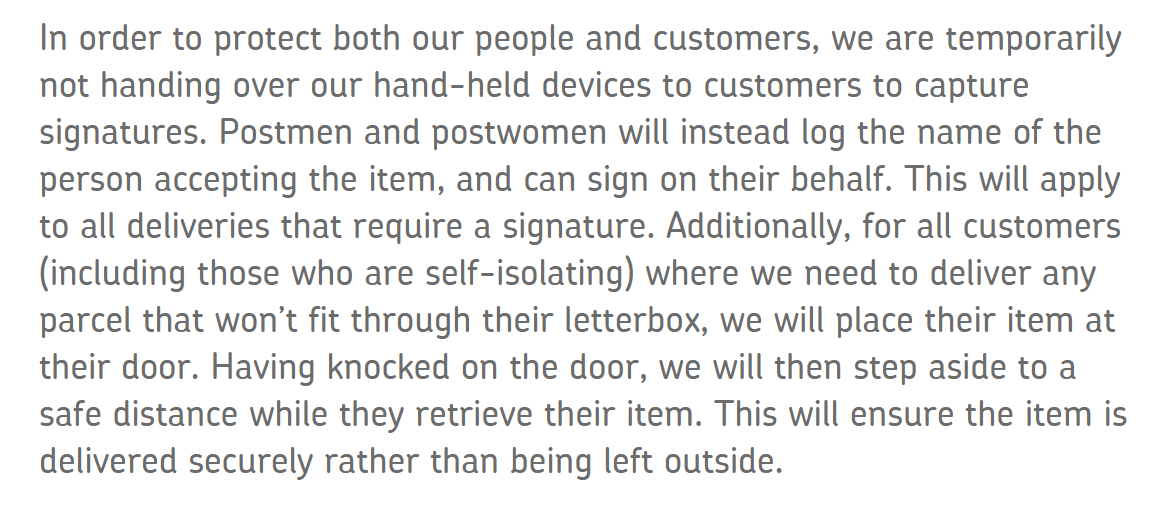 4. Be strategic with your customer support
In Husband's experience, Amazon customers are more difficult to manage because Amazon favours them in disputes. If you've experienced this yourself, it could be worth putting your Amazon account on holiday mode and focusing on your other channels, like eBay.
If you stick it out on Amazon, don't risk little disputes that could put your business channels at risk at the very worst time. Arguing over a £3 item when it could jeopardise your income isn't worth the hassle. Refund and move on.
Keep an eye on your feedback scores so you know when you need to take action on any aspect of your orders that's causing issues.
5. Adapt your ways of working
Don't ship anything that doesn't meet exacting standards; tensions are already high and people want products to look squeaky clean right now, even if they're 'as-new'.
Price competitively if you can: more orders for less profit is better than no orders for no profit.
If you supply household or medical goods, consider Fulfilment By Amazon so you don't have to worry about handling. Do NOT be tempted to price gouge (adding a significant mark-up to the price due to limited availability) on these items – that's the quickest way to get kicked off Amazon right now.
eBay are restricting the sale of baby formula, tampons, toilet roll, face masks, hand sanitiser and much more. Only specifically authorised eBay sellers will be allowed to sell them during the coronavirus crisis.
Consider if you can offer other people work at this difficult time. If you're seeing an uptick in sales as the nation stays inside, bored, do you need help? Lots of people are losing work right now and, as long as things can be done remotely, you could change someone's life by offering them an income.
Keep the UK running!
So many shops are now shut and people are trying to limit contact. For now, the chances of survival for Amazon and eBay sellers during coronavirus look OK.
Adapt quickly and you could safeguard your business for the next few months while we all ride out the storm.