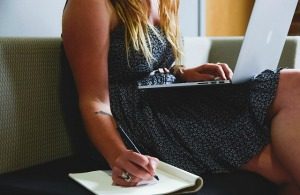 Websites containing articles or blog posts are still in a minority. However, there is a growing trend towards the inclusion of these additional marketing tactics, and rightly so.
The converted may wonder why so many websites fail to use these superb tools. Perhaps business owners are not informed why they should be introduced. Maybe there is still a belief that once the website goes live, the work is done. Most likely, when discussing free business advertising or ways to promote your business, a content marketing strategy was sadly omitted.
Whatever the reason for the omission, websites without these key marketing tools are missing out. Here's why…
1) Search engines love good quality, regular, fresh content. If your web pages are static, then where is the new content on your website being delivered? The most common answer is that it's not!
Over time, your page ranking will diminish as competing websites using these content marketing overtake you. No doubt your web designer will be questioned about how they SEO'd your website. They may use your lack of knowledge to sell you a monthly SEO service, sometimes costing a fortune, which you don't really need!
2) Writing articles or blogging on a regular basis, positions your business as an educator or expert in your industry. Educators are seen as the leaders in an industry. Educating therefore elevates your business in the eyes of your profession. The biggest advantage for you is that educating differentiates your business in the eyes of a prospect.
Let's take a look at a simple example. There are two businesses selling identical products online. One of these businesses has a "standard" website, listing the products they sell. The competitor website is identical except they also write articles, blogs and reviews to provide valuable information to the reader (prospect). This helps the reader understand more about each product, the pros and cons and what to expect if they make a purchase. From this, they are able to make a more informed choice and buy with added confidence.
If you were the prospect visiting the two websites, which would you prefer? The majority of people would select the website containing more information.
How does this influence the behaviour of a prospect?
There can be a difference in customer behaviour if you have taken the time to educate them. There are prospects who are looking for a one-off transaction and most likely they will select a website that meets their buying criteria i.e. go online, find the product and purchase it. It's a cold transaction. They've got what they want and disappear. Maybe they will return. Maybe they buy the cheapest so they will always search on this basis. This is not your ideal customer.
Alternatively, there are those people who wish to be led. They have to be certain before committing to a purchase. By educating them, they feel more secure about buying from you. It's a warmer transaction.
These people are more likely to return to your business to buy again. The initial transaction sows the seed in building brand loyalty. They are more receptive to receiving more information from you and generally will receive it. This is important when building a long term sustainable business.
Let's take a look at the types of information you discovered earlier
Articles: Provide more information about products or services. The additional information may include more technical or detailed data which is a huge selling point for "detail" readers. These are the people who absorb information and need it to be ready to buy, especially when they are buying a more expensive item. They will search for additional data and will warm to the business which provides this and meets their needs.
Whilst detail is important, articles may be written to cover different selling points of an item. They may provide comparisons or simply expand into more areas of knowledge.
Blog posts: These can be business news articles, but also industry news, or thoughts about lessons to learn. They humanise your business, providing the opportunity to let the reader understand your character through views you share. This can be very engaging and endearing to visitors. Blogging for SEO purposes is a sound tactic and helps to boost your page rankings.
Reviews: These may be your unbiased thoughts allowing the reader to understand why product "X" should be considered over product "Y". You may include a scoring system to rate the products. Alternatively, you may find independent, third-party reviews more appealing. Reviews highlight the pros and cons of a product, providing more depth and credibility compared to features and benefits usually found on a sales page.
Other article marketing benefits

A good article can also be posted on article marketing sites. However, you must post it on your website first to ensure it is registered as YOUR content. This new information must be accredited to your website otherwise credibility will be given to the first website it is posted on. Posting articles on article marketing websites is a good potential source for leads or referrals to your website.
An article can be sent to your existing database. It's a valuable item and a good percentage of your customers would appreciate receiving it. As a strategy, it's usually better to educate rather than sell to. This could be sent in the form of an attachment or a link to your website from an email.
Articles can also be sent to your industry association if you are a member. Generally they like good content. If they have a magazine or online industry newsletter, then having an article published elevates your business in the eyes of the profession. It's a good positioning piece if it goes to print, so retain a few copies. If possible, leave a copy in your reception. You never know who will read it.
Your blog post could form the basis of a regular newsletter to your customers. This may be in print or online. If in print, this allows you to hand this out as an additional marketing tool. Newsletters are a great way of keeping in touch with your customers, providing great value without continuously trying to sell them.
To summarise, articles provide many opportunities to promote your business, your expertise and your character which attracts a prospect. They also allow you to continuously educate which forms part of the nurturing and caring process in a long term loyal relationship with a customer. They should feature highly in your content marketing strategy.
The educator in an industry is a leader. The more you lead, the more people will follow. A website without education and regular, fresh content is declining, especially in the eyes of Google.
In closing, I invite you to take a closer look at your website's current position. What can you do to influence the search engine rankings and move your business closer to a page one position? Take up the challenge and write. It's not as daunting as you may think and it's also free business advertising.
Why articles should be incorporated into your website content marketing strategy
Click To Tweet