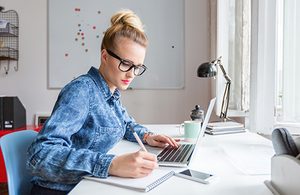 When you're running a small business with a marketing budget to match, how do you go about attracting new customers online?
The reality is that you will probably be competing with much bigger competitors with money to spend on web strategy experts and expensive advertising campaigns. So how can you make sure your little venture gets noticed online?
The other day I spotted a striking example of a small business taking a creative approach to this challenge. Someone in one of the plant groups I belong to on Facebook shared a screen grab of an advertisement on a classified ads website. In the 'Houses for sale' section, a tree surgeon was advertising a service to undo the damage caused by buddleias growing in brickwork before it's too late and the house becomes unsaleable. The listing was labelled 'DAMAGE BY BUDDLEIA' and the price, 'No price'. (You can see the advertisement here.)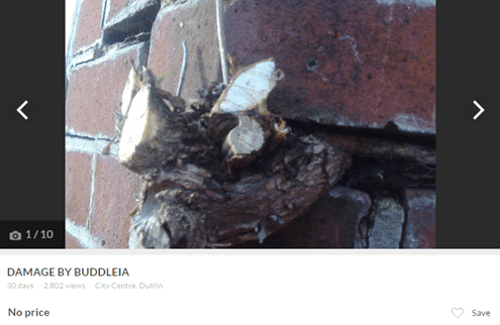 While the ad itself isn't particularly well written, I thought the idea behind it was truly inspired.
This struck me as a great example of how a small business can stand out from the crowd online by taking an imaginative approach.
Coming up with and developing a creative, low budget online marketing idea
When it comes to online marketing on a shoestring budget, the key is to think outside the box and come up with a truly unique idea.
An inspired idea is most likely to strike you when you're thinking about something else altogether. So keep your mind open and be ready to jot down a brainwave when it strikes. You could also try to generate creative ideas by brainstorming with your team or friends and family. The only rule should be that no idea is too silly to count. Sometimes apparently ridiculous ideas turn out to be the ones that will transform the success of a business.
Once you've got an idea that you think could work, consider roping in some professional help to refine it. You will find that's a lot cheaper than commissioning an agency to design and run a campaign for you. As a copywriter, I charge for as little as half an hour's work to help a client take their idea to the next level. By getting a professional just to polish your idea you will also benefit from an outside perspective from someone in the know.
If your budget is really low, you don't necessarily need any input from outside experts. Sometimes the homespun approach can add a certain honest charm, which might help you win the trust of potential customers.
Promoting your business online for free
Coming up with a sparkling gem of a creative idea is only one way to make your business stand out online. There are a lot of simpler things you can do to increase the chances of getting your business noticed without making a dent in your bank account.
Here are a few more concrete suggestions for promoting your business online that won't cost you a penny:
Make sure your business is listed on Yell.com. The listing will help people find you when they're looking for what you offer. It will also give customers the opportunity to write reviews, which will help to attract more business.
Check that your business is listed on Google – not just findable through a search, but actually listed. Again, this will enable customers to post reviews, which will give your listing priority. And as long as the ratings are generally positive, it will encourage more people to come to you.
Ask satisfied customers to write an online review for you. This will maximise your chances of collecting positive reviews.
Take advantage of as many other relevant free listings as you can.
Set up a Facebook page for your business and keep it updated with frequent, interesting posts that people will like and share.
Get your business on Twitter and stay active, posting original, relevant content that will encourage other people to retweet.
Set up a LinkedIn profile for your business and write LinkedIn Pulse articles relating to what you do to showcase your expertise.
Make small adjustments to your website to improve its optimisation. Just adding the name of your town and county to page titles, footers and body copy can help to attract local traffic. Making sure each page has a clear, relevant meta description can encourage clicks. Also, if your site still has meta tags, consider deleting them, as SEO experts are now advising that they can actually push you down the rankings.
If you don't have a website, consider using one of the free website builder tools available to create a simple one.
Be thorough but, most of all, be creative
Of course it's important to make sure your business is easy to find on the web, and following the list of tips above is a good start. But if you really want your business to get noticed online, think outside the box and do something different.
Good luck!
Get your small business noticed online by thinking outside the box and doing something different
Click To Tweet