We're very excited to announce the launch of Digital Marketing for SMEs; a series of six infographics offering advice and information to small and medium-sized enterprises (SMEs) about marketing themselves online in the UK.
Over the past few months, we've worked with OnePoll to survey more than 1,000 people on how they interact with businesses online. We've also conducted research with SME owners on their thoughts, feelings and concerns about online marketing and gathered lots of expert advice from our in-house web design team; all of which is presented in the infographics.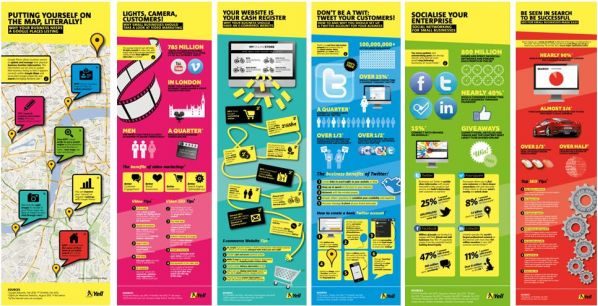 One infographic per day will be released here throughout the week commencing 14th May, along with social sharing options and embed codes which will allow anyone to add the graphics to a website or blog.
Monday 14th May will see the release of Putting Yourself On The Map, Literally!; an infographic that tackles the importance of using the Google Places service to promote a business locally online.
On Tuesday 15th May we'll release Lights, Camera, Customers! This infographic offers up advice on creating videos for a SME website, as well as statistics on how consumers interact with business videos online.
Wednesday 16th May will see the release of Your Website is Your Cash Register; an infographic which looks at the importance of SMEs selling online.
Don't Be a Twit: Tweet Your Customers! will be released on Thursday 17th May and looks at how SMEs use Twitter and how customers like to interact with businesses on the social network.
On Friday 18th May will see the release of Socialise Your Enterprise, which gives an overview of four of the key social networks that SMEs should consider using to connect with customers.
Finally, we'll release Be Seen In Search To Be Successful; an infographic which explains the importance of investing in search engine optimisation (SEO) and gives tips on improving your site's visibility in the search engines, on Saturday 19th May.