As a business owner, creating, maintaining and updating your website content is one of the hardest things you have to do. Although you know your business better than anyone, the process of turning that knowledge into concise, customer-friendly web pages can feel like an exercise in frustration.
A key challenge is working out what your website visitors are really looking for. While you might think they want to see an exhaustive list of features for your product, they might find this confusing and overwhelming. And although you're proud of your company's whizzy introductory video, it might be that your visitors would appreciate it more if you actually just got to the point.
The problem is that every business is different. That means that while you can follow some basic principles to get your content into shape, you can't make too many assumptions about what your visitors want. So, here are five ways to find out what people on your site are looking for.
1. Ask them a single question
Detailed website surveys have their uses (see below), but asking a single question of your visitors is a good way to find out if a specific page or piece of content is meeting their needs.
Survey tools like Qualaroo, Insitez, Survicate and WebEngage all allow you to add contextual questions to specific pages on your website. You can set these to appear immediately, or perhaps once a visitor has been looking at the page for a certain period of time. Often, they pop up in the corner of the page: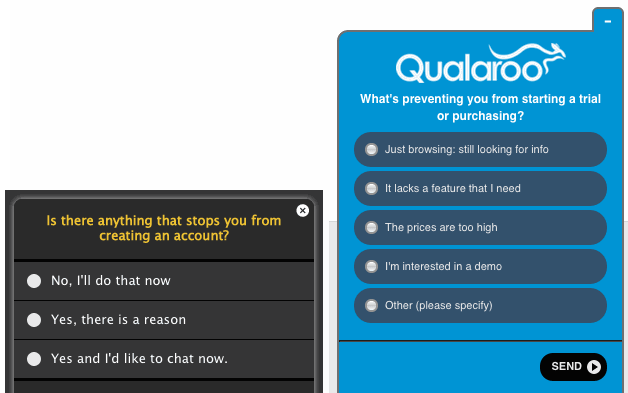 There are many different ways to use these. For example:
If a visitor has been on your features page for more than 20 seconds, you could ask: 'Does this page show the information you need?'
As a visitor exits your site, you could ask: 'Did you find what you were looking for today?'
With both these examples, if the visitor's response is 'no', you could show them an additional question asking what it is they were looking for.
As you build up responses to your question, you may start to see some patterns emerging. Perhaps your pricing information is unclear, or you're making it too hard to find your company's phone number.
2. Check your website analytics
You probably know that your website's analytics data contains a wealth of useful information about how people use your site. But are you using this effectively?
A simple way to see what visitors to your website want is to check what search term they used to arrive there. In Google Analytics, you can view what people typed in to Google to reach your site. Just sign in, then choose Acquisition > Search Engine Optimisation > Queries.
You'll see a list of search terms, along with data about how many visitors arrived at your site after using them: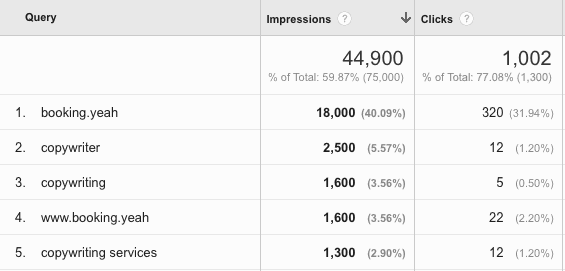 The 'Clicks' column shows how many times people clicked your website in Google search results.
Looking at this list of terms can provide significant clues as to what your visitors want. It's a good idea to review the top items and make sure your website contains content that's relevant to each.
(To see this data in Google Analytics, you might need to enable the search console first.)
3. Run a more comprehensive survey
If you're after more detailed data about what visitors want from your website, you can consider running a longer survey.
Don't rush into this. There's an art to judging survey content and length so that visitors complete the questions honestly and give you useful answers.
Most importantly, think through what you want to find out from your survey. It takes time and effort for your visitors to fill in a survey, and if you fill it with hundreds of questions then you risk alienating potential customers.
Keep your survey as short as you can, while still collecting the data you need. Try to ask closed questions (with multiple-choice answers), and be consistent in how you construct your questions. Make it as quick and easy as possible for visitors.
There are plenty of services that will let you run surveys for free online. My personal favourite is Typeform, but you can also try Survey Monkey or Google Forms.
4. Perform some user testing
I've been planning and creating digital content for over a decade now, and frankly nothing beats the immediate feedback you get from seeing someone interact directly with your content.
User testing is when you recruit some people (ideally, they should be representative of your target audience) to try using your website. You might ask them to perform certain tasks or create a realistic scenario for them. Then you sit back and watch if they can figure out your website content.
Running user testing sessions in-house is quite an undertaking. You have to set up appropriate technology (it's good to be able to record each session), recruit participants, then guide them through your tasks without asking leading questions or influencing how they use your website.
If that all sounds like too much, you can take the pricey option of working with a user testing agency, or use a remote testing tool to submit your website for testing. Good options include Loop11, UserZoom and WhatUsersDo.
Be wary of making sweeping website changes based on feedback from one or two users. However, often a relatively small number of user tests (5-10) can reveal some issues with your site.
5. Check your on-site search
Does your website have its own search function? If so, this can be a rich source of data to improve your content.
Typically, website visitors turn to search functions if they can't find what they want via the site's navigation. What's more, most on-site search functions will keep a record of everything people search for.
Put those two facts together, and you can see that reviewing the list of things people search for on your site can provide a good indication of what's missing.
A good exercise is to review your top search terms. You may find that a few common terms make up the bulk of searches. Run those searches yourself, and make sure you provide relevant content in the results for each.
Your website's search function can be a rich source of data to improve your content.
Click To Tweet