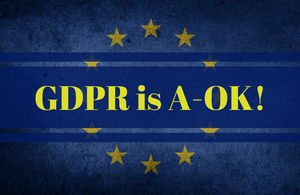 GDPR is actually really positive for businesses of all kinds.
For all of the panic that it caused, the rush to become compliant, and all of the rumours doing the rounds in the run-up to the 25th May, the sky didn't actually fall in.
In fact, the clarity and authenticity of GDPR presents a number of interesting opportunities for businesses to streamline their data operations, better serve prospects, and increase marketing engagement.
What is GDPR?
Ah, the million dollar question. I'm sure that most people reading this blog are aware of what GDPR is, but if through some crazy happenstance you've avoided all of the data protection talk over the past couple of years, you can get our own lowdown here, read the official guidance from the ICO, or check out some handy guidance from Roskilde University.
Put very simply, GDPR is a new legal regulation that is concerned with data privacy and security. Private citizens (or "data subjects" – George Orwell would be so proud) have been given essential rights over the control of the data that companies hold about them. The legislation is far too vast to boil down to a single pithy definition, but companies have had to think carefully about the data they hold; the security of where the data is stored; how individuals consent to the use of their personal data; and how the company responds to requests for access, amendments, and deletion of that data.
What Was All the Fuss About?
New-fangled legal things are always scary – especially when there's talk of a potential €20m fine. But GDPR seemed to hit a unique nerve. Why?
Even the most "agile" businesses struggle with external change. GDPR shook many companies out of a kind of complacency with data, putting some of us outside our comfort zone. And then there's the practical work and expense of changing or replacing existing systems for compliance. Even for a small one-man-band, GDPR potentially posed a lot of legwork, and a lot of businesspeople found the legislation difficult to follow, especially as the amount of online hearsay grew.
What Are the Benefits of GDPR?
Ensuring compliance has been stressful for a lot of organisations, but it's a positive move for everyone. Here are 6 reasons why GDPR is actually great for business.
Good Data Practices = Good PR
When you implement resources like privacy policies, crystal-clear opt-ins, and ethical marketing practices, you prove that you feel a sincere responsibility for the security and use of people's data. This gives you a unique opportunity to increase trust and brand confidence.
On the flip side, companies that suffer data breaches – or generally play fast and loose with people's data – will usually have a PR nightmare on their hands. Being clued in to the latest legislation shows that you care deeply about users' rights and privacy, and understand how those elements feed into a good customer experience all round.
Ebb and Flow
Knowing how data flows in, around, and out of your organisation has always been important, but GDPR made a lot of companies knuckle down and focus on what information ends up where and why. Knowing this can help to streamline internal data practices and identify possible data breach opportunities.
Similarly, GDPR caused many to investigate their suppliers to see what their data security practices are because a single weak link in the supply chain can have implications for customers. It's given many of us an awareness around data movement that we didn't have before.
Running a Tight Ship
The security of data is also a concern under GDPR. It's given many companies an opportunity to take stock of where data is stored and backed up and consider what would happen if that data was destroyed or breached.
Once you've gone through your data practices with a fine-tooth comb, you can then start to think about putting plans of action in place should a breach or loss occur. Forewarned is forearmed!
Low-Cal Databases
Query how much data you really need to collect and retain. When you keep your databases lean, you reduce the amount of info entrusted to you and limit the potential damage to users should a breach occur. For example – do you need to collect a mobile number AND a landline number to fulfil your average order? If not, ditch one!
My list's smaller than yours.
Though many companies saw the size of their email list decrease, the practice of seeking re-opt-ins from existing subscribers actually increased the average value of each prospect. Those who actively agreed to continue hearing from you post-GDPR are likely to be more aware of your brand and potentially place further down the sales funnel. These prospects have actively and willingly decided to keep communications open, so they're more likely to become paying customers in future.
Having a smaller list can also help you target your marketing messages better. When you have a broad list with all kinds of prospects all lumped into one place, you're unlikely to send one piece of communication that resonates with them all. But when you have a smaller dataset, it's easier to identify subgroups and demographics within it; you can, therefore, create content that will be truly meaningful to each subscriber with greater ease.
Amendability is Good for Business
GDPR says that citizens have a right to confirm what data a company holds on them, and a right to correct any information that is incorrect or out of date. This provides a great opportunity for businesses because customers can check what data you hold about them and can help you keep it up to date in line with their personal preferences. Not that they couldn't before of course, but now people are more clued in to their rights, they're more likely to reach out.
Now #GDPR is in place, it's actually really good for business. Here are 6 reasons why.
Click To Tweet
How are your data and marketing practices changed since GDPR came into force? What are your feelings towards the new legislation? Did your company find GDPR a pain in the proverbials or a force for good? Let's compare notes down in the comments!
DISCLAIMER: Though we've tried to remain as accurate as possible, this post briefly summarises a lot of quite complicated legislation. This information is provided only as a guide and should not be considered actual legal advice. Yell Limited advise that you seek your own, individual legal counsel.