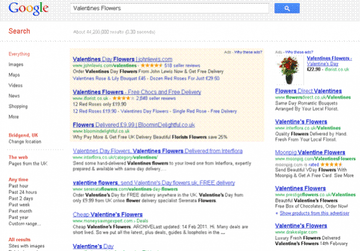 Appearing high in search engine results pages is a key goal for every business website. It may be the only way that potential customers are able to find you.
Although Google's formula for finding and ranking websites in its search pages – its 'algorithm' – is a very closely-guarded secret, a few tried-and-tested tricks when building your website can help boost its chances.
Website structure
Structuring your website well is essential for search engine optimisation. SEO experts suggest you shouldn't create more than three levels in your site structure – home page, sections and subsections.
This is because site 'spiders' (the technology used by search engines to read and index websites) often won't explore any more deeply than this – meaning they won't find and rank your pages.
Your home page should link to each section of your site, which in turn should link to each other. This makes it easier for the spiders to find their way around the site.
Adding metadata and page titles
Strong, well-researched keywords are crucial for getting good search engine rankings.
When building your site, include keywords at strategic points in section and page titles and in your metatags, as well as throughout the content – making sure it reads naturally.
Optimising your images for SEO
Search engine spiders are unable to 'read' images – so any text embedded in image files will not be indexed. If relevant content is overlooked, this can have an effect on how your site is understood and ranked.
For any images you do use, give them descriptive alt tags using strong keywords to help spiders index them correctly.
Techniques to avoid
It's important to remember that there's no easy way to improve your Google rankings quickly. Building a well-planned and well-researched site with relevant, useful content is the only thing that works in the long term – so be patient.
Try to avoid 'keyword stuffing' (including keywords on your site which aren't strictly relevant, or in a dishonest way such as in white-on-white text) and any other techniques which claim to drive extra traffic 'overnight'.
Search engines such as Google frown on techniques like this and, you run the risk of your page losing its ranking or even be de-indexed entirely.