Online shopping now accounts for 17.4% of all retail sales, a figure that has been growing every year. This is excellent news for ecommerce retailers, but this growing number of sales does create a problem – it also means an increase in returns. Returns are a heavy burden for retailers where they often bump up operating costs (staff time, extra warehouse space, increased postage costs) and leave retailers with products they struggle to resell.
As a retailer you will never be able to completely stop returns, but there are some ways to help reduce the number of items coming back to you.
One of the best ways to make sure items won't be returned is to make sure the customer knows what they are buying in as much detail as possible. That's where product photography becomes so important, 22 percent of returns are due to the product appearance being different than what the website displayed. You are the eyes of the customer, you need to allow the customer to study your products in as much accurate detail as possible before they buy.
Cover Every Angle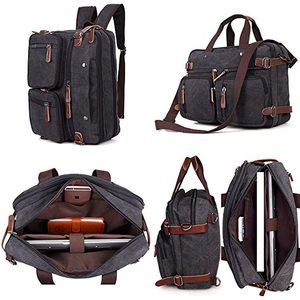 I was on a site recently that sold rather expensive handbags. What surprised me about the site is that given the cost of the bags you'd think they'd have put a bit of an effort into their product images, particularly to reassure you that the product you were buying was what wanted. Sadly each bag only had 2 photographs, one of the front and one of the side.
For many customers the inside of the bag is just as important as the outside – does it have any pockets? Will it fit my laptop/tablet? How much will it hold?
Customers will also have questions like: how does it close? Are there good zips that will stop a pick pocket from putting their hand in the bag? How easy are the pockets to access? How big and heavy is it?
All these questions are going through customers' minds, but they don't often find the answers on the website. Sometimes take a chance and buy the item knowing they can return it easily if it's not right. By taking the time to give clear information and lots of product photographs you can reduce the amount of customers that will want to return your items.
A lovely example of a shop that does great photographs from every angle is Watchshop. Most of the watch product pages include standard product images, a 360 degree image, and a picture of the watch on a model's wrist to indicate how big it looks when wearing. I've bought a few watches from them as the images are so clear that there aren't many surprises when the products arrive.
Reflect Your Brand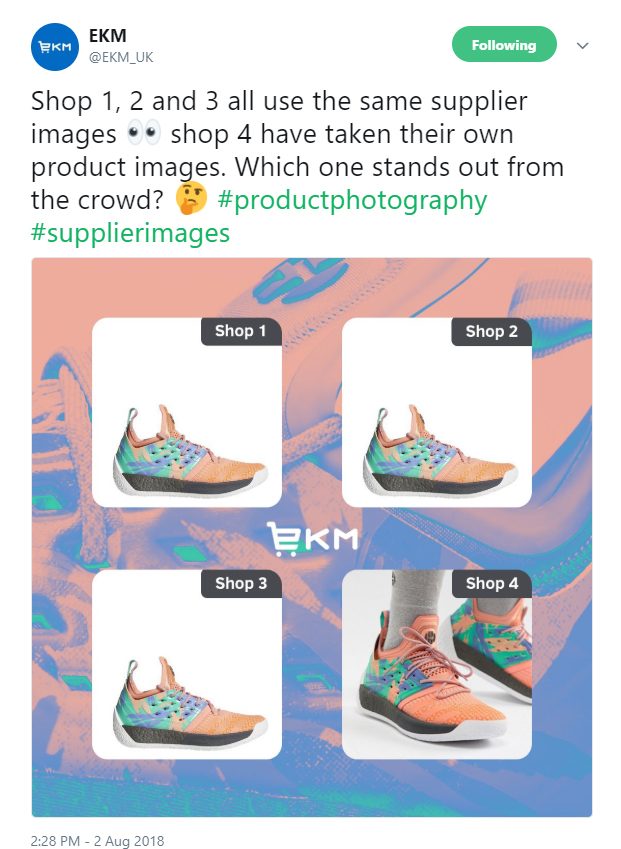 Many suppliers will give you a pool of stock images of their products, and they are a great place to start if you don't have the resources or money to photograph the products yourself. The problem is that often these supplier images only show the product in one or two angles, on a plain background. Occasionally you get a few lifestyle images that might add a bit of something extra to your site.
Suppliers also send their images out to many other online shops that also sell their products, so you won't be the only shop using them. If all the shops use the stock images from the supplier then the ecommerce stores will look the same.
I love this tweet from EKM (see image). It shows how your images will stand out against the competition if you take your own and do something a bit different.
If you don't have the finances to shoot a whole set of images, then take a few key lifestyle images of your products that reflect your brand, it could be a model wearing some of the outfits, someone using your luggage on the way to catch a plane, your flowers as centrepieces at a wedding – no matter what you sell, there is always a way you can style your products for a few photographs.
Good Quality Images
Product images usually take up the vast majority of the screen space of an ecommerce website. As there is so much product imagery, if your images are bad they will make your entire website look unappealing to customers. Also, if you use poor quality images then your customer will most likely think that your products are poor quality too.
Make sure your images are a good quality, which means:
In focus and crisp edges on the product
Easy to see the product and its features
If your products are on a white background make sure it looks white and not a off-grey
Make sure there is no clutter in the background
If using a solid colour background, make sure it doesn't clash with your products. It's safest to use neutral colours like white, cream and grey if you have lots of colour in your products.
Customer Images
Something that has become very popular in recent years is the use of customer supplied images within an ecommerce website. The vintage fashion website Dolly and Dotty has a wonderful gallery of images its customers have sent them wearing the outfits they bought.
Advantages of customer supplied images:
Adds more images to your website and social media which improves the visual appeal
It's nice for your customers to see what your products look like in real life
Customer images are like mini testimonials, if someone sends in a photo it is assumed that they liked your product
For some products, particularly clothes, it is usually impossible to take photos in every size/colour/combination. Your customers can help with this by showing the products they've bought – the Dolly and Dotty example I gave above does just that, showing dresses on all different sizes and shapes of women.
Customer photos are not just for fashion brands. For example, if you sell notebooks then get customers to take photos of their new book at home, or when they are out and about. For furniture, get customers to take pictures of them enjoying your products in their own home.
More Sales, Less Returns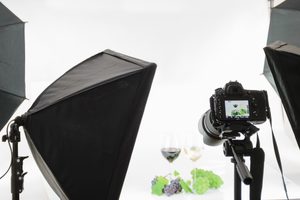 You need to replicate the real-world shopping experience as much as possible online, customers need to know that they clearly understand the product they are buying as they can't see and feel it in person. Over 75% of eCommerce shoppers say product pictures are very influential when they're deciding whether they want to buy a product online.
Once a customer has bought them you want them to keep the product. Returns already costing UK retailers £60 billion a year – this is a huge figure and needs to be reduced. To be profitable you want to keep returns down to a minimum so they don't cut into those already tight profit margins
By being as detailed and transparent as possible for the products on your website you can achieve increased sales and reduced returns, and the key to this is your product images.
75% say product pictures are influential when buying. Good images are key to making sales.
Click To Tweet