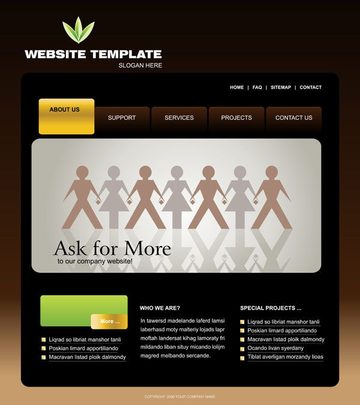 Designing even a simple web page used to call for skills in both graphic design and computer programming. Now, however, businesses can simplify the process and make websites using specialist web templates.
Web templates are pre-designed 'generic' website pages with spaces for personalised information to be filled in – for example, photos, articles, blog posts or business details. In this way they can be adapted to suit an individual business.
The two main advantages of using templates are time and cost. There's no need to spend time and effort creating an original design for the website, or employ a professional designer: it's simply a case of choosing a style and downloading it.
Choosing templates
A very wide range of templates is available for download on the internet. Some are free, and even where there is a cost, it is will be a lot less than using a web design specialist to design a site from scratch.
Templates allow images and text to be pasted or dragged-and-dropped into position, and text can be easily edited, removed or added to. Web templates often mean sticking to a fairly fixed format, although most can be edited to suit the needs of an individual business.
However, because the HTML code cannot be altered, the pages will always work reliably, and no technical expertise is needed. This makes them very helpful to small businesses – although they are also widely used by experienced website designers.
Full site templates
As well as templates for single web pages, full site templates are also available. These include pages of matching layouts which cover functions such as news, contact details, services, privacy policies and so on, and navigation links so users can move between pages. Like standard web templates, these can be individually edited to suit your specific needs.
What are the drawbacks of web templates?
By using a web template, you will be limiting the sorts of functions you can feature on your website and how it looks. If you want a more complex site – or you need a specific look and layout, for example to fit with your general business branding – a web template might not be the right choice for you.